At this time of year with the weather getting chillier and the nights getting longer, there's nothing better than getting home and warming yourself with a nice big bowl of something delicious. Whether it's casserole, soup or a shepard's pie – comfort food is one of the best parts of the season. In honour of Potato Week, we here at Sykes have been on the lookout for inspiration on how to turn the humble spud into a spectacular supper perfect for an autumnal evening. Take a look at our favourites…
Potato Cakes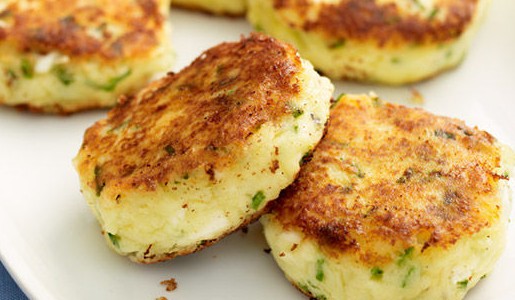 From Channel 4 Food
INGREDIENTS
450g floury potatoes, peeled
1 onion, grated
Handful of fresh chives, finely chopped
125g feta cheese, grated
1 egg, lightly beaten, to bind
Salt and freshly ground black pepper
1 tbsp olive oil
Method
Boil the potatoes in a pan of salted water for 15–20 minutes until soft. Drain, then mash. Mix the mashed potatoes with the onion, chives, feta cheese, and egg. Season with plenty of salt and black pepper.
Heat the olive oil in a non-stick frying pan over a medium heat. Using floured hands, scoop up large balls of the potato mixture, roll, and flatten slightly. Carefully add to the hot oil, and fry for 2–3 minutes on each side until golden, topping up the pan with more oil, if needed. Serve hot.
Sausage and Potato Casserole
From Lovepotatoes.co.uk
Ingredients: 
1 tbsp oil
500g Smooth potatoes, halved
454g pack sausages
1 onion, sliced
1 green pepper, diced
340g jar tomato pasta sauce
Method:
Heat the oil in a large frying pan and fry the potatoes and sausages for 5 minutes.
Add the onion and pepper and cook for a further 5 minutes, turning the sausages occasionally until browned.
Add the pasta sauce to the pan with 1-2 tbsp of water, then cover and cook for 5 minutes before serving.
Minty pea & potato soup
From BBC Good Food
Ingredients
2 tsp vegetable oil
1 onion, chopped
800g potatoes, peeled and cut into small chunks
1l vegetable stock
350g frozen peas
handful mint, chopped
Method
Heat the oil in a large saucepan, then fry the onion for 5 mins until softened. Add the potatoes and stock, then bring to the boil. Cover and simmer for 10-15 mins until tender, adding the peas 2 mins before the end of the cooking time.
Use a slotted spoon to remove a quarter of the vegetables from the pan and set aside. Blend the remaining vegetables and stock in a food processor or using a hand blender until smooth, then stir through the reserved veg, chopped mint and some seasoning. Serve with bread on the side.
If these potato recipes have tantalised your taste-buds, why not give one of them a try? They're all quick and simple to make – perfect for a quick dinner when you get back to your holiday cottage after a chilly day.
A lover of reading, eating and shopping Leanne will often be found spending time with her two pugs or snapping away on instagram. A big fan of the city, She likes nothing more than getting away for a weekend break in the UK, her favourite places being London and Bath.