You need only glance at The Great British Bake Off hashtag to realise this humble baking competition – once the darling of BBC2's off-peak schedule – has become a goliath of modern broadcasting. Though I wouldn't normally spend my evenings watching Paul Hollywood and Mary B munch through soggy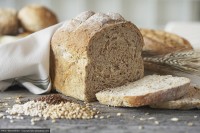 patisserie whilst monitoring #GBBO, both peer pressure and curiosity have led me to become a regular viewer of the show.
Upon reflection of GBBO's meteoric rise to the top of TV rankings, I've come up with just one answer to its popularity: Brits love baking. Cakes, pretzels, rye bread, religieuse, povitica, fruity Swedish tea rings – we'll bake the lot, and eat it too. With this in mind, we've come up with a list of regional bakes that will tantalise those tastebuds; just beware the soggy bottom, ensure your whites are perfectly stiff and remember, it's all in the wrist action.
Yorkshire Parkin
With Bonfire night on the horizon, we think it's time everyone baked up a batch of the classic Yorkshire pud, Parkin. Tradition tells that Parkin was eaten on Guy Fawke's night, though we're sure you won't be hung, drawn and quartered for enjoying some at other times of year. Both spicy, moist and hearty, Parkin is the ultimate autumn comfort food. Here's how it's made.
Ingredients
110g soft butter
110g soft dark brown sugar
55g black treacle
200g golden syrup
225g medium oatmeal
110g self-raising flour
2 tsp ground ginger
1 tsp ground mixed spice
2 medium eggs, beaten
1 tbsp milk
Pinch of salt
Method
Preheat the oven to 140C/120C fan/ Gas Mark 1. Grease and line a square cake tin.
Melt the butter, sugar, treacle and golden syrup over a gentle heat, ensuring the mixture doesn't bubble. Once melted together, remove from the heat and allow to cool slightly.
Sift the dry ingredients into a large mixing bowl and make a well in the centre. Add the melted butter mixture and fold. Pour in the beaten eggs, milk and combine.
Pour the mixture into the tin and bake for 1 ½ hours, checking it regularly to ensure it isn't over baked.
Leave the parkin in the tin to cool for around twenty minutes, before transferring to a cake rack to cool completely.
Wrap the parkin in greaseproof paper and wait a minimum of 1 week before consuming. This will help develop the sticky texture and give it an intense, rich flavour.
Welsh Cakes
Or pice ear y maen, are a timeless teatime treat whose recipe has spanned generations. Simple to make yet delicious to eat, Welsh cakes are the perfect pudding to make with your little bakers. These rounds of delight should take under twenty minutes to make, so they're great for those who want to get their bake on without clearing their schedule.
Ingredients
225g plain flour
85g caster sugar
½ tsp mixed spice
½ tsp baking powder
50g butter, chopped into pieces
50g lard, chopped into small pieces
50g currants
1 egg, beaten
Splash of milk
Pinch of salt
Method
Put the flour, mixed spice, sugar and salt into a bowl. With your fingers, rub in the butter and lard until crumbly. Add the currants before working the egg into the mixture to form a soft dough. If the mixture feels too dry, add a splash of milk.
Roll the dough on a floured surface to the thickness of your finger and cut rounds using a 6cm cutter. Add a small amount of lard to a heavy frying or griddle pan and cook batches of the cakes over a medium heat for 3 minutes on each side.
Serve warm with butter and jam, or sprinkle with caster sugar for a sweet treat.
Cornish Pasty
How many Cornish pasties have you eaten in your lifetime? If the answer's none, shame on you. Personally, I can't get enough of these pastry crescent moons, though I should start watching the waistband. If you want to know how to make Britain's oldest and best pastry-clad lunch, follow these simple steps.
Ingredients (Makes 4 pasties)
For the pastry
125g chilled and chopped butter
500g plain flour, plus extra for rolling
1 egg, beaten
For the filling
350g chuck steak, chopped finely
1 large onion, chopped finely
2 potatoes, peeled and thinly sliced
175g swedes, peeled and finely diced
1 tbsp ground black pepper
Method
Combine the butter, lard and flour using your fingertips or a food processor, adding a pinch of salt. Add 6 tbsp of cold water to make a dough. Cut into 4 equal parts, and chill for 20 minutes.
Heat oven to 220C/fan 200C/gas 7. Mix the filling ingredients with a pinch or two of salt to taste and set aside.
Roll out the pieces of dough on a floured surface until you have 4 rounds that are just over 20cm in diameter. Use a plate to cut to a circular shape.
Pack a quarter of the filling along the centre of each round, ensuring to leave space at the ends. Brush the dough with beaten egg before drawing up both sides so they meet at the top. Pinch together to seal.
Lift each pasty onto a non-stick tray and brush with the remaining egg glaze. Bake for 10 minutes, before lowering the oven to 180C/fan 160C/gas4 and baking for a further 45 minutes until golden. Delicious served warm.
Scotch Shortbread
When I was a nipper, my grandparents would always bring me a tartan tin of Scotch shortbread from their travels north of the border, and it was delicious. Thankfully, the Scots don't seem to mind sharing their recipe with the rest of us, so why not bake a batch of these wonderful bikkies yourself. Here's how.
Ingredients
125g butter
55g caster sugar
180g plain flour
Method
Heat the oven to 190C/Gas 5.
Beat the butter, sugar and flour together to form a smooth paste.
Turn the mixture onto a surface and roll until 1cm thick.
Cut into fingers or small rounds and place on a baking tray. Sprinkle with caster sugar and chill for 20 minutes.
Bake in the oven for 15-20. Set aside to cool.
Get your bake on in a Sykes holiday home
We can't give you Berry and Hollywood, but we can give you cottages. Thanks to their charming country kitchens and wonderful dining areas, our self-catering holiday homes provide the perfect place to get your bake on and unwind. So Britain, let's get baking.
Jonathan is a lover of books, music and good food. Originally from Yorkshire, there's nothing he likes more than a cycle in the country. One of his favourite spots in the UK is Tenby, where he spent many a happy holiday as a child.