You're probably aware by now that we've been nominated in the 2015 British Travel Awards- we may have mentioned it just once or twice! We're very excited to be in the running for "Best UK Holiday Cottage/ Self Catering Booking Company" and we'd greatly appreciate your help in securing this prestigious award for the third year in a row. If you still need a little convincing, here are five more reasons to vote for us; you can see our first five reasons here.
1. We're open 7 days a week
Here at Sykes, we're here whenever you need us. Our fantastic team are on hand seven days a week from 9am until 9.30pm to answer your calls and emails. We aim to get back to any enquiries or questions as soon as possible and if it's a question that we can't answer, we will ring the cottage owner straight away to get a response for you.
2. We work hard to bring you helpful and interesting content
We do our best to make sure that the Sykes Cottages blog is a fantastic resource for both our customers and owners, offering advice, ideas, news and holiday inspiration. Updated several times a week, the blog has covered everything from dog friendly days out to Britain's best coastal views. We've also created in-depth guides to some of the UK's best holiday spots including our Discover Cornwall hub and our Visitor's Guide to Norfolk which is a tourist guide compiled from the responses of over 1,000 holiday-makers and locals, who told us what they love most about the county.
3. We offer great value for money on all of our properties
Everyone at Sykes Cottages is committed to giving our customers great quality cottages at great value for money prices. We consistently offer a selection of special offers with late deals, fantastic discounts and we also post properties with the largest discounts on our social media pages. This year, we've also introduced Flexi Breaks which allow you to start your holiday on any day of the week, making it even easier for you to get the best value for your getaway.
4. We have a dedicated owner team
If you let your cottage with us then something you'll know is that we have a fantastic, dedicated owner team who are always on hand to help. Whether you're a potential new owner or an existing owner with us, our team will be more than happy to take the time to speak to you and answer any questions or queries that you may have.
5. We're always actively working to improve
We're never complacent. We know that to be the best, we need to ensure that we're always upping our game and improving. We're constantly adding new properties, recruiting more staff, evaluating the processes that we use, and updating our app and website. Last month, we wrote a whole blog post on what we've done to improve since we won our British Travel Award last year, which you can read here.
Please vote for us!
We really hope that we've persuaded you to vote for us, if you haven't already. We'd be absolutely thrilled to win a British Travel Award for the third year in a row but we need your help to make it happen! If you'd like to vote for us, you can do so by clicking here. Thank you from everyone at Sykes Cottages.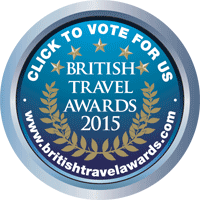 Louise loves reading, shopping, baking and cosy country pubs with log fires. A nice cup of tea will never be turned down. She has spent many childhood summers on the beach in Cornwall and walking the hills of the Lake District.