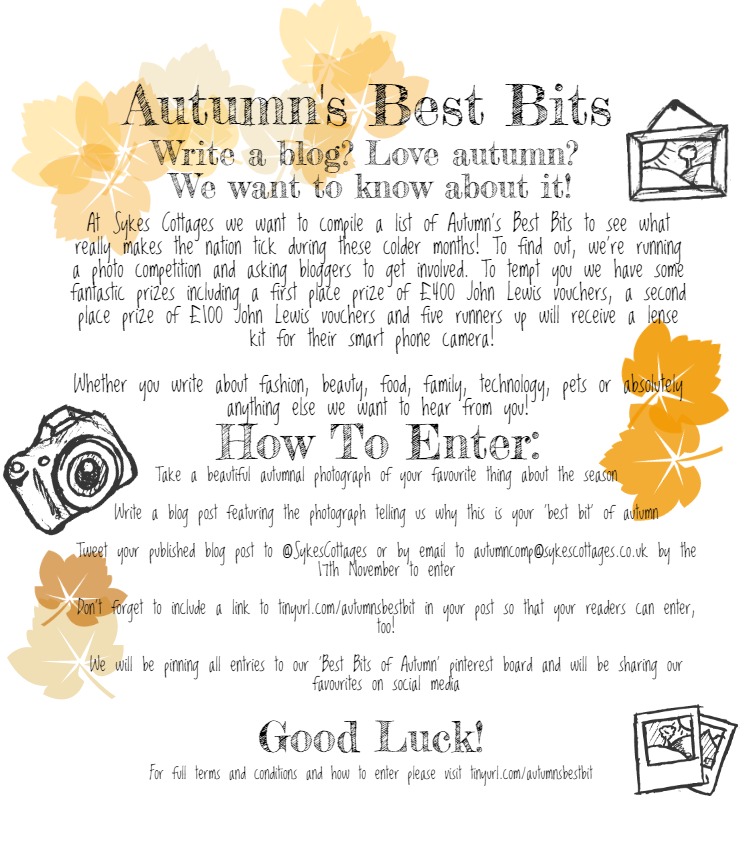 Photo Blogging Competition: Autumn's Best Bits
Whether you like crunching through leaves, wrapping up warm or sipping on one of the season's popular hot drinks we want to know about it! Show off your autumnal photography skills in our newest competition to be in with your chance of winning £400 to spend at John Lewis!
To enter this competition, take a picture of what you think is autumn's best bit, put it into a blog post and tell us why it's your favourite thing about autumn! Once you've published your post, tweet the link to us @SykesCottages or send us an email including a link to your entry. Don't forget to include a link back to this page in your post, so that your readers can enter, too!
 Terms and Conditions:
Eligibility
This competition is open to any blogger located in the United Kingdom or Ireland and aged 18 and over.
The competition is not open to employees of Sykes Cottages or any agencies or group companies related to Sykes Cottages.
The promoter and Host of this competition is Sykes Cottages and can be reached via email at autumncomp@sykescottages.co.uk
Using a false name or address for this competition will lead to the entry being disqualified.
Entry
Entries to the competition can be made by emailing the blog post entry to autumncomp@sykescottages.co.uk or by tweeting the blog post @sykescottages
All entries will be acknowledged within one working day of their submission.
All entrants must include instructions on how to enter the competition, or a link to instructions, at the end of their blog post. Eg. "If you would like to enter Sykes Cottages competition to win £400 worth of John Lewis vouchers then simply head over to…"
Only one entry per blog, multiple entries will not be counted.
Entries made using methods generated by a script, macro or the use of automated devices will be disqualified.
By entering the competition entrants accept that their entries will be shared across Sykes Cottages' social media platforms including, but not limited to, Twitter, Facebook, Google Plus, Pinterest, The Sykes Cottages Blog and Instagram.
The Prize
There will be seven winners in this competition. With the first place prize being £400 of John Lewis Vouchers, second place being £100 of John Lewis vouchers and five further prizes of smart phone camera lenses
This competition is in no way affiliated with John Lewis, the John Lewis Partnership or it's subsidiaries
Prizes are non-transferable, non-refundable and there is no cash alternative available.
Prizes will be sent to the winners home addresses
Timing
Competition opens at 12 noon GMT on the 7th of October 2014.
Competition closes at midnight GMT on the 17th November 2014, any entries sent after this time won't be counted
The Winner
The winner of the competition will be chosen by a panel of judges at Sykes Cottages and this decision is final.
The winner will be chosen and notified on or before Friday the 21st of November 2014.
Once we have heard back from the winners we will then post their names on the Sykes Cottages Facebook and Twitter account.
Details of the winner can be obtained by sending a stamped addressed envelope to the following address; Sykes Cottages, Lime Tree House, Hoole Lane, Chester, Cheshire, CH2 3EG
The winner may be required for promotional activities and by entering the competition accepts that their name may be provided or published as per the terms and conditions.
Data protection and privacy
Any personal data relating to entrants will not be disclosed to a third party without the individual's consent (other than the winning entry). Data relating to entrants will be retained by the Promoter and Competition host for a reasonable period after the Competition closes to assist in operating competitions in a consistent manner and to deal with any queries on the Competition.
Information provided to enter the competition may be used, shared or published or used for publicity in a digital format and includes your name, your location and/or profile picture.
By providing the Competition host with your personal data you consent to the Competition host sending you marketing emails.
If an Entrant does not wish for their personal information to be used for marketing purposes, a request to remove consent for personal information to be used for marketing purposes should be submitted in writing to the Competition host.
Liability
Nothing in these terms and conditions shall exclude the liability of the Promoter or the Competition host for death, personal injury, fraud or fraudulent misrepresentation as a result of its negligence.
The Promoter and Competition host accepts no responsibility for any damage, loss, liabilities, injury or disappointment incurred or suffered by you as a result of entering the Competition or accepting the prize. The Promoter further disclaims liability for any injury or damage to your or any other person's computer relating to or resulting from participation in or downloading any materials in connection with the Competition.
The Promoter reserves the right at any time and from time to time to modify or discontinue, temporarily or permanently, this Competition with or without prior notice due to reasons outside its control (including, without limitation, in the case of anticipated, suspected or actual fraud). The decision of the Promoter in all matters under its control is final and binding and no correspondence will be entered into.
The Promoter shall not be liable for any failure to comply with its obligations where the failure is caused by something outside its reasonable control. Such circumstances shall include, but not be limited to, weather conditions, fire, flood, hurricane, strike, industrial dispute, war, hostilities, political unrest, riots, civil commotion, inevitable accidents, supervening legislation or any other circumstances amounting to force majeure.
The entrant completely releases Facebook from any involvement in this competition.
The competition is not sponsored, associated, organised, endorsed or administered in any way by Facebook.
Information provided as part of the competition is not provided to Facebook.
The Competition will be governed by English law.
A lover of reading, eating and shopping Leanne will often be found spending time with her two pugs or snapping away on instagram. A big fan of the city, She likes nothing more than getting away for a weekend break in the UK, her favourite places being London and Bath.