Your cottage may feel like home to you, but to arriving guests it'll be as unfamiliar as a hotel room. Luckily, there are number of things you can do to make your guests feel comfortable from the moment they arrive, and one of those is it to create a welcome pack.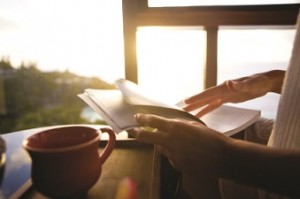 A good welcome pack will contain information about the property and its owner. It'll have a section about local amenities such as restaurants, pubs and shops. It will have emergency contact information, need-to-know appliance advice, and up to date information on local transport. Personal recommendations are a good idea too, as well as guest-book where holidaymakers can leave their own feedback.
Creating a welcome pack from scratch may sound a daunting task, but with our useful guide, you'll have one put together in no time.
Things to include in your welcome pack
Your welcome pack needs to be as comprehensive as possible, so before you start, have a good think about what your guests might need to know when staying in your holiday let. Below, we've attached a few essentials we think every guest information pack should contain.

A friendly welcome
Don't dive in with the dos and donts; instead, welcome guests to your property with a friendly note that lets them know a little about you and your property. Most people that stay at your property will love to hear about its history, and are more likely to look after the place if they've received a friendly and personal 'Hello' from its owner.
Emergency Contact Information
One of the best ways to put your guests' mind at rest is to include emergency contact information in your welcome pack. Be sure to include your own contact telephone or that of your caretaker or handyman, as well as phone numbers for local doctors, hospitals and dentists. If your property is pet friendly, including the number for the local vets is a nice touch too.
Appliance Information
Operating the appliances in your cottage might be second to nature for you, but for others, it can cause a real headache. That's why it's important to include detailed operating instructions on all of the appliances in your holiday home that guests will be using including ovens, TVs and the central heating. Although including all this information might sound unnecessary, it'll save you time and inconvenience in the long run. After all, you don't want to be woken in the middle of the night by a guest who can't switch the tele on.
Dos and donts
Although nine out of ten guests will treat your holiday home with the respect it deserves, it's important to include a few dos and donts to reduce the chance of something going awry. If your property is in a built up area, remind guests of this to avoid unwanted noise complaints. If your property is pet friendly, reiterate that pets should be kept off furnishings. Provide clear parking instructions to ensure guests don't park on your neighbour's property. And most importantly, remind guests that any problems should be reported to you as quickly as possible.
Local transport
Even if most guests travel to your cottage by car, it's a great idea to include local transport information in your welcome pack. From taxi numbers to bus timetables, providing up to date transport information will be a godsend for some of your guests, especially if you live in an area with poor mobile reception. It's also a good idea to provide brief instructions on how to get to the bus/ train station from your property as it may not be obvious to your guests.
Attractions and Amenities
One of the most obvious things to include in a welcome pack is a list of nearby attractions and amenities. Though most property owners will leave flyers and leaflets in their cottage, it's a good idea to list a variety of attractions that cater for all ages, such as family days out and adult activities. If you have time, create a map of where the attractions are in relation to the cottage and include any attractions that you can personally recommend.
Get expert advice on letting your holiday home with Sykes

At Sykes, we pride ourselves on our service, and that service extends to our cottage owners. We have a dedicated team of property experts working day in day out to provide support and advice for our owners, with whatever queries they have. From pricing enquiries to interior design advice, our owners team are here for you. If you're interested in letting your holiday home with Sykes Cottages, visit our Let Your Cottage page for further information.
Jonathan is a lover of books, music and good food. Originally from Yorkshire, there's nothing he likes more than a cycle in the country. One of his favourite spots in the UK is Tenby, where he spent many a happy holiday as a child.