It's a debate that's raged on for years: which of England's eighty-three counties is the prettiest? Could it be Somerset with its treasured Quantocks? Dorset with its inspiring Durdle Door? Or Norfolk with its beloved Broads? To settle this once and for all, we asked one thousand Brits to tell us which English county they love the most – here's what we found.
Cornwall voted most picturesque county in England
That's right, one in five respondents voted Cornwall as England's prettiest destination, and it's hardly surprising, given the county's evocative mix of coast and country. Cornwall is a firm favourite among many UK holidaymakers thanks to its wonderful beaches and rugged heathlands, not to mention its seemingly endless heritage. You can find out more about England's prettiest region by visiting our brilliant new visitor guide, Discover Cornwall.
Yorkshire was voted England's second prettiest destination in the poll, with a respectable 18% of the vote. Despite failing to topple Cornwall from its picturesque pedestal, God's Own County remains one of the UK's most revered holiday destinations, and was dubbed Europe's best destination at the World Travel Awards in 2013.
Coming in a close third was Cumbria, whose world-famous national park – the Lake District – will certainly have helped the county climb up the rankings. But the Lakes aren't the only thing this northern county has to shout about; head to the coast, and you'll find some of England's most beautiful, secluded and windswept beaches, as well as a handful of charming towns and villages.
Which English counties completed the top 10? Find out below…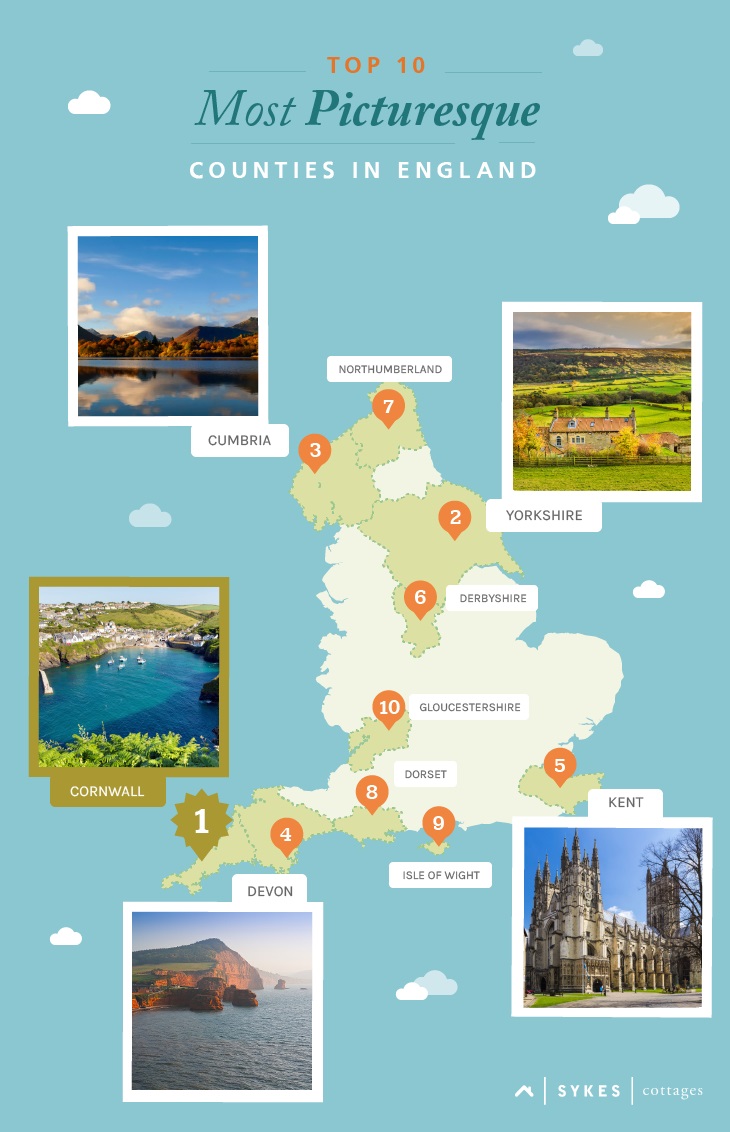 The Leadership Factor polled 1,019 British adults in December 2014 on behalf of Sykes Cottages.
Top 10 Most Picturesque Counties in England
Cornwall
Yorkshire
Cumbria
Devon
Kent
Derbyshire
Northumberland
Dorset
Isle of Wight
Gloucestershire
So there you have it: a definitive shortlist of England's most picturesque counties. Do you agree with the top 3? Which English county would you choose? Let us know on Facebook or Twitter – we'd love to hear from you.
Jonathan is a lover of books, music and good food. Originally from Yorkshire, there's nothing he likes more than a cycle in the country. One of his favourite spots in the UK is Tenby, where he spent many a happy holiday as a child.