Walking is one of the UK's most popular outdoor pursuits, with millions partaking in this wayfaring pastime each year. Whether setting out on an intrepid walking break or taking a stroll in the local park on a Sunday afternoon, we Brits love to pound the pavement – or trail – on our own two feet.
If, like me, you like the sound of a walking break but aren't sure what kit you'll need to enjoy doing it, have a read of our guide on what to pack for a UK walking holiday.
Clothing
Walking Boots: The most important piece of kit you'll need to enjoy a comfortable walking break is a decent pair of boots. Invest in a quality pair, and you'll be rewarded with years of pain-free walking. If you don't plan to do a lot of off-road hiking, walking shoes or trainers might be a better choice thanks to their weight and breathability.
Waterproofs: No walk, no matter its length, should be attempted in Britain without some trustee waterproofs in tow. Essential waterproofs include a jacket and over-trousers, both of which should be carried with you even during the summer months. When choosing an outdoor jacket, opt for one with a hood – you never know when the heavens may open.
Base Layers: Keeping your core warm is essential when out in the sticks, so start your walking attire with a good quality, skin fitting base layer. Depending on the temperatures, a long sleeve thermal base layer is a great choice, but may get a little sticky during the summer months. If it's warm, wear a short sleeve synthetic base layer to help you stay cool and dry.
Hat & Gloves: Having numb fingers and throbbing ears is never fun, especially when you're miles from the nearest source of heat. That's why, it's important to wear a pair of gloves and a hat when you're out walking in the winter months. If it's warm, ditch the gloves and woolly hat for a sun-hat that'll keep the midday sun off your face and head.
Hiking Socks: Don't plumb for any old pair of socks when packing for your walking holiday. Instead, buy a few pairs of top-notch hiking socks, that'll keep your toes warm and wick moisture away. Walking socks also provide extra cushioning, so if you can't afford a new pair of boots, a snug pair of socks could do the trick.
Extras
First Aid Kit: Walking may not be the most strenuous of outdoor pursuits, but as they say, accidents can happen. That's why, it's important to carry a first aid kit whenever you go walking, even if you never have to use it. From grazed knees and migraines to bumps and blisters, ailments can crop up at any moment, and you'll be relieved you remembered the first aid kit when they do.
Food & Drink: You should carry water whenever you go out for a walk, but it's particularly important to do so if you're planning a long day's hike. Food is just as important for longer walks, and a flask of your favourite hot beverage is sure to put a smile on your face after a gruelling ascent. If you plan to eat, eat little but often throughout the day.
Rucksack: A rucksack is the perfect partner for a long walk in the wilderness, helping you carry your kit efficiently and comfortably. If you plan to buy one especially for future hikes, make sure it's waterproof and big enough for all your gear.
Walking Poles: An optional extra; walking poles are a godsend for some and an irritant for others. If you're not sure whether to invest in a pair, there are things you ought to know before you make a decision. Firstly, they can make you walk faster and increase your overall speed. Secondly, they're great for providing extra stability. And thirdly, they allow you to walk further in a day than you otherwise could – what's not to like?
Maps & Navigation: How's your sense of direction? If like me you're prone to getting temporality lost during your travels (I stress temporarily), carry a map or a GPS device. OS remain king of the maps among amateur and pro walkers, and their large, easy to use regional maps now feature a waterproof coating, making them ideal for walkers whatever the weather. Alternatively, trust technology and use your phone's built in GPS to help you navigate from A-B.
Book an invigorating walking holiday with Sykes Cottages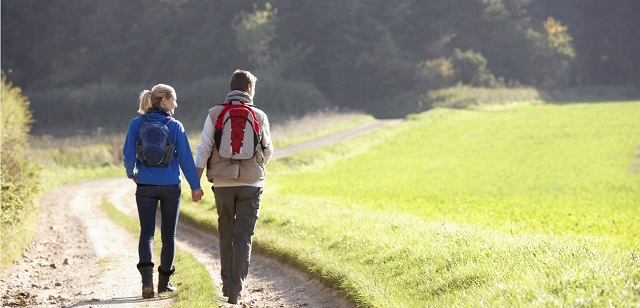 Like the sound of a walking break? Then why not check our range of cottages that are perfectly placed for a hiking holiday. We have self-catering holiday rentals in some of the UK and Ireland's best-loved walking spots, including the Peak District, the Scottish Highlands and North Wales, so browse our selection today!
Prefer pedal-power? Here's an in-depth guide into what to pack for a UK cycling holiday.
Jonathan is a lover of books, music and good food. Originally from Yorkshire, there's nothing he likes more than a cycle in the country. One of his favourite spots in the UK is Tenby, where he spent many a happy holiday as a child.