Families feud. So do friends. That's why a large cottage doesn't always cut the mustard. Sometimes, you need space, freedom; a chance to cool-off and get out of one another's hair.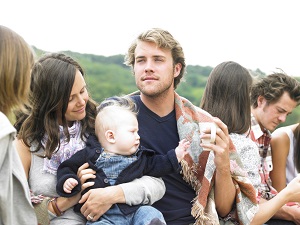 That's where our 'group' properties come in. Unlike large holiday cottages where the party is stuck under the same roof, our group properties offer two or more cottages close to each other that can be booked simultaneously.
Not only is this great for those that don't get on with their Great Aunt Muriel, group properties have lots of other advantages. First and foremost, you get more loos – music to the ears for some. Secondly, they offer flexible accommodation for up to eighty-two guests, so you can bring everyman and his dog. Speaking of pups, you can bring more of those too. Unlike a single cottage which accepts two to three dogs, with a group of properties, you're free to bring as many pooches as each cottage permits – good eh?
With over 400 group properties across the UK and Ireland, we're convinced whatever your party size, you'll find a cluster of cottages to suit you. Here's a pick of our most popular group properties from across the UK.
Dunvegan Castle Cottages, Isle of Skye, Scotland
Cross the Skye Bridge and encounter Scotland's most dramatic scenery. The Isle of Skye is a mystical, affecting place, where mountains dominate the horizon. Now, thanks to our Dunvegan Castle cottages, you can share an invigorating cottage break on the Isle of Skye with your friends and family. Located in the grounds of the imposing Dunvegan Castle, Gardens Cottage and Rose Valley Cottage can accommodate up to ten guests when booked together. Each cottage features a range of self-catering amenities, and both are set within the picturesque grounds of the castle – the perfect place for an Isle of Skye cottage break.
Find out more about the Dunvegan Castle Cottages, here.
Iken Barns, Snape, Suffolk
Located in the depths of Suffolk's Heritage Coast, Iken Barns are a series of eight barn conversions which, when booked together, can accommodate up to 32 guests, making them ideal for large families. Each barn has been sympathetically restored and decorated, with rustic furnishings blending with contemporary amenities to offer a timeless base for a Suffolk cottage break. All of the cottages are dog friendly and in total, sixteen dogs could be brought to Iken Barns should the party wish it. With lavish features such as underfloor heating and open fires, these Suffolk cottages offer a luxurious base for a family holiday.
Find out more about the Iken Barns, here.
Glan Morfa Lodges, Newborough, Wales
Nestled in the Welsh countryside near Newborough Forest, the Glan Morfa Lodges are a superb development of six holiday cottages that can accommodate up to 23 guests. Each cottage features a wealth of self-catering amenities, and there are also several communal areas including an indoor games room, library and shared laundry room. Each of the Glan Morfa cottages is partially eco-powered, and the owners, who are members of Green Tourism, are striving to obtain zero carbon emission status. The cottages benefit from direct access to two nature lakes, making them perfect for birdwatchers and those interested in spotting local wildlife.
Find out more about the Glan Morfa Lodges, here.
Graythwaite Estate, Hawkshead, The Lake District and Cumbria
The crème de la crème of group cottages can be found in the magnificent Graythwaite Estate, a 5,000 acre country estate on the banks of Windermere in the Lake District. Dotted throughout the site, all thirteen of our Graythwaite Estate cottages can be booked together to accommodate up to 82 guests in a range of luxury holiday homes. With picturesque surroundings and a communal swimming pool, fitness suite, table tennis room and children's play area, you and your guests will feel right at home in the heart of this idyllic Cumbrian estate.
Find out more about the Graythwaite Estate cottages, here.
Book a holiday in one of our flexible group cottages today!
If you're interested in renting our group cottages for a getaway with friends or family, please contact us via phone or e-mail to find out which group properties are available in the area of your choice. Currently, we don't have a page on our website which displays group properties, but our helpful reservations team, who are on hand until 9.30pm daily, will be able to find the perfect group property for you and your party.
Jonathan is a lover of books, music and good food. Originally from Yorkshire, there's nothing he likes more than a cycle in the country. One of his favourite spots in the UK is Tenby, where he spent many a happy holiday as a child.