Sorry, singletons aren't welcome here, for today on the Sykes' blog, we've gone all soft in honour of Valentine's Day. Before you close this page at the speed of Cupid's bow, hold fire; we're not here to make you spend a quarter of a month's wages on a bouquet of roses. Instead, we want you and your lover to try something out of the ordinary this Valentine's Day. From horse riding in the Lakes to picnicking by boat, here's 10 things every couple ought to try during the weekend of lurve.
Be entranced by the night sky in Northumberland
When the lights go out this Valentine's Day, don't take it to the bedroom. Instead, layer up and head to Northumberland, where the starry night sky hanging over Kielder Water will sweep you off your tootsies. In 2013, Northumberland's night sky was granted protected dark sky status, making it one of the best places to stargaze in Europe.
Enjoy afternoon tea at Corfe Castle
The romantic ruins of Corfe Castle are a dreamy daytrip destination for couples at the best of times, but on Valentine's Day, this evocative Civil War relic comes into its own. After a hand-in-hand stroll around the castle, take an afternoon tea of heart-shaped shortbread, chocolate dipped strawberries and Victoria sponge cake in the castle's cosy café.
Hire a classic car and head for the hills
Leave the Merc at home this weekend and travel in style with a retro hire car. There are lots of classic motors available to rent for a weekend jaunt to the countryside, from the chic Jaguar E-type to the Austin Healey. With the breeze in your hair, you can explore some of England's prettiest spots; we'd recommend the Cotswolds, whose charming villages are as timeless as your chosen wheels.
Wander the Wild Atlantic Way in Ireland
If you're looking for alone time this Valentine's Day, there's only one place for it: the Wild Atlantic Way. Spanning the length of Ireland's west coast, this evocative seaboard trail is about as far flung as it gets. Think soaring sea cliffs, windswept beaches, and some of the friendliest locals in Europe. If you choose, you won't see another soul for miles – bliss.
Explore the mystical Ingleton Waterfall Trail
Does the sight of a waterfall render you all of a flutter? Then steady yourself, for the Ingleton Waterfall Trail has lots of them. Beginning in the sleepy village of Ingleton, this circular trail takes visitors on a journey through some of the most spectacular waterfall scenery in England – trust me, you'll want the camera.
Savour a romantic rail journey in Snowdonia
Picture a steam train chugging through a leafy valley. Then, picture yourself aboard it, sipping a glass of champagne as you sit and admire the views. Sound good? Then book yourself aboard the Ffestiniog & Welsh Highland Railway, whose carriages and engines are over 150 years old. The Ffestiniog Railway has over forty miles of track, and passes some of Snowdonia's prettiest landscapes.
Picnic on the River Fowey in Cornwall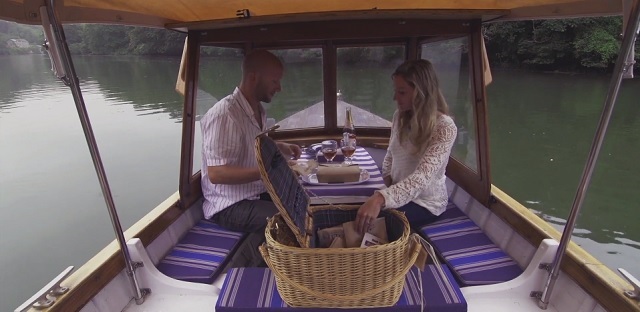 Perused our Discover Cornwall Visitor Guide recently? Then you'll know about the Fowey Picnic Boat. For those who haven't: the Fowey Picnic Boat offers the chance to picnic aboard a 1930's motor launch captained by friendly skipper, Brian. Brian will take lovebirds on a two-hour cruise of the beautiful River Fowey whilst they gorge on a delicious picnic. If you can't make it for Valentine's, it's the perfect daytrip come summer.
Saddle up in the Lake District
You've walked, cycled, kayaked and climbed your way across the Lake District – but have you ever explored this wonderful region on horseback? With an endless supply of fells, dells and coast to explore, Cumbria and the Lake District is one of the best places in the country for four-legged discovery. Like lovers of old, you too can saddle up and feel at one with nature this Valentine's Day.
Enjoy a snowy sled dog tour in Scotland
Or, swap ponies for pooches and enjoy an unforgettable sled dog tour in the Scottish Highlands this Valentine's Day. With a little help from some strong-as-on-ox canines, you can see the Highlands like never before. Over the Valentine's weekend, Scotland's likely to be covered in a blanket of snow, which will only add to the enchantment. After your mushing sesh, head back to the warmth of a Scottish log cabin and warm your extremities beside the fire.
Book a last minute Valentine's getaway
Just want to get away with the person you love? That's fine too! But you'll have to be quick, as there's only a few days left to book a last minute getaway for cupid's big weekend. Visit our Valentine's cottages page today, and use the search bar on the left of the page to find the perfect cottage for your romantic getaway.
Jonathan is a lover of books, music and good food. Originally from Yorkshire, there's nothing he likes more than a cycle in the country. One of his favourite spots in the UK is Tenby, where he spent many a happy holiday as a child.