The polls are closed, the votes have been tallied and it has been confirmed: Scotland is staying in the United Kingdom! There was a lot of talk during the run up to the referendum regarding politics and how various policies would change, which is rightfully so, however we thought that we would take a look at the more geographical changes and how statistically the UK's physical landscape would have changed if the vote were a yes. Take a look at our nifty, easy to read graphic to see how the UK would have changed if it had lost it's highland crown.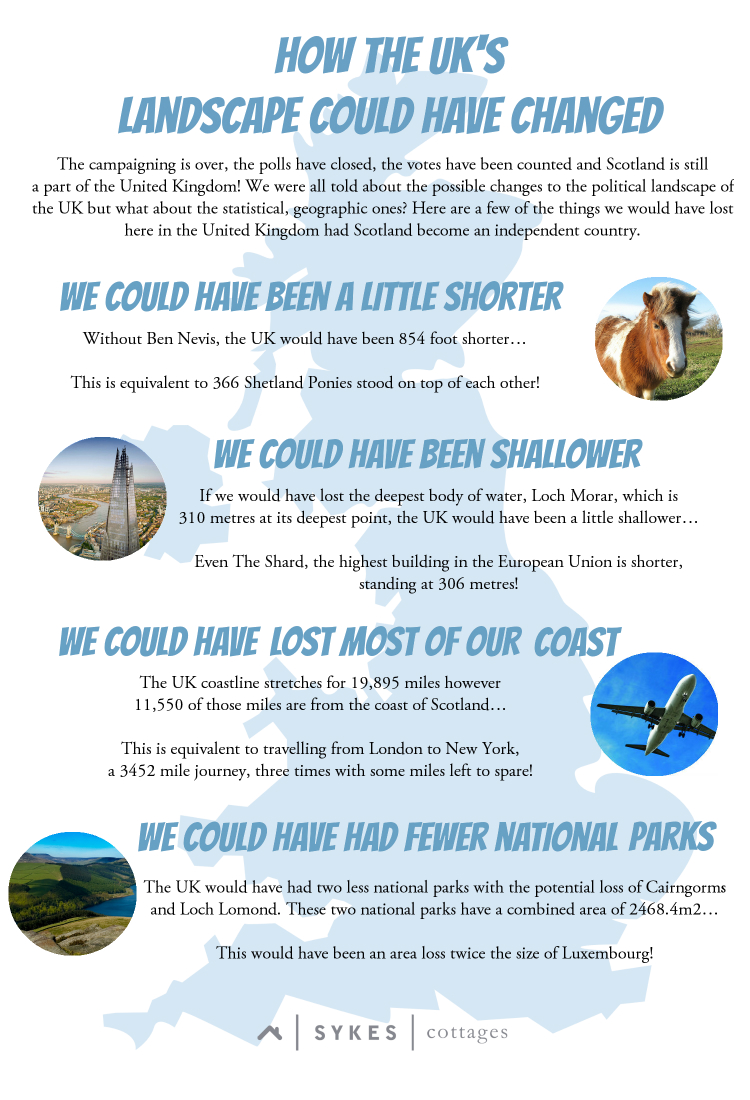 Copy and Paste the Code Below onto your Website to Share with your Readers
How The UK's Landscape Could Have Changed
The campaigning is over, the polls have closed, the votes have been counted and Scotland is still a part of the United Kingdom! We were all told about the possible changes to the political landscape of the UK but what about the statistical, geographic ones? Here are a few of the things we would have lost here in the United Kingdom had Scotland become an independent country.
We could have been shorter
Without Ben Nevis, the UK would have been 854 foot shorter…
This is equivalent to 366 Shetland Ponies stood on top of each other.
We could have been shallower
If we would have lost the deepest body of water, Loch Morar, which is 310 metres at its deepest point, the UK would have been a little shallower… Even The Shard, the highest building in the European Union is smaller than this, standing at 306 metres.
We could have lost most of our coast
The UK coastline stretches for 19,895 miles however 11,550 of those miles are from the coast of Scotland…
This is equivalent to travelling from London to New York, a 3452 mile journey, three times with some miles left to spare!
We could have had fewer national parks
The UK would have had two less national parks with the potential loss of Cairngorms and Loch Lomond. These two national parks have a combined area of 2468.4m2 ….
This would have been an area loss twice the size of Luxembourg!
A lover of reading, eating and shopping Leanne will often be found spending time with her two pugs or snapping away on instagram. A big fan of the city, She likes nothing more than getting away for a weekend break in the UK, her favourite places being London and Bath.