For many of us, our busy lives mean that we don't spend as much quality time with our family as we would like to. School, work and social events seem to be trying to keep us apart from our loved ones and any time we get to spend together is often rushed. This is why family holidays are so important; they are a time to switch off, forget the day-to-day and just spend quality time with the family. If you have a holiday cottage with enough space, it can be a great idea to make sure that it caters for families and at Sykes Cottages we're happy to help our cottage owners do just that! 
We're here to help
If you're unsure of anything or want suggestions of how to make your property a little more family friendly, then don't hesitate to ask your area manager or give us a call and speak to a member of our owner care department. We know what appeals to families and we're more than happy to share that knowledge with you! Why not make life a little easier for new parents by having a cot, high chair and maybe even a baby monitor available? And if you want your property to attract families with toddlers then installing stair gates, rounding any sharp corners with cushions and not having anything dangerous within reach of curious hands will be really appreciated by parents. Parents of older children and young teenagers will really appreciate things that will keep them entertained such as trampolines or slides in the back garden or DVDs and books to provide entertainment no matter what the weather decides to do!
We categorise your property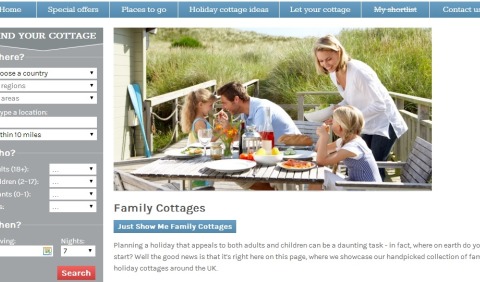 Baby friendly, toddler friendly, child friendly and just all round family friendly; we have them as pages on our website. These are the first places that potential guests will look and your property will be included on all the pages that are relevant, making sure that your property is seen by those most likely to book it! Can you provide a cot? Then you'll be on the baby friendly page; if you have stairs and provide a stair gate, then you'll fit in just fine on the toddler friendly page; and if you have added little extras such as books, DVDs or other fun things to do then the child friendly page is where your property belongs.
Extended Family
We understand that family does not just involve those living under the same roof, and often families who live in different parts of the UK like to holiday together. If you have the space and your property is in a convenient location that would appeal to multiple-household-holidaymakers, we will be more than happy to advise you of anything you may be unsure of when catering for these guests. Things such as how bedrooms would best be configured, how many guests can comfortably stay in the property and if there is enough parking for multiple cars are all things to think about to ensure that larger families have a brilliant time on holiday!
Don't Forget Those Furry Family Members
To those of us who share our lives and homes with a four-legged friend, they really are members of the family who deserve a holiday just as much as us humans do. Whilst it is not possible for every property to be pet friendly, if you have the facilities where a dog will be safe it can be a fantastic idea to open up your cottage to furry family members. This will not only increase your bookings but will also ensure that your guests have a fantastic time, as they will not be worrying so much about their pooches being left behind in a kennel. We are more than happy to suggest ways for our owners to make their property appealing for pet owners, or you can take a look at our tips to making your holiday cottage pet friendly for a few important things to keep in mind!
We'd love you to join us
These are just some of the ways that Sykes Cottages can help you cater to the family holiday market and get those all-important bookings. If you have a property that you feel is family friendly and you want to join an award winning self catering booking agency, then take a look at our owners page or give us a call for more information.
A lover of reading, eating and shopping Leanne will often be found spending time with her two pugs or snapping away on instagram. A big fan of the city, She likes nothing more than getting away for a weekend break in the UK, her favourite places being London and Bath.