There are few things more comforting on a cold autumn night than a bowl full of hot soup and a thick slice of bread. I know for some people any bread related comfort food may only include white bread smothered with lashings of butter, but for me it is brown bread all the way. The nutty deep flavour just can't be beaten, and when it's dipped into a steaming bowl of homemade soup…..mmmm…. Food heaven!
While home baked bread is always best, it can be pretty labour intensive. Hours of waiting for it to rise and bake, only to discover that something has gone not quite right, can leave one hungry and frustrated with the brick that they've just laboured to produce. The solution? Irish wheaten bread.
Irish Wheaten Bread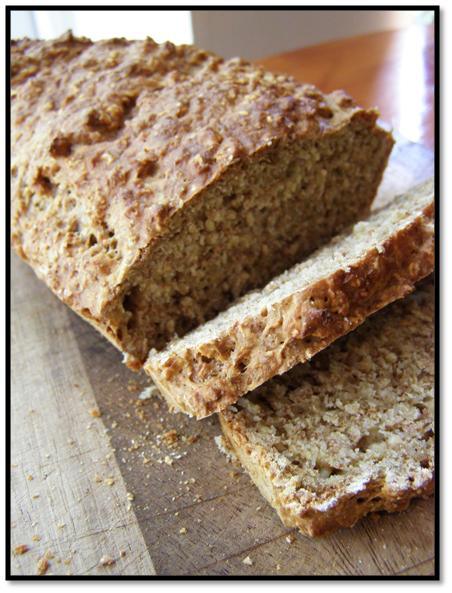 Every regional recipe has a story and Irish wheaten, or brown soda, bread is no different. The climate of the Emerald Isle makes the production of hard wheat, the type which is needed to make yeast leavened breads, difficult to cultivate. Due to this fluke of climactic fate the Irish stuck to the traditional quick bread method that worked best with their soft wheat flour and we today get to savour the results.
The making of wheaten bread couldn't be easier and the results are no less tasty than the time consuming alternative. Whole wheat flour, oats, salt, bicarbonate of soda, and a bit of sugar are mixed with buttermilk and an egg, the whole mix is poured into a loaf pan and baked to golden perfection. The resulting loaf has a crumbly texture and is more dense than yeast leavened bread, but is no less delicious.
Wheaten bread suits both sweet and savoury flavours equally well, so feel free to top it with anything from marmalade to smoked salmon (though probably not at the same time). On a trip to Ireland you'll find that wheaten bread, which is sometimes just called brown bread, is served with every meal of the day at restaurants ranging from local pubs to Michelin starred restaurants.
So, before your next visit to Ireland why not give making your own Wheaten Bread a try? Not only is it easy but it's delicious and nutritious too. All in all it's a winner!
Irish Wheaten Bread Recipe
1/2 lb extra coarse wholemeal flour
3 oz porridge oatlets
1 teaspoons bread soda                  mix together
1 teaspoons salt
1 teaspoons sugar or honey
1/2 pint buttermilk                                 mix together
1 egg
Add wet mix to dry mix. The mixture will be wet and sloppy.
Pour into a greased loaf tin.
Sprinkle some more porridge oatlets on top.
Bake for 45 minutes to 50 minutes at 190° or 170° celsius (fan assisted oven) or gas mark 5. Done when golden brown and a toothpick inserted in centre comes out clean.
Let cool for 10 minutes on a rack. Slice and enjoy!