It may be hard to believe that the red squirrel is native to the UK but since the introduction of its grey American cousin, the red population have been under serious threat. Compared to some three million grey squirrels in the England, there are approximately just 20,000 red squirrels remaining in woodlands up and down the country.
Much like a squirrel gathers nuts, we've done the hard work for you and gathered the best places to spot red squirrels in the UK.  Why not take a look…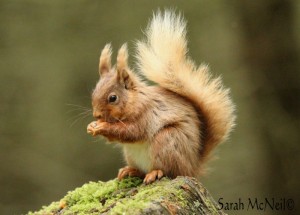 Penrith and surrounding area, Cumbria
Of the 20,000 red squirrels left in England, the majority are found in Cumbria and Northumberland.  The Penrith and District Red Squirrel Group covers some 500 square miles including popular holiday destinations like Ullswater and the Eden Valley.  Their role is to promote red squirrel conservation in the natural habitats the area has to offer.  It's little wonder that the Lake District is ever-popular with holidaymakers and squirrels thanks to its breathtaking scenery at every turn.  If you're planning a holiday in the Lakes, try Grizedale Forest, Whinfell Forest or Stagshaw Gardens for your best chance to spot red squirrels.
Anglesey, North Wales
Approximately 15 years ago, the red squirrel population on Anglesey was facing extinction.  Today, however, the population is thriving and has grown ten-fold thanks to the efforts of the Red Squirrel Trust Wales.  Head to coniferous woodland, the red squirrel's favoured habitat, for your best chance to see these creatures on Anglesey.  The local charity have also been working with the National Trust and there are now red squirrels living at Plas Newydd in Llanfairpwll.
Brownsea Island, Dorset
The small island which lies within the picturesque Poole Harbour is a haven for wildlife and is home to deer, water voles, peacocks and some 200 red squirrels.  Given that the nature reserve on the island is only 101 hectares in size, there's a pretty good chance you'll spot a red squirrel as you wander through the woodland.  Autumn is the best time for spotting the squirrels but whenever you visit you'll be rewarded with excellent nature spotting opportunities.  Take a look at our holiday cottages in Dorset, the perfect base to explore this beautiful part of the UK.
Conserving the UK's population of red squirrels isn't just a job for local charities but one we can all get involved in.  There's plenty we can all do help from reporting sightings and road deaths so the local groups can keep an accurate estimate of squirrel numbers.  Donations are also welcomed and allow these small charities to continue to promote the need for conservation.  And, if you're lucky enough to spot a red squirrel in your back garden, make sure to feed it!
Here at Sykes Cottages, we know that many of our customers choose UK holidays to make the most of the stunning scenery and unique flora and fauna found on our shores.  We think conservation is extremely important which is why we're corporate members of a number of Wildlife Trusts across the UK.  If you'd like to spend your next holiday looking out for wildlife, why not take a look at our holiday cottages in National Parks or those perfectly located for birdwatching?