Britain is famed for many things: Shakespeare, tea, fish and chips, The Beatles, Manchester United and of course, dear old Queenie. But one thing our fair isle is certainly not known for is its wine, with just 1% of the world's domestic vino bottled on our shores. Now, thanks predominantly to climate change, English and Welsh wines are on the up, and pretty soon, we're confident you'll be seeing British wine on the shelves of a supermarket near you.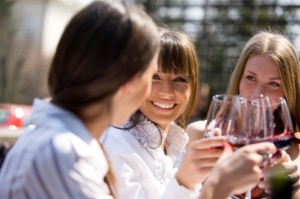 But where might you ask, on this damp old island of ours, do they produce this wonderful, fruity beverage- after all, Britain's hardly Burgundy, Rioja or the Napa Valley. And the answer is, well, everywhere actually. Although English wine production has in the past being associated with the South, vineyards have cropped up all over the British Isles in the past twenty years, spurred into existence by warmer summer temperatures and the development of hardier vines that can adapt to our cool and frequently very wet weather.
As today marks the start of English Wine Week, we wanted to find out exactly where Britain hides all of its award-winning vineyards, because aside from on the tele, I don't think I've ever come across one. So without further ado, raise a glass and prime your nostrils as we venture into the world of Britain's Best vineyards and where you can find them.
Forget Chianti, try Kent!
Kent, famously known as the Garden of England, has been at the centre of England's wine-making industry for centuries and is home to some 47 vineyards, each producing its own distinct batch of British vinos. Thanks to its excellent soils (which are similar to those of the Champagne region of France), Kent's sparkling wines have a formidable reputation and are now a revered variety on the global wine market. Luckily, because Kent's vineyards are so well established, many are open to the public and offer tasting days, guided tours and the chance to eat and drink in some truly mouth-watering eateries, so drop by for a guzzle when holidaying in the South East.
Taste a different side of Yorkshire
Home to over a third of the UK's breweries, Yorkshire is the last place you'd expect to find a growing number of successful vineyards. Normally, this Northern county would be far too cold for vines to ripen, but thanks to global warming and the creation of hardy grape varieties that can adapt to cold, wet environments, Yorkshire is flourishing as the up and coming place for English wine production. Many of Yorkshire's vineyards offer tours and wine tastings, making them an excellent place to spend the afternoon on a balmy summer's day- just make sure you've packed your wellies as these vineyards can get muddy even in the summer months.
Enjoy a snifter in the South West
Technically, South West England ought to be the only place in the UK where wine can be produced, but we've sort of cheated nature. That said, this region of England has all the right attributes for wine production: above average temperatures, great soil and an undulating landscape that helps shelter those precious grapevines. Wines have been produced here since Roman times, and now, the region is home to over 140 vineyards producing a huge variety of different wines. Sample smooth reds and refreshing whites on a wine tasting odyssey in South West England when you rent a cottage with us; we've got loads of holiday homes to rent in Cornwall, Devon and Dorset that would be ideal for a boozy trip to this fruitful corner of England.
Jonathan is a lover of books, music and good food. Originally from Yorkshire, there's nothing he likes more than a cycle in the country. One of his favourite spots in the UK is Tenby, where he spent many a happy holiday as a child.