With the weather finally improving (summer is on the way, we promise!) and several bank holidays to look forward to, now is the perfect time for a few days away. With the dark days of winter beating a hasty retreat, there's every excuse for an outdoorsy holiday exploring the beauty of the British Isles. As 2013 marks the Year of Natural Scotland, a year-long celebration of the country's breathtaking beauty, where better for an active break than north of the border? Scotland is truly a thrill seeker's paradise with miles of unspoilt countryside, numerous rugged mountains and crystal clear lochs which make the perfect backdrop for heart-racing fun.
On land…
Well known as a ski resort over the winter, Aviemore truly comes alive during the spring and summer when the snows gives way to outdoors explorers dressed for warmer weather.  Lace up your walking boots and reach the summit of Cairn Gorm, board a segway for a unique way to explore the Highlands or fly through the air on an exhilarating tree top adventure.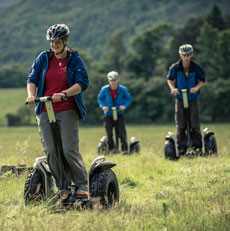 During the summer you'll also be able to experience a truly Scottish pastime; the Highland Games.  Originally conceived as way for Clan Chieftains to determine which members of the clan were the strongest but today are an exciting series of events from hammer throwing to tug o' war and of course tossing the caber.  If you're planning a holiday with a large group of friends, you could even arrange your very own Highland Games; simply contact Boots N Paddles, a Scottish outdoor activity company, for further details.
In the water…
Miles upon miles of unspoilt coastline and an impressive wealth of marine life makes the Scottish coast ideal for a kayaking adventure.  Challenge yourself with the Scottish Sea Kayaking Trail, a 500km route taking in some of the country's most stunning coastal landscapes between Gigha and the Summer Isles lying off the Scottish Highlands.  Not only is the trail Europe's first long distance kayaking trail, it's also been voted one of the top European tours of a lifetime by National Geographic.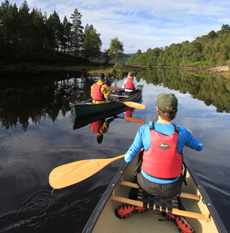 The watery fun doesn't end in a kayak; you'll find plenty more adventures as you head inland.  Families with younger children will enjoy a gentle canoe across Loch Ness (keep your eyes peeled for Nessie) while those with teenagers can look forward to gorge swimming in Aviemore or white water sledging in Inverness.
If the mere mention of these activities has already got your pulse racing, why not start planning an active holiday by taking a look at our Scotland cottages?  Our team of holiday cottages advisors are on hand until 9.30pm to help you plan your next holiday and can be reached on 01244 356695.  You can also get in touch with Boots N Paddles to plan a series of exciting outdoor adventures by visiting their website, they'll even bring all the equipment to a suitable venue near you.