Friday 30th November 2012. Another wintery Friday in November for most but those in Scotland or of Scottish descent will be donning their kilts to celebrate St Andrew's Day. For the uninitiated, a traditional St Andrew's Day celebrates the nation's patron saint who was chosen for his strength and protection.  St Andrew's cross or Saltire is today the national flag of Scotland and is part of the Union Jack.  People throughout the country indulge in lengthy celebrations of traditional food, dancing and music.  With big celebrations planned in Glasgow and Edinburgh, St Andrew's Day is without a doubt a great time to visit Scotland!
Choose a self-catering cottage in Scotland and cook up a traditional St Andrew's Day meal in your well-equipped kitchen.  Start with Cullen Skink, a traditional smoked fish soup originating from the town of Cullen on the Moray Firth.  Choose a piece of Scottish beef or herrings for a nod to St Andrew's fisherman roots and then end your meal with Crannachan or a Clootie dumpling with a dram or two of whisky!
Or if cooking such an elaborate meal seems like just too much effort when you're on holiday, join one of the many local parties and celebrations in honour of the Scottish patron saint.  After you've eaten, a vigorous evening of Scottish dancing is in order with many ceilidhs being held throughout the country.  Choose a partner who looks like they know what to do and dance the night away!

Make the most of your time in Scotland and enjoy some of the UK's finest scenery.  Walkers should head to Glencoe in the Scottish Highlands for a bracing walk or a more gentle stroll depending on your energy levels!  How better to spend a clear winter's day than walking in the Scottish Highlands?  Film lovers may also recognise the scenery as Glencoe provided the backdrop to the most recent James Bond film, Skyfall.  Choose a cottage with a cosy log fire ideal for a lazy day inside or the perfect place to relax after a day's walking.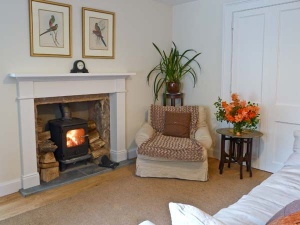 For those after a dose of culture, where better to go on your St Andrew's weekend than the city of St Andrews where the patron saint's bones now rest.  Wander the medieval town and admire St Andrews Cathedral and climb St Rule's Tower for wonderful views across the city and the surrounding Fife countryside.  There's a week-long festival to celebrate the patron saint and where better to pay tribute than in the city which bears his name?  Sports fans will also not want to miss the chance to play a round at the famous St Andrews course, known as the home of golf.
If this has got you thinking about a last minute trip to Scotland, why not view cottages available this weekend?  All you need to do now is get packing!  Have a great time!