Dark nights, dreary days and dreams of the summer. Although it seems like the summer holidays are months away, you'll be packing your beach towels and swimming costume before you know it. January is one of the busiest times for bookings at Sykes Cottages so it makes sense to start thinking about your summer holidays now! The most popular properties always get booked up quickly; the early bird catches the worm as they say!
Here's a taste of some of our most popular cottage holidays…
Large Cottages
Looking for somewhere big enough for all the family?  Choose one of our large properties which accommodate as many as 24 people making it the ideal location for a big reunion or special celebration with family or friends.  You might also be interested in one of our group properties; a number of cottages within yards of each other so each family can enjoy their privacy whilst being just next door for days out and meals together.  With group properties able to accommodate 36 people, there's plenty of space for everyone!  Choosing a large property is a great way to get everyone together at Christmas and also make a unique wedding location.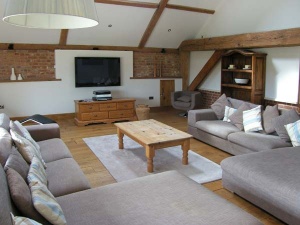 Holiday Cottages with Swimming Pools
For hours of family fun for big kids and little kids alike, look no further than a holiday cottage with a swimming pool.  We have cottages with private pools, shared pools, indoor, outdoor, heated or unheated so you're sure to find just the right place to make a splash.  As you'd expect our cottages with swimming pools are really popular during the summer holidays so it's a great idea to book now and secure your favourite property.  Some of our swimming pool properties also have hot tubs, saunas or gyms so you can look forward to a great holiday.  Imagine relaxing by the pool with a good book on a sunny afternoon or waking up with quick dip before breakfast; heaven!
Five star cottages
Life in the lap of luxury could be yours with a luxury holiday cottage from Sykes.  Each of our properties is personally inspected and awarded a tick rating, similar to stars awarded by tourist boards.  You'll be spoilt for choice with our great range of five tick properties especially as it's much cheaper to stay in a luxurious self-catering cottage than in a five star hotel.  Look forward to state of the art kitchens, high end furnishings, sumptuous linens and towels and fancy technology.  Aspiring Lords of the manor can even choose a cottage with a private chef or butler to make the holiday even more special!
Time is ticking for the summer holidays! Why not browse our wonderful selection of holiday cottages across the UK and Ireland today to make sure you don't miss out on your first choice!