At Sykes Cottages, we believe that arranging suitable travel insurance cover is just as important as watering the plants and locking the front door before you set off on your holiday. We offer comprehensive cover for up to 16 people that offers peace of mind and great value for money.

UK Premiums
| | |
| --- | --- |
| Holiday Price | Insurance Premium |
| Holidays up to £200 | £10 |
| £201 to £350 | £17 |
| £351 to £450 | £21 |
| £451 to £600 | £28 |
| £601 to £800 | £37 |
| £801 to £1000 | £46 |
Thereafter £4.50 for each additional £100. Premiums include Insurance Premium Tax @20%.

UK Policy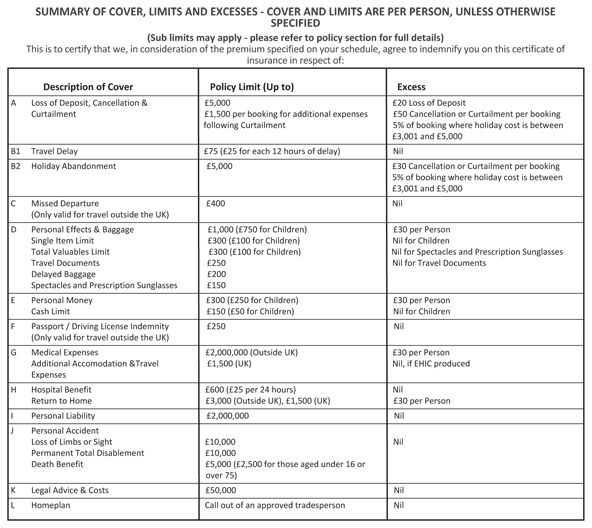 These are summaries of cover only. Full terms and conditions are contained with the policy wordings, specimen copies of which are downloadable from this website. Please click here to download document.

Important Information Regarding Pre-existing Medical Conditions
This Insurance does not cover claims, for you or anyone else upon whom your trip depends, arising directly or indirectly from:
travelling or acting against medical advice
awaiting results of tests or medical investigations
being on a hospital waiting list for treatment
having received a terminal prognosis
you travelling against any health requirements stipulated by the carrier, their handling agents or any other public transport provider
anxiety, stress or depression (unless admitted as an in-patient)
Travel Insurance Cancellation Terms
If, after reading the policy, this Insurance does not meet with your requirements, please return it to Sykes Cottages within fourteen days of issue and prior to the commencement of your holiday. If you have paid a Premium and have not made a claim, this will then be refunded in full.

Sykes Cottages is an appointed representative of UK General Insurance Limited who are authorised and regulated by the Financial Services Authority. The insurance is arranged with Ageas Insurance Limited, authorised and regulated by the Financial Services Authority.