6 Guests

3 Bedrooms

3 Bathrooms

Pets Yes
Features
Off road parking
Ground floor accommodation
Ground floor bedroom
Garden / Patio
Washing machine
Sky TV
Broadband / WiFi
Reviews & Ratings
14 Customer Reviews
"Would highly recommend this property, it has everything you need if you're a couple with a pooch like us or a family, it has the space indoors and outdoors, Location was ideal being 20/25 min drive from most towns/tourist spots, The owners were lovely giving us a warm welcome and a goodbye, would love to go back in the future."

Thank you for your feedback ,enjoyed having you .look forward to seeing you again . Our dog Louis found one of the lost chews ! Property Owner

"WOW! Springfields is amazing."

The property is HUGE but still has a cosy feel with a mix of modern and antique furniture. It is situated off a very narrow country road. We missed the turning on arrival as the name plaque is small, but noticed a traffic cone outside every day afterwards. There is everything you need if you want to self cater from a microwave, a variety of pots and pans, to a dishwasher. Pam, the lovely owner, came and introduced herself and showed us how everything worked and answered any questions we had. On our final day she and her husband came to collect the rubbish and recycling and to bid us farewell. The property is ideally situated for relaxing or exploring Devon but we were surprised to find we were only approximately an hours drive from Looe. We thoroughly enjoyed our time here and heartily recommend a stay.

Thank you for your feedback, so pleased you enjoyed your holiday and appreciated all the wonderful things about Springfield .Thank you for coming Property Owner

"The property was lovely and exactly as described in the pictures."

Great farm house with all the amenities possible and the hosts were very sociable, welcoming and generous with us The area was also good for a summer stay and would recommend this place to most. Sadly broadband was down for the entire duration of our stay and network here is limited for reasons outside the control of our hosts.

Thank you for your feedback ,we enjoyed having you and your family visiting us. Broadband all fixed now by Open Reach. Property Owner

"We had a lovely week at Springfield farm."

Accomadation is excellent, really spacious, quiet and beautiful surroundings.

So pleased you enjoyed your stay,thank you for coming ,you were perfect guests . Property Owner

"A ramp at the front of the house would be a help for anyone who is not too steady on their feet as the gravel is quite uneven and also perhaps a painted line at the edge of each layer of steps at the front as it is easy to misjudge the step down."

Thank you for your feedback . There is a disabled access ramp for visitors on the far left of the patio in the front of the property. It is a pity you missed it as it leads directly to the front door without the need for steps. You could have driven over the gravel right up to it . Thank you for staying at Springfield. Property Owner

"Beautiful barn conversion, very comfortable and spacious with spectacular views."

Owners very helpful and friendly.

Thank you for coming , pleased you enjoyed our wonderful property Property Owner

"A fabulous week at Springfield Farm, the pictures do not do the property justice - so much space inside and out!"

Our dog loved all the outside space. Very secluded, lovely to sit and enjoy the scenery and watch the birds, buzzards circling, herons at the pond and swallows. A couple of the swallows came inside through the bifold doors on one day! Great to visit a property where the little things had been thought of like coffee tables by the chairs - have been to other properties where you end up having to put your drinks on the floor. Beds and chairs very comfortable, were able to have the relaxing week that was much needed. Great visits to Dartmouth, Kingsbridge and Slapton Sands. The property facing South makes it an amazing suntrap which could do with an extra canopy to fold out for shade. Stunning sunsets over the hills each night, we were very fortunate with glorious weather. Thank you to the owners, lovely chat to you about how you built the property.

We enjoyed having you at Springfield, thank you for your excellent review .The swallows are now nesting by the barn next door ! Property Owner

"Wonderful outlet, grounds and fantastically spacious property (which with the rainy week)"

Thank you ,so pleased you enjoyed yourselves. Property Owner

"Had a lovely week except for the weather the owner called on us to make sure we ..."

Had a lovely week except for the weather the owner called on us to make sure we were all ok during the storm, hopefully we will be booking again next year

"We had a pleasant stay at this unusual property, on the whole very comfortable and a mix of old and modern which worked well."

It's in a lovely position with views across to Dartmoor. To me first impressions and attention to detail are very important. After a journey of several hours we wanted, as most people do, a cup of tea. No fresh milk. I did find some sachets of UHT which we don't like. We've stayed in places where there is very little left in the way of a welcome pack but most places have provided a pint of milk. I must say that a property we stayed in last year left us a hamper with which we could have easily made a meal, milk, eggs, bread, cheese, local produce, not to mention a beautiful vase of flowers. A few minor things. No oven gloves, I could have contacted the owner but forgot about it until I needed to use them. Second, the salt and pepper mills were almost empty. Not a problem for us as we don't use much but a friend of ours would have emptied them in one meal.I did have to wash one or two things before using ie. the milk jug looked like it had been used for gravy and the baking tray nods binning. The biggest problem was the shower next to the twin room.There was a note stuck on it warning that the water doesn't drain quickly and not to have the water on too fast. I just about managed to wash my hair and shower very quickly before the tray was full. There was no way anyone else could shower immediately after. I don't know how long it took for the water to drain as we were out but certainly I think more than an hour. Sorry if I sound like a Moaning Minnie, but these things are small and easily rectified, although I don't know about the shower. Lastly, no Visitor's book, not that we could find and I do enjoy reading about others experiences!

"Had an amazing week, we love Devon and visited a lot of places including new ones."

Very comfortable home, the most beautiful views that we have had I think in all the years we have been visiting. Will definitely return. Thank you.

So pleased you enjoyed your stay ,we look forward to seeing you again Property Owner

"We all (three generations + dog) had a fantastic stay at Springfield Farm and would definitely recommend it."

The owner came and showed us where everything was and how it worked. There is plenty of room for everyone inside and outside. There is a pond right at the bottom of the huge grounds so if you have toddlers watch them. There are a few beaches to choose from to visit and the Woodland Theme Park is about 10 to 15mins away. It was lovely to hear the wildlife at night. A special thanks to the owners.

We are very pleased you all enjoyed your stay at Springfield. It was a pleasure to have you .Thank you . Property Owner

"We enjoyed our stay at Springfield."

The owners were very helpful. A nice big garden with 2 ponds. We saw a fox, a Heron and a bird of prey The grass was cut whilst we were there (Some if it is left uncut to grow wild plants for most of the year - to attract the birds and insects so it is only cut once a year). There is a large patio which gets a lot of sun. It was exceptionally hot when we were there. We think a parasol would have been handy, it would have been well used. We have mentioned this to the owners. One thing I would upgrade if I owned it: The patio is raised and has nothing at the edge. Perhaps a few planters around the edges and additional railings alongside the steps would make it safer and easier for some guests to go down into the garden? My elderly dad had to be helped down the steps. Inside the property the decor is a mixture of old and new. Quite eclectic but it works! We found most things that we needed.The beds and the lounge seating were very comfortable and we didn't have any major problems. Minor problems with the main tv but the owners say they are going to upgrade their package. No problems with wifi. There are some very modern touches like the hob that drops down, the grid that sucks in the swept up debris from the floor, the changing coloured lights and the jacuzzi nozzles in the master en suite shower. Some of the artwork was created by the owner who lived in the property before renting it out. There is a large utility room where you can dry your washing on a big clothes airer. Very handy. We had very high temperatures so took some fans and spare flat sheets for the beds. The property is very quiet apart from the sound of an occasional vehicle. It can be found on a country lane. Blink and you can miss it. There is a small sign at the top of the drive and there are 2 grey gates. Look out for the traffic cone as you approach the property. Beware that some of the local roads are single file with passing places but after a couple of days you get to know which routes have 2 way traffic, better wider roads so you can use the narrow roads as little as possible. If you want to get away from it all for some peace, quiet and space this property is ideal. You aren't far from Moreleigh or Totnes for various amenities. Asda found us easily to deliver some shopping the day we arrived. As stated by the owner, not suitable for under 5s. Ideal for people with older children or just adults.

Wonderful feedback ! Very useful , l have purchased a large parasol and will keep the traffic cone in place !, so pleased you saw some of the amazing creatures that visit Springfield . Thank you for coming . Property Owner

"I cannot fault the cottage, it was great."

Our only disappointment was the grounds as they are not as per the photos. I fully understand the nature benefits of keeping long grass but there is a 2nd field behind that's long. We purposely booked this cottage over others due to the large garden so my boys could run around and we took lots of ball games with us. There was space but I didn't like the boys going into the extremely long grass to collect balls and not the full space, I wouldn't have minded if one side kept long but not how it is at present. Apologies if you do find any tennis balls or shuttlecocks in the grass when it is cut. The garden was the original appeal to us with this cottage but inside was lovely and as per photos.

There are no reviews featuring this term Show all reviews
Show more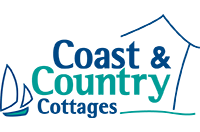 This property is part of the Coast & Country Cottages collection.
Choose from over 400 properties in Salcombe, Dartmouth and the surrounding South Devon coast and countryside - the perfect destination for a holiday all year round.
Summary
Single-storey
Three bedrooms: 1 x super-king-size (zip/link, can be twin on request) with TV, walk-in wardrobe and en-suite jacuzzi bath, multi-jet power shower, basin, heated towel rail and WC, 1 x king-size with TV and en-suite walk-in shower, basin and WC, 1 x twin
Shower room with walk-in shower, basin, heated towel rail and WC
Open-plan living space with kitchen, dining area, sitting area and electric fire
Utility
Study/reading room
Oil central heating with underfloor heating and electric fire
Electric double ovens, induction hob, microwave, fridge/freezer, washing machine
TV with Sky, Netflix and Prime, 2 x TVs, DVD player, WiFi, selection of books
Fuel and power inc. in rent
Bed linen and towels inc. in rent
Ample off-road parking
Front patio with furniture
Rear garden with terrace, field garden, pond and furniture
Will except one well behaved dog
Sorry, no smoking
Shop 2.2 miles, pub 1.1 miles
Sorry no under 5's
Note: There are two ponds on the property's site, please supervise children at all times when near these as they are not fenced in
Note: There are a couple of steps up to the front of the property and steps down in the back garden, please take care
Note: The gardens are not enclosed, please consider this when booking
Note: Check-in from 4pm, check-out by 10am
The property
Enjoying stunning countryside views, on the outskirts of Moreleigh near Halwell, Devon, is this fabulous, single-storey 'Grand Design' worthy property, Springfield Farm.
Gorgeously furnished throughout, enjoying a large garden and ample off-road parking, Springfield Farm is the perfect base for a family of six who want an idyllic getaway in Devon.
After parking up, climb the steps and head inside the timber-clad abode, where a beautifully furnished open-plan living space welcomes you, with high-vaulted ceilings and skylights flooding the space with welcoming, natural light.
Make your way to the sitting area, where a large corner sofa and an armchair entice you to stretch out in front of the wall-mounted TV, where Sky shows and a DVD player will keep you entertained.
Move across the stunning space's marble floors to the contemporary fitted kitchen, an area enjoying sleek fittings throughout, with a collection of integrated appliances that will please any budding chef.
After a mouthwatering meal has been prepared, enjoy it at the dining table; during the summertime, be sure to open up the adjacent bi-fold doors, so you can really bring in those beautiful views of the country!
After dinner, return to the sitting area, or if you'd prefer a little bit of peace and quiet, head to the study/reading room and curl up with a book from the kindly provided selection.
As the day winds to a close, retreat to one of the three tastefully furnished bedrooms for a well-earned rest, with the first being a zip/linked super-king-size, where a fabulous en-suite bathroom with a jacuzzi bath and multi-jet shower, a TV and a walk-in wardrobe give the space a touch of luxury!
A king-size can be found further along the corridor, also with an en-suite shower room and a TV; further along lies the twin room, a space enjoying lovely views of the countryside and access to a nearby shower room.
Concluding the property's interior is a handy utility area, where you can keep your holiday wardrobe fresh with the washing machine.
Make the most of the property's spacious gardens, where a patio to the front is a lovely space to unwind, and the back garden offers a large lawn with a marshy pond and terrace for you to sit out on.
A welcoming pub can be found in Moreleigh, The New Inn, or you can continue to Halwell, where The Old Inn and a petrol station with a convenience store offer all you need in for a self-catered stay.
Spend some time in the iconic town of Totnes, where the historic delights of Totnes Castle and The Timehouse await!
Venture to the coast and spend the day in Dartmouth, where walks along the River Dart and South West Coastal Path can be enjoyed, as well as access to Dartmouth Museum and Bayard's Cove Fort.
Why not board a boat from Dartmouth to Kingswear, where you can board the Dartmouth Steam Railway, hike to the National Trust property of Coleton Fishacre or to the sunny shores of Man Sands?
For more outdoor fun, be sure to visit Dartmoor National Park, or if you'd prefer a coastal excursion, spend more time in the South Devon AONB.
Choose Springfield Farm for an excellent stay in Devon.
Note: This property has a Good Housekeeping bond of £200.
About the location
HALWELL
Totnes 6.2 miles; Dartmouth 8.6 miles; Buckfastleigh 11.2 miles.
Halwell is a small village in wooded farmland equidistant from the busy little town of Kingsbridge and popular Totnes. Positioned in a wonderful region of the South Hams District, near the south coast of Devon, this village is home to a pub and there is a petrol garage with a shop, as well as access to the surrounding attractions for a fun-filled holiday. Just a short drive away is the wonderful Woodlands Family Theme Park, offering an exciting day out for all the family with rides and attractions. Walkers can delight in venturing into the South Devon Area of Outstanding Beauty to explore the stunning natural landscapes, and following the meandering River Avon down within the Avon Valley. Less than 10 miles away is the fantastic riverside town of Dartmouth, bustling with life, expect to discover exquisite restaurants, exciting river adventures and a host of attractions in the scenic setting. With all of this and more to be discovered in the neighbouring Dartmoor National Park, Halwell is a great base for an escape to Devon.
Please note that due to the nature of the grounds, the ponds are not fenced in as they provide a watering spot for the local wildlife and home to the roaming ducks. Therefore no children are to be left unattended at any time.

Please note that the area around the lower pond can become water logged.

Sorry no under 5's
This property offers the following short breaks: