8 Guests

4 Bedrooms

3 Bathrooms

Pets No
Features
Garden / Patio
Cot available
Highchair available
Pub/shop < 1 mile
Washing machine
Dishwasher
Seaside
Broadband / WiFi
Reviews & Ratings
35 Customer Reviews
"I believe you have already fed back our issues with the property owner as we sent photo evidence of the condition of the property."

It is being falsely advertised and were were mislead to believe this was quality accommodation. One bathroom is completely disgusting and requires maintenance. The fridge/freezer is falling apart, doors and other items are broken and the cleanliness was poor. The outside areas are poorly presented and despite a request to be cleaned, cigarette butts were still laying on the ground post 'clean'. I wouldn't suggest this property to anyone until maintenance is carried out and the cleaning company is changed.

Many thanks for taking the time to leave your feedback. We are truly sorry that the property did not meet your expectations. Since visiting the property the owner has taken your comments onboard. We are actively working to rectify the problems you encountered to ensure that the property meets the high standards we strive to maintain. We want to assure you that we are taking immediate action on some of the concerns you've raised, however there may be matters that require more time to be fully addressed. We do hope you still had a lovely holiday and enjoyed all that Salcombe has to offer. Property Owner

"Excellent location and lovely house, but the ensuite bathroom in the main ..."

Excellent location and lovely house, but the ensuite bathroom in the main bedroom is desperately in need of a refurbishment with taped tiles on the floor and cracked tiles on the wall and a poorly fitted door

"The house needs a lot of maintenance."

The shower doors in the on suite don't meet and there is black tape on the tiles . There is a lot of brown marks around the toilet brush and a disgusting plunger sitting in the on suite . . The back gate is off . Outside areas need cleaning and weeding . The bedroom door needs planning as it doesn't close unless you really bang it . The downstairs toilet door is sticking and the lock doesn't really work . A lot of the paint needs touching up . Outside needs painting . It is a nice house in a good spot but I definitely wouldn't come back or recommend to anyone because of all the faults . It was disappointing as it was a birthday treat .

"Very nice house, we stayed there 11 years ago."

Needs some money spent on the upkeep of the property, showers leak, tape over the broken tiles, fridge falling to bits etc.Outside area needs weeding and some broken chairs. Would not take much to get back to standard for the money that is being charged for the property.

"Lovely house in great central but quite location."

Well equipped with lots of toys and boards games to keep family entertained. We had a very comfortable stay despite couple of maintenance issues that were quickly picked up by the C&C team. The review about lack of storage in master ensuite is unjustified or been resolved as there is a huge chest of drawers on landing and the other master has plenty of storage. We would definitely consider booking again. One suggestion would be is the only missing item for those traveling with smaller children is a stair gate, everything else was spot on! Thank you for a lovely peaceful off season week away.

"This was a lovely cottage … very well appointed and comfortable… had top notch appliances and nice interior decor … everything you needed was there A few extra toilet rolls would have been useful but otherwise everything was perfect ."

. a great place to stay and would highly recommend… it was like home from home … lovely main bathroom too … it was perfect for us …

"Accommodation that you offer to the public should have enough wardrobe and storage in each bedroom as it is usual for people to unpack their suitcases and place these items into a wardrobe and drawers etc."

But this was not the case with your property, the en suite bedroom with flower wallpaper behind the bed, which has a door onto the balcony did not have a wardrobe, nor did it have any appropriate decent size chest of drawers for our clothes,shelving space etc. It was unpleasant and not normal that we had to leave most of our belongings in suitcases, and every time we needed something we had to bend down to open cases to retrieve our belongings.You should have provided proper furniture such as wardrobes and drawers for all belongings. It was completely inadequate and unacceptable to provide only a hat stand for us to hang clothing on. We stayed for one week and brought large suitcases of belongings with us, meaning that we brought clothing that required many more hangers than what was provided in the bedroom. That bedroom was too small and cramped. The en suite bathroom toilet was much too close to the wall and made toilet use awkward and uncomfortable and caused accidents like stubbing toe against a wall or shower etc. This was not acceptable in a property for hire that charges lots of money. And there was insufficient storage in the bathroom i.e. inadequate shelving and bathroom furniture to hold or house our toiletries, this meant that we had to put our toiletry bags on the floor and in the suitcase,this makes it inconvenient to retrieve items and unpleasant to have to bend down to retrieve toiletry bags each time we need something etc.You must put bathroom storage into your en suite bathroom so that people can put their hair spray, mouth wash, make up, deodorant,brush etc on shelving or furniture that is EASILY TO HAND and convenient to retrieve in the bathroom.Therefore, you are charging too much money for a rental property where the facilities are inadequate. I paid over £1100 for one weeks stay, too much money for a very small cramped bedroom which did not have a wardrobe, nor good sized chest of drawers, nor cupboard storage space, and the en suite facilities were very much inadequate and cramped, tiny room and uncomfortable for the price you charged,and there is no on site parking.

"Great position lovely cottage big enough for 8 of us."

Plus beautiful decor. The only issue we has was with rubbish collection which was out of rental company hands.

"We have stayed in this property 7/8 times before and its excellent as always even if slightly different specification/decor , with a change of owners ."

Etcetc Thank you

Welcome back!.. Thank you for taking the time to leave us your comments. We were really pleased to read that the property was comfortable for your return. We have passed on your praises to the owner who were delighted to read this. We very much look forward to welcoming you back soon. Coast and Country Cottages on behalf of, Property Owner

"The house was dirty with stained carpets and dust everywhere."

The coffee machine was full of used coffee pods. Dishwasher and washing machine were dirty. One bed was broken and several blinds failed to work. The home needed maintaining as it looked tired. There were spiders webs everywhere some looked well established with insect carcasses in and around them. The property was well situated for all amenities and of a good design. Pitty about its condition.

Thank you for taking the time to leave us your feedback. We were terribly sorry to read that both the cleanliness and presentation of the property upon your arrival was unsatisfactory. Please be assured that should you have contacted us during your stay, we would have arranged for the property to be recleaned. Please accept our apologies. We do hope you still enjoyed Salcombe and hope to welcome you back sometime soon. Coast and Country Cottages on behalf of, Property Owner

"Cleaning really below standard in fact the accommodation was filthy with toothpaste down the sink an old plaster in the shower to name but a few things."

"Property perfectly located close to town."

Some jobs required sorting and the Sykes team got cracking and sorted, although some inconvenience it worked well for all of us. Lovely house

"16 courtenay street is a nicely located property but unfortunately the beds particularly and some of the other equipment needs replacing."

We had a very efficient service to fax various aspects of the property during our stay. Unfortunately the loo seat at the top brick and also a blind chain. Some of the facilities are not really suitable for rental as they are not great quality. The property was not really that clean when we arrived particularly the kitchen doors. The Sykes service was very good though. We would definitely rent from them again.

"The holiday home was comfortable."

For the price bracket there were a few things which needed to be fixed - water/ice dispenser, coffee machine and taps were broken.

Many thanks for leaving your feedback, we really appreciate you taking the time to let us know of any issues that may have occurred during your stay, we can now do our best to rectify them. We hope you are an enjoyable stay and look forward to welcoming you back to the area soon. Property Owner

"Excellent location - good amount of space"

"The cottage was superb."

Most holiday rentals are very bland, but this cottage was characterful, beautifully decorated, extremely comfortable and well equipped. It was evident that the owners truly care for the cottage and their thoughtfulness was very much appreciated throughout our visit to Salcombe.

"This was a great house for our week in Salcombe."

It was beautifully clean and had everything that we needed. The warm laundry room was a real bonus as we had a few rainy days and it was very easy to dry everything! We would definitely book this house again. The only very small negatives were that the dishwasher had obviously seen better days, it still worked but it was temperamental. And also the ice machine on the lovely big fridge didn't work. We got round all of these things but for future reference maybe they need to be looked at. All in all it our feedback is very positive........can't wait to go back.

"The holiday home had such great potential and I'd be really annoyed if I were the owners of the property."

We arrived and the decking hadn't been cleaned which took two days (half the holiday to sort out). Two out of the four showers we couldn't use because they leaked through to the kitchen lightbulbs (so we also didn't want to switch the lights on) and after emailing twice after returning from the holiday about what could be done in terms of compensation or even just acknowledgement, I didn't even get an email apology. I still haven't heard anything back despite my follow up. Can't believe how difficult Sykes have been to deal with. Such a shame. Appreciate there the phone lines are busy with enquiries about holidays at this time but I would still like someone to reply to my email asap.

Thank you for taking the time to leave feedback. We are very disappointed to hear that you had a few issues upon your arrival at 16 Courtenay Street. We were unaware that any of the showers had faults before your arrival. We did offer to send a contractor to investigate but in the current climate we understood that you did not want anyone to attend. On investigation we have found no issues and have had no further reports of this nature but thank you for bringing this to our attention. Furthermore we can only apologise that the outside area was not clean on your arrival. Unfortunately we could not get anyone to clean it on the Monday, which was why it was done on Tuesday and not sooner. We are very disappointed to hear that you have had issues with our communication, we are always on hand in the local office to provide assistance as required. We hope despite these issues, we hope that you enjoyed your time in Salcombe. Property Owner

"I was really disappointed with the cleaning of this property."

On arrival we discovered that the hob was not cleaned. I called Sykes and a cleaner was sent out on the Monday to clean the hob iron. He obviously didn't think that it needed cleaning, went outside to clean the hob iron and then said "well I can't really clean this it needs a deep clean as it's end of season". He gave the air of someone who couldn't be bothered. As the week went on we could see that there was evidence of lack of/poor cleaning. E.g. pink mould on the sink plug holes in the top bathroom and the downstairs loo, dust, the fridge doors and water dispenser were beyond filthy, kitchen doors had not been throughly cleaned but I did not see the point of having another cleaner come out who couldn't be bothered. I noticed when booking that the reviews of this property stated cleaning was poor and sadly this was true of our week. It's a shame as the house itself is great in terms of layout and it's location but it is looking a little tired and could do with a revamp.

We were so sorry to read your comments about the cleanliness of 16 Courtenay Street. We do work very hard with individual cleaners to ensure that our properties are presented to our high standards, and we are sorry that on this occasion we have fallen short. We always ask for the opportunity to rectify issues, and were further disappointed to read that you did not feel that this was carried out in a professional manner. The Head of Housekeeping and our Property Services Team have been notified of your comments and please be assured that all issues will be checked and addressed as swiftly as possible. We do apologise once again, and hope that despite this you enjoyed your time in beautiful Salcombe. Property Owner

"Great house in a fantastic location right in town."

Very well kitted out and was a great space to share between two families with two young kids - it's exactly as described online. Loved the sun terrace behind the house. The proximity to the park was very handy too for anyone with young kids.

"Great property with comfy beds."

Little wardrobe space could do with a lot more. Showers fairly small. Garden area could of done with a clean tidy. Considering we are in covid 19 there were far too many soft furnishings cushions etc would of liked to see them removed.

"Cleanliness was questionable."

Considering this was an out of season visit I would have expected the cleanliness to be exceptional. Bedding/towels were very clean and no complaints here but general housekeeping was definitely in need of detailed attention. Cobwebs and dust evident throughout. Carpets not vacuumed properly. Rugs seen better days and curling up which caused several trips. We eventually removed the rugs completely. This was a 2 night stay but had we stayed for longer we would have requested a thorough clean. There was also no hot water in top shower room although other 2 bathrooms were ok. Maybe this was down to 'user' error and we managed for our short 2 day stay. The house itself is gorgeous and very well equipped. Someone has certainly made an incredible effort with the design and facilities. Location is fabulous and we would recommend but would certainly advise that a thorough clean was conducted prior to the visit.

Thank you for taking the time to review your stay at 16 Courtenay Street. We are pleased to read that overall you enjoyed your stay and the property however were sad to read that there were some cleaning issues, we do ask that you make us aware of any issues as soon as possible so we are able to rectify these and to allow you to enjoy your break. We work hard with our housekeepers and owners to ensure our properties are presented and maintained to the standard we expect and have raised these points with the housekeepers. The owners will be replacing the rugs during their next visit and the issues with the shower have been rectified. We hope we can welcome you back to Salcombe in the near future. Property Owner

"Accommodation was in a good position close to shops and restaurants."

Beautifully decorated and well stocked. We had a 3 year old with us and there was plenty of toys and books to keep her occupied. Accommodation spread over 3 floors which allowed each family to have their own space. Very enjoyable stay. Would stay there again and recommend to others. Did however find it difficult to find the office to pick up keys on day of arrival.

"As detailed in my email and telephone conversations we were very dissatisfied with the state of the property on arrival- it was dirty and not up to standard."

Although two members of staff came to clean up a few hours later- the property should never have been left in such a state upon arrival. There were inaccuracies in the brochure description and the property was shabby in parts (chipped paint, stained floors and dirty carpets) - we were told this was because it was the end of season but don't feel this is an acceptable excuse. After living in the property for a few days we raised further issues of concern (on the Monday) which were not responded to until three days later (Thursday) and by then we were nearly at the end of our holiday and the concerns we raised were minimized and left unaddressed. We were disappointed with this holiday company and would never use them again. This is the first bad review I have ever given in 40 years of travelling and I don't like to complain but would warn others to take caution before booking with them.

Thank you for your feedback though we are sorry you were dissatisfied both with the property and our response, we did send someone straight over to the property to rectify those issues raised on the day of arrival. We received a further email from yourself regarding a couple of other things you had noted and asked if you would like us to send anyone over again but this offer was declined. Though we do recognise that sometimes very popular properties do need a little maintenance at the end of a busy season , this was in no way an excuse and apologise if this impression was given. I hope you will reconsider using our services again in the future. Property Owner

"The cottage was very well presented and equipped."

The beds are very comfortable and the showers excellent. The location is perfect for people who want to leave the car in the car park, everything is within a short walk.

"Have given feedback to Booking."

Com regarding this stay. Patio furniture could have been cleaned prior to our arrival as nice weather was forecast but rattan furniture was dirty (looks like it had been left out all winter, and was covered in old leaves). Seat cushions were damp and could not be used. Parking permit for one car is not sufficient for a family of 8 staying in this property - £50 in parking charges for 2nd car was an unforeseen expense. Stain on bedroom carpet unsightly. Light switch for lounge lights behind fridge needs moving.

Thank you for your feedback and please accept our apologies that you arrived to unsatisfactory outside furniture. This has now been rectified and the stain removed from the bedroom carpet. For your future reference ,please contact the office during your stay and we will always rectify situations such as these immediately. Property Owner

"Amazing house in Salcombe."

Beautiful decor, so many lovely quirky touches... it made me want to redecorate my house!!! We spent a lovely weekend for my mother's 60th birthday. The house was in an excellent location, central to everything. We took our 5 year old daughter, who was brilliantly catered for in the house... from children's plates and bowls, a toilet seat, and even books to read at bedtime. She loved it!!! Would definitely love to stay here again and will definitely be sharing this little diamond with friends and family. Please thank the family for renting out their beautiful house!!

"House was very clean and tidy."

everything you could want in house. description was exactly what you got not like some agents. would use again.

"Accommodation was fine."

Vehicular access and parking a bit of a problem but manageable.

"Great location, beautiful interior and extremely well equipped with everything you could possibly need for your stay."

"Lovely house in a great location."

Beautifully decorated and well-equipped.

"A very convenient location, clean, tidy and well supplied with sheets and towels."

A little cosy for 8, but we weren't in the house much and it worked perfectly for us. I would definitely return here.

"Cottage was well equipped although could do with a new kettle and the pots were not partucluarly clean."

We notified C & CC of these points. Cottage itself was clean and comfortable. Very convenient location for centre of Salcombe and walks from the door.

"Excellent"

"Gorgeous Cotswolds Cottage with everything one needs for a restful getaway."

Short walk to shops, cafés and restaurants and the beautiful centre of Bourton on the Water. We had the most magical Christmas at Puffitts Cottage, which was beautifully decorated for the Christmas season. Absolutely perfect

There are no reviews featuring this term Show all reviews
Show more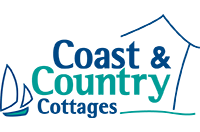 This property is part of the Coast & Country Cottages collection.
Choose from over 400 properties in Salcombe, Dartmouth and the surrounding South Devon coast and countryside - the perfect destination for a holiday all year round.
Summary
Four bedrooms: 2x King (one with en suite shower room), 2x Twin
Family bathroom on the first floor
Additional shower room
Open plan kitchen/dining/sitting room
Utility room
Cloakroom.
Gas fired central heating and hot water
Double electric oven, gas hob, microwave, American-style fridge/freezer, dishwasher and wine cooler, washing machine, tumble dryer, Nespresso Coffee Machine
Widescreen TV with Freeview
Feature fireplace with electric stove
Lower decked terrace with further terrace garden furniture, chiminea and Weber barbecue
Baby friendly with travel cot and highchair provided
WiFi
Parking pass for one car is provided - for the long stay car park in Salcombe (subject to restrictions)
All duvets, pillows, bed linen and towels supplied
Tenants need to bring their own beach towels
Telephone available for incoming and local calls only
This property does not accept stag/hen or similar parties
Strictly No Smoking
The property
A modern, stylish and recently refurbished end of terrace Victorian house, situated in the heart of Salcombe.
Ideally located, just a minutes walk from the towns shops,local park, restaurants and stunning waterfront (the small passenger ferries frequent from Salcombe harbour to the sandy beaches of East Portlemouth and South Sands).
The well equipped accommodation is divided over three floors, and enjoys furnished decking and terraced areas to the rear of the property. The entrance to the property leads into a hallway.The fully fitted kitchen is well equipped (including double electric oven, Nespresso coffee machine, gas hob, microwave, fridge/freezer, dishwasher and enjoys a large glass dining table comfortably seating eight.
The cosy sitting area has two large sofas, widescreen TV and a feature fireplace with electric stove.
To the rear of the living area is a utility room and cloakroom.
There are four bedrooms in total.
On the first floor is an en suite double room with King-size bed, and door leading onto the decked terrace.
There is another double bedroom on this level.
On the second floor are two further bedrooms, each with two twin beds.
In addition, there is a family bathroom and separate shower room.
Outside, a passageway at the side of the cottage provides access to the back door, with steps leading up to the lower decked terrace, with further steps leading to a paved area with garden furniture, chiminea and Weber barbeque.
Free Wireless broadband is provided, as is one parking permit for the long-stay car park.
Note: This property has a Good Housekeeping bond of £200.
About the location
SALCOMBE
Kingsbridge 7 miles; Dartmouth 21 miles; Plymouth 24 miles; Paignton 26 miles.
Salcombe is a popular destination for walkers and families looking for a holiday by the sea and was once a major port. There are two pretty beaches within a short distance, North Sands and South Sands and further on is the National Trust property Overbeck's where you can wander through the subtropical gardens. Why not have a more adventurous day and try out the watersports available on the estuary including surfing, kayaking or a more leisurely boat trip? Whilst staying in Salcombe you must take advantage of the locally sourced seafood which is served in many of the restaurants, pubs, cafés and delicatessens. The southern tip of Devon provides some spectacular scenery and picturesque vistas with a number of sandy beaches, lovely villages with thatched cottages and some fantastic opportunities for walking, including the South West Coast path.
View more holiday cottages in Salcombe
You are permitted to unload in Courtenay Street but NOT park as it is Residents Parking only and you will receive a parking ticket if you do so.

This property does not accept stag/hen or similar parties.

Strictly No Smoking
This property offers the following short breaks:
Winter
Off-season
Last minute
Christmas