6 Guests

3 Bedrooms

1 Bathroom

Pets Yes
Features
Off road parking
Garden / Patio
Highchair available
Pub/shop < 1 mile
Washing machine
Dishwasher
Seaside
Sky TV
Broadband / WiFi
Reviews & Ratings
48 Customer Reviews
"We really enjoyed staying here."

The location couldn't be better and the cottage had everything you need. Just one small point the cloakroom is upstairs- there are no downstairs facilities. But all in all we had a marvellous time.

"We had another fantastic stay at 3 Moult Farm cottages."

It has such a beautiful view of NorthSands, we absolutely love it. The cottage was immaculately clean when we arrived with fresh towels in every room and new internal doors fitted since we last stayed. We would highly recommend it.

"We had a lovely week at Moult Farm Cottage."

The property was clean, spacious, comfortable and had everything we needed. The location is perfect with the beach being so close by! Lovely walk in to Salcombe as well. Parking at the cottage was a bit tight with another car alongside in one of the other cottages but was manageable. Small price to pay for a great location and no real need for moving the car day to day anyway! We would definitely book again :)

"Had a lovely stay here everything as described and perfect to be so close to the beach, the house had everything you might need."

A few niggles, had to call twice to get green bags for rubbish to be collected. would be nice to have better outside furniture, also carpets quite badly stained in main room. Will be back as such small problems.

"Enjoyable week's holiday in the cottage meeting our expectations."

Clean and welcoming upon arrival. Well equipped kitchen. Spacious bedrooms with good bed linen and towels provided. Minor items for feedback - disappointed that requested highchair for 18 month old was not there - one though was delivered on the Monday. Also, insufficient refuse sacks and instructions/advice as to when collection would be made seemed to vary with information given.

"We had a lovely holiday, the cottage is comfortable and in a good location ."

It was not clear where we should park or sit outside though and also unclear what to do about the rubbish. General lack of information really .

"We absolutely loved our time at 3 moult farm cottages."

It is in a stunning location and the cottage has everything you need for a comfortable stay. Cottage is really nicely decorated and beautiful views from the main bedroom. Only for the owners future reference..as my husband is tall we did need to swap to the bed in the back bedroom as the bed was longer and more comfortable. Also the hoover gives off a horrible wet dog smell when used.

"Great holiday experience."

Well maintained comfortable house. The house and location had everything we needed.

"Issues raised with Agency were swiftly dealt with."

We had s lovely stay.

"Hi It's our third time staying at the property and we love it."

Great location and a well kitted out house. Thanks

"We have been coming here for 30 years as we know the owners."

Could do with a second shower. Otherwise we love it still and it never disappoints.

"This is the second time we have stayed at Moult Farm & have booked again for next year."

The location is perfect. The property could do with a larger outside table & better chairs.

"We continue to return to this property for the location, which we really love."

However, as we have commented before, the cottage is in need of some attention both inside and out. We had to contact Coast and Country during our stay to ask for some repairs to be carried out. The bathroom is very basic, the windows need replacing, it would benefit from new garden furniture and the outside of the cottage is very tired. Considering the amount it costs to hire in peak season it really does need some attention to justify the price.

Thank you for taking the time to leave us your feedback. We were sorry you felt that the property was tired. We have passed on your comments to the owners who were saddened to read this but hope that it did not detract too largely from what is a beautiful week in Devon. Coast and Country Cottages on behalf of, Property Owner

"We have stayed at this cottage several times and its location is really lovely."

The cottage is generally comfortable and has sufficient equipment. The pillows are really uncomfortable and badly need replacing with better quality. It was disappointing to find that they were the same old ones especially as there have been previous comments over several years.

Thank you for taking the time to leave us your feedback. We were pleased to read that the cottage was comfortable and provided you with everything you required during your stay. We have passed on your comments regarding the pillows to the owner and were sorry you felt they needed replacing. We do hope that despite this, you enjoyed your stay and we look forward to welcoming you back soon. Coast and Country Cottages on behalf of, Property Owner

"This is a lovely location for a family holiday with dogs."

Ideally situated for easy walks in to town or to the beach. This was our second stay here and we have already booked it for next year.

"Another lovely week in Salcombe."

The cottage is in a beautiful location, although it would benefit from a bit of tlc, particularly externally. We will return!

"Lovely cottage in a perfect location on North Sands."

Ideal to access the beach for swimming and with our paddle board. We thoroughly enjoyed our stay at Moult Farm cottage and would love to have returned next year, however, with the very substantial price increase we won't be doing so .

"Lovely comfortable house with perfect position."

The whole place could do with a really good dusting thou, never seen so many spiders and cobwebs in all the corners!

"A wonderful cottage in the most perfect location for us as a family with young children - a hop, skip & jump over to the beach with the added bonus of a green for games and the Winking Prawn for fabulous food."

Ideally situated a short walk over to South Sands and a pleasant walk into Salcombe town in the other direction. The cottage itself was extremely well-equipped, especially the kitchen which had everything you could possibly need. The rooms were spacious, clean, comfortable and well-presented. As previous reviews have mentioned, the shower pressure is a little low but this did not pose a huge problem and it's typical for this sort of property. During our stay the fridge/freezer was replaced and Coast & Country made us aware in advance and dealt with the transition with minimal disruption to our day. We very much enjoyed our stay here and felt like we discovered a little gem in 3 Moult Farm. Highly recommended!

"Absolutely lovely cottage, traditional outside, modern inside."

Very well appointed kitchen in particular. Very close to the beach - a 3 minute walk. The only small improvement would be a proper doormat.

"We have been to the property three times now - it is always very clean and tidy and the location is perfect."

It would be appreciated though if there were some better quality pillows and more kitchen equipment - i.e. some serving dishes, a good quality frying pan and some sharp knives!

"Cottage was lovely."

Shower did not work. And only enough hot water for one bath a day. Wasn't a problem as only a couple of days but would have been!

"We have stayed in this cottage before."

it is perfectly placed for the beach and a gentle walk into town. The cottage itself is cosy and fairly well equipped. We had a lovely time . Only slight complaint would be regarding cleaning equipment , hoover bag very full when we got there and despite changing the bag it did not work very well. Also as we had some wet weather the cottage could do with a mat inside the door to avoid getting carpets wet. other than these few small moans we had a lovely week and would happily recommend this cottage ,

"We had such a lovely holiday, the cottage was ideal for our family including the dogs!"

The only downside was that the outside seating area was very limited and the table and chairs for a cottage that houses 6 were very basic and too small to be able to eat outside which was a shame as the weather was amazing. Other than that, the cottage was faultless. Thank you.

"Superb location, great beach and Salcombe which is a lovely town is only a 25 minute walk."

The cottage was as described, it could do with a little TLC in places and there is a musty damp smell in certain locations, however this is an old stone built cottage so to be expected I suppose. Kingsbridge is a twenty minute drive and has a great 80's style cinema. We would defiantly consider going again.

"Some bigger pans in the kitchen would be good!"

"The cottage was perfect for the location, decor and comfort & well stocked with everything we needed."

Shower was weak which is the only downside but otherwise brilliant. View of sea and lovely walks into Salcombe, would definitely recommend.

"We have stayed at 3 Moult Farm Cottage on numerous occasions and have always had an extremely relaxing and pleasurable holiday."

It's location close to a dog friendly beach is ideal together with beautiful woodland walks. It was good to see that the property had recently been painted and 'freshened up' although several items in the kitchen now need replacing i.e., crockery, placemats and some of the saucepans.

"A beautiful property in a wonderful location, so close to the beach."

Well maintained, although the downstairs carpet could do with being replaced by something more suitable to the location ( laminate or lino ) We will definitely return!

"Was overpriced for average accommodation."

Nice cottage but bathroom definitely needs updating, shower was hopeless. Pillows were rather poor quality although bedding was pretty ok. Parking was difficult. Generally ok but not luxurious.

"Excellent"

"Cottage comfortable but looking a little tired."

No double glazing heating not easily controllable or sufficient. Bathroom needs updating.

"Well situated and well stocked cottage but needs more comfortable beds"

"Lovely location and property."

Needs a little bit of tlc but will definitely return and have already rebooked.

"Great house perfect location really well kitted out the only draw back was the beds were really uncomfortable especially the main bedroom."

But seriously this was the only complaint everything else was spot on

"Another wonderful two weeks holiday in a lovely cottage in a beautiful location."

Ideal for our dog as North Sands beach allow dogs throughout the year and there are endless walks direct from the cottage. The views in and around the area are breathtaking and we thoroughly enjoy our trips on the little ferry across to Mill Bay.

"Great location very adequate for our needs"

"Excellent"

"Excellent"

"Really nice, clean, well equipped cottage in a fantastic location."

"Lovely cosy cottage, had everything we needed."

For us the addition of a small en suite in the master would be the icing on the cake. There's room wouldn't cost a lot & would make a big difference... They could charge a bit more too.

"++ Comfortable, well equipped cottage."

Nice, new-looking kitchen. WiFi, once connected, a boon for two teenagers (and parents)! Good location for beaches, Overbecks (NT) and a fairly easy 20 minute walk to the bright lights of Salcombe town centre. Good parking spot off road next to property. - - Cleaners could have been a little more thorough.

"This cottage I feel is absolutely perfect for a young family as it is only 100yds from the beach, which was a daily request to visit from my 18mth old and 3 yr old."

It is a nice distance from town (perfect distance for a toddler to fall asleep!) for walking in and enable you to have a quiet cup of tea! It is a very comfortable property and being able to park by it is great.

"Good location, lovely bedrooms fantastic matress!"

so much so we ordering a Hypnos! Only negative is sofas and chair in living room as they are clearly past their best and are uncomfortable.

"House & location were excellent."

Clean & tidy. Only disappointment was the shower pressure inadequate.

"The cottage itself is cosy, warm and clean."

The cooker functions ok but had seen its best days. Pity that it has no vodafone coverage. Broadband speed via sky is not very quick.The location is peaceful and quiet in the winter time. Overall we enjoy our stay.

"Lovely property, bright and clean and tastefully furnished."

Good location and reasonably priced. Happy to return there.

"We had a marvellous holiday; ideal location with fantastic views and lovely walks right on our doorstep."

There are no reviews featuring this term Show all reviews
Show more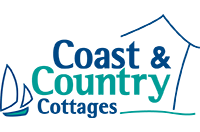 This property is part of the Coast & Country Cottages collection.
Choose from over 400 properties in Salcombe, Dartmouth and the surrounding South Devon coast and countryside - the perfect destination for a holiday all year round.
Summary
Three bedrooms: 1 x King-size, 1x double and 1 x twin
Family bathroom (bath, electric shower over, and wash-hand basin)
Cloakroom with w.c
Kitchen and sitting/dining room
Furnished stone terrace.
Electric cooker, fridge/freezer, dishwasher, washing machine and microwave
TV with Sky and DVD player
Wifi
Baby friendly equipment provided including travel cot, high chair and stairgate
Electric heating with hot water via immersion
Parking for one small car (allocated) in front of the house and 1-2 cars (if larger cars) in the adjacent lane (spaces not allocated)
Will accept one well behaved dog
All duvets, pillows, linen and towels provided - guests require beach and tea towels only
Strictly No Smoking
The property
3 Moult Farm Cottage is a stone's throw from North Sands Beach and a gentle walk from Salcombe's glittering array of boutique shops, pubs and galleries.
The spacious, neutral kitchen has fitted wall units, electric cooker, fridge-freezer, dishwasher, washing machine and microwave.
The pleasant sitting room has two comfortable double sofas, coffee table, TV with Sky and a DVD player and opens onto the dining room where a white wooden table provides seating for six.
North Sands beach and the sea beyond can be seen from the living room.
There are three bedrooms in total, all of which are on the first floor.
The master has a wooden-frame double bed, a spacious twin is next with two single beds and the final has a King-size bed which ample clothes storage.
On the first-floor level is a family bathroom with a bath, electric shower (over) and hand basin.
A separate cloakroom provides a w.c and basin. To the front of the property is a stone terrace with seating adjacent to the allocated parking space.
Additional parking for one to two cars is available on the lane but are not guaranteed.
One well-behaved dog is permitted. Moult Farm Cottages are located in a private lane set back just 100m or so from North Sands beach.
Salcombe's town centre is a 10-15 minutes walk away in one direction whilst South Sands beach, Overbecks (National Trust house and gardens) and the South Devon Coastal Path are a short drive away in the other.
Note: This property has a Good Housekeeping bond of £200.
About the location
SALCOMBE
Kingsbridge 7 miles
Dartmouth 21 miles
Plymouth 24 miles
Paignton 26 miles
Salcombe is a popular destination for walkers and families looking for a holiday by the sea and was once a major port. There are two pretty beaches within a short distance, North Sands and South Sands and further on is the National Trust property Overbeck's where you can wander through the subtropical gardens. Why not have a more adventurous day and try out the watersports available on the estuary including surfing, kayaking or a more leisurely boat trip? Whilst staying in Salcombe you must take advantage of the locally sourced seafood which is served in many of the restaurants, pubs, cafés and delicatessens. The southern tip of Devon provides some spectacular scenery and picturesque vistas with a number of sandy beaches, lovely villages with thatched cottages and some fantastic opportunities for walking, including the South West Coast path.
View more holiday cottages in Salcombe
One well-behaved dog is permitted.

Telephone available.

"Please be aware, due to the nature of the town, several of our properties are situated up hills. Please contact our reservations team if you would like more information about the location of this property."

Strictly No Smoking
This property offers the following short breaks:
Winter
Off-season
Last minute
Christmas