6 Guests

3 Bedrooms

2 Bathrooms

Pets Yes
Features
Off road parking
Garden / Patio
Pub/shop < 1 mile
Washing machine
Dishwasher
Seaside
Sky TV
Broadband / WiFi
Reviews & Ratings
18 Customer Reviews
"Washing machine broke down after three days, was staying for two weeks, so had to hand wash and go to kingsbridge to laundrette which was not ideal with two small children also could do with a tumble dryer, the oven was very complicated to use, could do with a bigger freezer , would benefit in the garden some rails to get up into the garden as the steps were very deep and nothing to hang onto so my husband could not access it."

Other than that the house was pleasant to stay in and we had a good time.

Many thanks for taking the time to leave your feedback, we are thrilled you had a lovely time. We can only apologise for the inconvenience cause by the lack of washing machine. The problem could not be easily fixed and meant that a new Machine had to be ordered, unfortunately it was not possible to get this installed during your stay. We are sorry you struggled slightly with operating the Aga, there are helpful instructions in the property, also please know that if you had let us know, we would have sent someone to assist you. Many thanks for your comments regarding the garden steps, we have passed this onto the owner, who will now be fitting a new handrail. We do hope you had a wonderful holiday and enjoyed all Salcombe, and the area has to offer. Property Owner

"Fantastic cottage in a great location, well equipped."

Esse aga took a bit of getting used to! Would definitely rebook.

"We had a wonderful holiday in Salcombe and Anchor Cottage was a lovely base."

Its proximity to all the amenities was excellent. We arrived on the evening of the Regatta fireworks and we had a fantastic view from the window of the top floor. Unfortunately , due to the heatwave we couldn't appreciate the views as we had to have the curtains closed for the rest of our stay. A fan would be a bonus. The oven took a little bit of getting used to, but was fine in the end.

"Would be nice to have a downstairs loo."

"We loved the cottage feel of the property, which was well appointed with a lovely patio & enough outside space for seaside gear."

We found the beds very comfortable with nice bedding. Good functional bathrooms but would appreciate somewhere to put soap or shower gel & shampoo in the showers. Because of the cold spell we found the set temperature was inadequate on the ground floor, but fine in the upstairs bedrooms. The stairs are steep which the occupants need to take into consideration if children are staying. Our 89year old managed but would have appreciated a ground floor loo. We did appreciate the parking space.

"We had a lovely stay and would be very happy to stay again at Anchor Cottage."

It is very comfortable, with plenty of character and an easy walk of 5/10 minutes into the the town center. Only 1 suggestion, regarding the steps into the property, would be to have a handrail to assist those with slightly less mobility getting up and down the steps. We look forward to visiting again!

"A lovely, relaxing week in this delightful cottage."

Extremely clean on arrival, comfortable and very well equipped. Located very close to the estuary and the cafes, restaurants, pubs and shops. Highly recommended.

"We have really enjoyed our week in Salcombe and Anchor Cottage."

The location of the cottage has meant we have been able to enjoy the lovely weather and easily explore the beautiful beaches and cliff walks and the town without having to use the car. The cottage has everything you would need for a comfortable break in a great location, great facilities, would definitely recommend

"Beautiful cottage and a lovely stay."

Incredibly well kitted out and really comfortable. Fantastic location with a good size parking space. Loved every minute.

"Anchor cottage is in an excellent situation and the house itself has excellent facilities and good room sizes, and we were very comfortable there for the week."

When we saw what we had previously identified as other potential cottages in Salcombe we were really pleased we had chosen Anchor cottage. Yes, the parking space is on the small size, but we have an MPV and managed to park it there, and any property with parking in Salcombe is a bonus. You should be aware however that there is no possibilty of turning, so you need to reverse your car about 30 yards down a lane to the main road. All in all it is an excellent cottage which we would thoroughly recommend.

"We thoroughly enjoyed our holiday thankyou."

"We had a lovely holiday at Anchor Cottage."

It was comfortable, well equipped and in a good location for exploring Salcombe. We would definitely recommend and look forward to a return trip.

We are so pleased you had a lovely stay at Anchor Cottage. Thank you for taking the time to let us know. We hope it wont be too long before you return to Salcombe. Property Owner

"Anchor cottage was very comfortable and had everything we needed for our holiday in a handy location , with even a parking space (gold dust in Salcombe!"

)

We are so pleased you had a great Holiday at Anchor Cottage it really is in a lovely spot. Property Owner

"The cottage was very clean, comfortable and cosy, very nice to come home to after being out all day walking etc."

Thank you for taking the time to leave your lovely feedback. We are thrilled you enjoyed your stay and do hope we can welcome you back to Salcombe soon. Property Owner

"Absolutely lovely cottage, everything you could want provided inside."

Very small parking space but car park nearby.

Thank you for your lovely review of Anchor Cottage. We are sorry that you found the parking space small. We do believe it can accommodate a large car, and if you have additional vehicles there is a pay and display car park very close by. We hope to see you in Salcombe again soon! Property Owner

"Good location and lovely cottage, however as this can accommodate six the ..."

Good location and lovely cottage, however as this can accommodate six the parking is an issue with guests having to park in long stay car park that needs to be topped up daily it would be nice for guest if needed to park in car park to have a permit for the week

We are so pleased to hear that you enjoyed your time at Anchor Cottage. Unusually for a property in its central location, there is one allocated parking space for guests use. The long stay car park is just a minutes walk away for anyone who may need any additional long stay parking. We hope to see you in Salcombe again soon. Property Owner

"This is a very nice property, in a fabulous location."

Parking is very tight, as it is in all of Salcombe, and in practical terms, the only way to access the parking space is to reverse in from Shadycombe Road. There's a problem with water pressure in this property. Basically, the pressure is poor and although there are two showers, it's not possible to run them at the same time, or indeed flush the toilet or run a tap when someone is in the shower, which is a bit irritating in a house which sleeps 6. The other thing that was a bit disappointing was that there's no bath, only showers. In terms of being dog friendly, it is great that the owners allowed us to bring our dog, and the little utility room was ideal for her to sleep in, but be aware that it's not possible to let your dog out into the courtyard area as it's not enclosed so you will need to take your dog out in person, on a lead, every time they need to go out

Thank you for giving us feedback following your stay at Anchor Cottage. In response to your comments: Parking – the space is sufficient to park a large car and we have not had any previous comments regarding the access being difficult. Water pressure – occasionally, if a tap is turned on or a loo flushed, when the shower is being used, the water pressure in the shower can temporarily drop. No bath – the property is accurately described with two showers available. Garden not enclosed – the Owners had gates on order but, due to Covid, supply was delayed; these are now installed. We apologise for any inconvenience you experienced due to these issues, but were glad to hear that you enjoyed Anchor Cottage, and its 'fabulous location' in Salcombe. Property Owner

"A lovely house and really good space for the four of us."

It was so close to the centre and at the bottom of the hill. We've been coming to Salcombe for decades and it was one of the very best places we have stayed. The garden space was way better than the photos and perfect for evenings with friends and family.

We are so pleased that you had a lovely time at Anchor Cottage. We too think that it makes the perfect base to explore all that Salcombe and the surrounding area has to offer. We look forward to seeing you again soon! Property Owner

There are no reviews featuring this term Show all reviews
Show more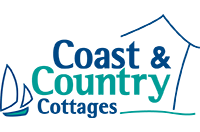 This property is part of the Coast & Country Cottages collection.
Choose from over 400 properties in Salcombe, Dartmouth and the surrounding South Devon coast and countryside - the perfect destination for a holiday all year round.
Summary
Over three floors
Three bedrooms: 1 x second-floor king-size , 1 x double, 1 x twin
Two bathrooms - master bedroom en suite plus family bathroom
Open-plan sociable living area comprising kitchen, dining room and sitting room
Utility room off kitchen with sink drainer, washing machine and second fridge with ice compartment
Covered courtyard with butler sink.
Gas central heating and hot water
Esse range cooker (Aga style), Dishwasher, larder fridge and separate small freezer, microwave, toaster, kettle
TV with Sky TV package and DVD player, Superfast Wi-Fi, Hi-Fi (with CD, Bluetooth and streaming)
Bed linen and towels included (please bring own beach towels)
Travel Cot provided (please bring own linen)
Parking space for large car in front of property
Raised terrace to the rear of the property with table and chairs
One small/medium well-behaved dog welcome at a charge of £25
Strictly No Smoking
Shop 0.1 miles; pub 0.2 miles; creek 0.1 miles
The property
Anchor Cottage is a delightful period property, located in a tranquil cul-de-sac and only a few minutes' walk into the centre of the wonderful waterfront town of Salcombe.
The cottage enjoys good views across Island Street towards Batson Creek and Snapes Point.
This three-bedroom property is suitable for a family, couple or group of friends looking to enjoy the beautiful town of Salcombe and the surrounding coast and countryside beauty this area of Devon has to offer.
A few steps up from the parking space at the front of the property, you will enter the cottage into the hall, which leads onto the sociable open-plan living area, where you will find a well-equipped kitchen with a range cooker taking centre stage, providing a fantastic space for creating tasty meals which can be enjoyed at the dining table.
After dinner, relax on one of the sofas and watch the Sky TV, enjoy a DVD using the provided DVD player, or chat about what tomorrow's adventures will bring.
Leading on from the kitchen is a separate utility room with a further door leading to a covered courtyard with butler's sink, ideal for washing out wetsuits after a day at the beach and steps lead up to the paved terrace.
On the two upper floors are three delightful bedrooms; the master bedroom on the second floor has a king-size bed and enjoys views towards Batson Creek, plus an en suite shower room.
The second and third bedrooms are both on the first floor and are furnished with a double bed and twin beds respectively, which will suit a variety of groups; these rooms are serviced by a family bathroom, complete with shower, basin and WC.
To the rear of the property is a raised terrace with mature borders, this is a wonderful spot to dine alfresco, or to enjoy a glass of something chilled after a day on the beach or walking the wonderful South West Coast Path.
There is also off-road parking directly outside the cottage for one large car.
Salcombe centre is a short walk away, and is home to a fantastic array of boutique shops, cafés, pubs, restaurants and a picturesque quayside where children can while away the afternoon crabbing.
The charming sandy beach of Salcombe North Sands is just over a mile away, while the stunning South Devon AONB is a 15-minute drive away, offering picturesque walks and incredible coastal views.
Alternatively, why not venture further afield by catching the foot passenger ferry across to the sandy beaches of East Portlemouth or down to South Sands?
Set over three floors, this recently redecorated cottage is perfectly located and provides an ideal base for couples or families looking to enjoy all that Salcombe and the surrounding area has to offer at any time of the year.
Note: This property has a Good Housekeeping bond of £200.
About the location
SALCOMBE
Kingsbridge 7 miles; Dartmouth 21 miles; Plymouth 24 miles; Paignton 26 miles.
Salcombe is a popular destination for walkers and families looking for a holiday by the sea and was once a major port. There are two pretty beaches within a short distance, North Sands and South Sands and further on is the National Trust property Overbeck's where you can wander through the subtropical gardens. Why not have a more adventurous day and try out the watersports available on the estuary including surfing, kayaking or a more leisurely boat trip? Whilst staying in Salcombe you must take advantage of the locally sourced seafood which is served in many of the restaurants, pubs, cafés and delicatessens. The southern tip of Devon provides some spectacular scenery and picturesque vistas with a number of sandy beaches, lovely villages with thatched cottages and some fantastic opportunities for walking, including the South West Coast path.
View more holiday cottages in Salcombe
The staircase leading to the master bedroom is open plan, with no door at the top or bottom, and therefore not suitable for young children.

Please do not bring a clamp on high chair for the table.

1 x small/medium well behaved dog permitted at an additional charge of £25 per week. No puppies under 15 months.

Please note, care must be taken on the steps leading to the rear terrace.

Strictly No Smoking