10 Guests

5 Bedrooms

3 Bathrooms

Pets Yes
Features
Off road parking
Ground floor accommodation
Ground floor bedroom
Garden / Patio
Cot available
Highchair available
Pub/shop < 1 mile
Washing machine
Broadband / WiFi
Reviews & Ratings
16 Customer Reviews
"Unfortunately the day before we were due to travel we were informed the heating was broken and couldn't be repaired until after our stay."

I was assured that heaters would be provided and immersion heater would be on for our arrival. When we arrived there were 3 tiny heaters - one in lounge, one in dining room and one on landing, none of which were on. House is a large 5 bedroom property and it was absolutely freezing. Rang company who kindly delivered more heaters that evening, but the house remained uncomfortably cold for the duration of our stay, ironically it had just started to warm up on the Monday when we left. This is a nice property but it isn't pleasant in November with no central heating.

"Lovely property, could do with another double/king size instead of 2 singles."

Chuffed to find the scones on arrival and it's like a home from home with herbs etc supplied. Could do with updating security as latch on middle door falls with the slightest touch. The upstairs fuse box is rather annoying and caused a few banged heads slashed shoulders. Overall though absolutely excellent and thoroughly good trip.

"Delightful property we enjoyed our stay"

"We have just returned from a very happy stay at Samphire cottage."

The children loved the playing field and despite poor weather we were able to visit local attractions.Plenty of room for 6 adults and 3 children 7, 5 & 5. The Lego was a great bonus. ! The chairs would have been a problem but we fed the children first. The chairs from outside are much too heavy to move inside if additional seating is required. We had a problem with the tumble drier but it was replaced very quickly when we reported it. A pity the previous occupants did not report it earlier. The saucepans require more lids. There are plenty of plates and cutlery. We were concerned about the parking and the building work. It did not disturb us but we understand they are due to resume work at the end of August which will extend into next year. We are deliberating whether to rebook for next August as Sykes could not reassure us that parking would be close by. I hope for the owners sake that The work is completed very soon. If we do not return next year we may in future…….

Thank you so much for your review, we are so glad you all enjoyed your stay at Samphire. Two extra chairs have now been ordered for the dining room table, I am so sorry they didn't arrive in time for your stay. We hope to welcome you back to Samphire Cottage again soon. Property Owner

"The property was pleasant if a little grubby."

Beds were comfortable and facilities good but future renters should be warned about the enormous building site within feet of the back garden. We were lucky that building work had been suspended for a short while otherwise we would have woken to noise every day. It would have been fair to warn us about the site issues and the long trek from the parking spot (including uneven temporary steps) and perhaps to have offered a discount during the building period.

Thank you for your valuable feedback, we are glad you found the beds comfortable and were happy with the facilities provided. We are pleased that the building works did not affect your stay, we have ensured there are notices on the listing so potential guests are aware of the redevelopment of the site next door as well as including information in your travel directions, the pricing has also been reduced to reflect this. We hope to welcome you back to Dorset in the future. The Dream Cottages Team Property Owner

"The first night we had a leak from the shower into the kitchen."

It was apparently the cleaners unscrewing part of the shower. The second day we had a leak into the 1st floor on suite bedroom from a heavy downpour, not sure if the roof was fixed During our stay, we reported it. Some of the crockery was not clean when we went to use it. The heat extractor in the kitchen was too low and sharp, 3 of my family hit their heads on it. The surveyors from the build came into the property showed us the blocked drains they were being jetted the day we left. The garden also need attention as it was full of weeds. Other than that it was a nice house and we enjoyed our stay in the area and were lucky there was no building noise. Regards Sue

Thank you for your valuable feedback, this is the first year we have let Samphire and so apologise for the teething issues, which are being rectified. I am so glad that you enjoyed the house and the location, we hope to welcome you back again one day. Property Owner

"We could not find any table mats/coasters."

Outside umbrella required for hot sunny days to sit outside but shade required.

"Lovely holiday cottage."

Would use it again if we were 8 people. The house sleeps 10 people but only provides a dining table for 8. Previous feedback says extra chairs provided but they are the wrong size and do not fit at the table. The kitchen provides lots of cooking equipment and utensils and cookery books fill the shelves which is lovely. However it was short of a few decent sized pots. Easy thing to remedy. However, as I said the house is lovely and great location fir Swanage and coastal attractions. There is building work going on near by in 2023 but the advert clearly states this. I would happily book again.

"Thank you for asking for this review as we loved our stay at Samphire cottage."

However we were a bit disappointed that no one advised us re the building work directly in front of us. We do feel this was a shame especially when they were digging early on Saturday morning! I look forward to your response.

Thank you for your review, we are so pleased to hear that you loved your stay at Samphire cottage. We have been working closely with the contractors and will continue to pass on guests feedback to ensure disruption is kept to a minimum during the nearby building works. We are aware this may cause some inconvenience so have tried to be very transparent about the current works on our property listing that you should have seen at the time of booking and in the travel/parking instructions that you should have received prior to your arrival. We hope to welcome you back to Samphire Cottage again in the future. Property Owner

"There are only 8 chairs at the table while it is a 10 person facility"

Thank you for your feedback, and for your 100% review! Currently there are 3 additional dining seats at the bar next to the table and all dining chairs at the property are indoor/outdoor so can be moved between indoor and outdoor tables in whichever configuration makes sense for your party, especially when the cottage is at maximum capacity. However, we do take all feedback on board and so will look into getting a bigger table for the property in a break between bookings later in the year. We hope to welcome you back again at Samphire one day. Property Owner

"We were advised when we booked that there was building work taking place at the end of the land do there would be construction traffic during week."

Wrong. The building site was adjacent to the cottage and was about 2 to 3 metres from front door. We were directed to a parking area in tge Lane but were told by construction staff that the lorries needed that. There was parking on the main road but we had to compete with the school and school drop offs for a space. My daughters car was scratched parking outside. For anyone going to the cottage in the summer there will be vonstruction noise during the day which will make it unpleasant sitting in the garden. The entrance to the cottage is either from land adjoining which has dangerous steps. There is an entrance from the main road but there is no indication that is for the cottage. A simple sign would be helpful. The rubbish collection is very confusing and in the information book it indicates different times and dates for collection. Says Wednesday but they came Friday. That needs clarification

"We really enjoyed staying at samphire cottage."

We thought it was a lovely cottage, really well equipped and in a great location for us, as we were walking the south west coastal path. The village has a multitude of footpaths for walking. The cottage was really nice and sleeps10 people in 5 bedrooms but there were only 8 seats for the dining table. The outside table also only had 8 seats. We thought that was a little odd. There were several stools for the breakfast bar but they were too tall for the table. It would have been much better for us if there had been a couple of extra dining chairs available. It was a really nice touch to provide a cream tea but again there were only 8 scones for 10 people! The family bathroom and en-suite bathrooms were very nice and there was plenty of hot water but the arrangements meant the 6 people in twin rooms were sharing one bathroom.

Thank you for your feedback, we are so pleased to hear you enjoyed the cottage and it's location. All dining chairs at the property are indoor/outdoor so can be moved between tables in whichever configuration makes sense for your party, especially when the cottage is at maximum capacity. We hope to welcome you back again at Samphire one day. Property Owner

"The cottage itself is beautiful, perfect location."

We were slightly upset with the cleanliness of the cottage. There were cobwebs on the ceiling in the kitchen, some of which dropped onto the hob whilst cooking. There was big clumps of dust by the radiator down stairs as well as the main bedroom upstairs. Behind the door in the en suite bathroom upstairs there were cobwebs behind the door. For a cottage that sleeps 10, there is only 8 seats at the dinning table and the sofa is very small. The sofa was also very dusty. The dishwasher had a fishy smell on the plates after washing and the tumble dryer did not work.

Thank you for your feedback, I am so glad you enjoyed the location of the cottage and the cottage itself. For large parties we recommend using the additional three seats at the bar next to the table for dining, and the second sofa in the dining room for relaxing, from which you can still be part of the lounge, as it is all open plan. I am sorry to hear that you didn't feel the cleanliness was up to scratch, I have fed this back to the housekeeping team, next time please do let us know of any housekeeping issues during your stay so that we can rectify them immediately. Property Owner

"What a wonderful house in a great setting."

We had a great weekend and it was lovely to come back to Samphire Cottage after a long day's walking.

"We were a group of 7 women on our annual long weekend away together and we couldn't have been more happy with our stay."

On our arrival we found a lovely welcome of scones with cream and Jane which was very welcomed and a lovely gesture. Thank you! Huge big open area downstairs, all open plan with everything so beautifully decorated and styled. Superb throughout! The end living room area was quite small for 7 of us squeezed in on one corner sofa. Fabulous throughout and plenty parking for us too. Little shop within the pub down the road but they had ran out of milk mid Sunday morning so make sure you bring enough! Great walks and views finished off with fabulous food at The Greyhoud pub in Corfe! Would totally recommend

"We had the most wonderful stay, the house is so beautiful."

Incredibly clean and welcoming, with everything you could possibly need. Every room is so beautifully decorated and comfortable. The house is so spacious - the photos don't do its size and beauty justice. Such a fabulous location, we were all very glum leaving yesterday and we will definitely be booking again. Thank you

There are no reviews featuring this term Show all reviews
Show more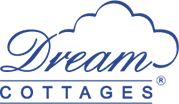 This property is part of the Dream Cottages collection.
Over 350 carefully selected and perfectly located properties, helping you create your perfect holiday.
Summary
Five bedrooms: 1 x Super king-size with TV and en-suite walk-in shower, basin, heated towel rail, and WC, 1 x ground-floor king with en-suite bathroom with bath, shower over, basin, heated towel rail, and WC, 3 x twin rooms upstairs
Bathroom with bath, shower over, basin, heated towel rail, and WC
Open-plan living space with kitchen, dining area and sitting area with electric fire
Separate Utility
Central heating
Oven, hob, microwave, fridge/freezer, washing machine, tumble dryer, coffee machine, wine chiller
2 x TV, WiFi
Fuel and power inc. in rent
Bed linen and towels inc. in rent
Off-road parking for 2 cars with additional roadside parking available
Enclosed, wrap-around garden with lawn, patio, and furniture
Two well-behaved dogs welcome
Sorry, no smoking
Shop and pub 0.1 miles
Note: There are steps to the exterior of the property
Note: There are steps down into the sitting area of the open-plan space
Note: Check-in from 4pm, check-out by 10am
The property
Resting centrally in the quaint village of Langton Matravers, within an Area of Outstanding Natural Beauty in Dorset is Samphire Cottage, a fabulous, stone-fronted dwelling.
Just paces away from local shops and eateries, and a short drive from the coastline, whilst offering ten guests a contemporary interior, an enclosed garden, and flexible sleeping arrangements, Samphire Cottage makes the ideal base for a group celebration; two furry companions are also invited.
Park up to the rear of the property, entering the light-flooded open-plan living space, stylishly furnished, and designed as the social hub of your abode; take advantage of the sleek kitchen, where you can rustle up delicious meals, dine as a group, and retreat to the homely sitting area after a day of exploration.
Venture outside to watch the sky grow darker, where you can also 'cheers' to your break upon the patio, before returning indoors to catch some rest in one of the five well-appointed bedrooms on offer; select between a chic king-size with TV and en-suite shower, a ground-floor double with en-suite bathroom, and three spacious twins.
The cottage is complete with a contemporary bathroom, adorning both a bath and a shower to suit all preferences.
Awaken to a morning coffee whilst your four-legged friends stretch their legs, before beginning your journey towards the Dancing Ledge, a hidden gem within the area, offering picturesque views across Dorset's shoreline.
Continue across the Purbeck Heritage Coast to reach Swanage and its host of attractions, including its bustling pier, Swanage Beach, Durlston Country Park, and National Nature Reserve, perfect for hiking across, and Swanage Golf Games, for those who fancy a game of pitch and putt.
Travelling into the county, heading towards Wareham, stop off at the Dorset Adventure Park for an afternoon of water sports, climb up to the remains of Corfe Castle, bird watch across Hartland Moor National Nature Reserve, or enjoy the breath-taking scenes surrounding the secluded Blue Pool.
Complete your getaway with a visit to the popular resort of Bournemouth, reachable by car, with an abundance of activities to experience across the pier, such as Oceanarium, and the Lower Gardens, before returning home for final sundowners.
Experience all of this, and more, at Samphire Cottage.
Note: This property has a Good Housekeeping bond of £250.
About the location
LANGTON MATRAVERS
Swanage 2.6 miles
Wareham 8.2 miles
The quaint village of Langton Matravers lies on the Isle of Purbeck in Dorset, two miles west of Swanage and 5 miles south-east of Corfe Castle. The name Langton derives from 'long town' and Matravers stems from the name of the Lord who once resided there. Langton Matravers Museum showcases the local history of the town, providing a complete picture of the ways in which the local stone was quarried and used. The surrounding area is very popular for walking and a number of walking trails pass through the village, including the 'Smugglers Way' which begins at Worth Matravers and then travels down to the coast path and back again to visit where smugglers were known to bring their goods ashore. The village is also home to a refreshment shop and a traditional village pub which hosts an annual Stone Carving and Pumpkin Festival. Resting on the outside of the village is Dancing Ledge, an old cliff quarry which offers breath-taking views of the coast. Those who are looking for adventure can even climb the rock face or coasteer at the Ledge.
Please note: Samphire Cottage forms part of the Old Malthouse School. The School site is currently being redeveloped throughout 2023/2024 and new homes are being built. The works are next to the property. This may impact your stay but prices have been reduced to reflect this.

Please note: Samphire Cottage is 2 doors from Sea Pink cottage ID: 1074336 which sleeps 2.
Note: This property has a Good Housekeeping Bond of £250.
This property offers the following short breaks:
Winter
Off-season
Last minute
Christmas