4 Guests

2 Bedrooms

2 Bathrooms

Pets No
Features
Off road parking
Garden / Patio
Pub/shop < 1 mile
Washing machine
Dishwasher
Broadband / WiFi
Reviews & Ratings
49 Customer Reviews
"Fossil Barn is a beautiful property in a quiet village just outside Weymouth."

It is spacious, well-equipped, clean, light and airy. The double bed is so comfortable and the en-suite shower powerful. The huge garden is a delight to sit in or look out on after a busy day exploring. The Turks Head, a minute walk from the barn, serves good food and the roast dinner!!!! Delicious (available as a takeaway too). We got the bus into Weymouth and a taxi back. Loved our stay & wouldn't hesitate to recommend!

I am so pleased that you enjoyed your time here at Fossil Barn. Thank you for your lovely feedback and we hope to see you again Property Owner

"We had a lovely stay at Julie and Mick's barn for 6 days."

The Barn is very clean, bright and airy. It has a very generous garden for my kids to run around. It's very close to the beach and a family friendly pub 2 mins away on foot. We will definitely come back and stay here again if we visit the area.

"A stunning property with a beautiful garden."

Very private. Extremely clean and very well equipped. The beds are so comfortable. We had a fantastic stay. Chickerell is a lovely village with very good amenities including The Turks Head where we had a delicious carvery lunch. The location is perfect for trips to Lulworth, Dorchester and Weymouth. Would highly recommend this property for an amazing break.

"The property itself is stunning."

Great layout and loved seeing the photos of how it was constructed. There is not one negative thing to say about Fossil Barn, best cottage we have stayed in when holidaying in Weymouth and will definately return in the future.

Thank you so much for your kind feedback we hope to see you again one day. Property Owner

"Brilliant time great place to stay and the owners were very friendly and helpful"

Thank you for staying with us and your lovely feedback. Property Owner

"A very comfortable clean property."

Probably the best equipped kitchen we've ever had in a holiday cottage. Owners are friendly and helpful but not intrusive. The garden is nice and large and very peaceful. There are two pubs within walking distance (4 and 8 minutes) which are friendly and welcoming. Nicely located for exiting the Weymouth area for exploring East & West Dorset with Dorchester a short drive away. Large supermarkets about 10 minutes drive away but there is a local shop nearby.

Thank you so much for your lovely feedback. We hope to see you again. Property Owner

"We loved Fossil Barn as it was so relaxing and ideal for visiting Weymouth and surrounding areas."

Very well equipped accommodation and spotlessly clean. Thank you Julie and Mick for the lovely welcome and delicious home made cake.

"We had a fantastic week at Fossil Barn and loved every minute of it."

The house is so comfortable and the large enclosed garden was brilliant for our boys (3 and 6 years old) to play safely in. Julie and Mick are great hosts and were so kind to us during our stay, even offering our children Easter eggs as we were there during Easter weekend!

Thank you for your kind feedback. We hope to see you again one day. Property Owner

"Fabulous accommodation."

Has everything you need for a self catering holiday.Very clean and comfortable.

Thank you so much for your lovely feedback we hope to see you again. ☺️ Property Owner

"Lovely cottage, great location."

"Having experienced Self Catering cottages for over 40 years, this is one of the best my wife and I have stayed in."

Just as well as it rained for 6 of our 7 days! No shortcomings whatsoever and its location is also excellent. Despite the weather, we were able to walk extensively in the local area and buses to Weymouth/Abbotsbury/Dorchester stopped conveniently nearby.

Thank you for your lovely feedback. We hope to see you again soon. Property Owner

"A lovely week spent at this beautifully restored and well equipped barn."

It felt very comfortable and welcoming to return to, after a day exploring. A good local bus service and two pubs/eateries in a short walking distance was a bonus. Would definitely recommend the take away carvery at the Turks head. Delicious and plentiful !. A big thank you for the lovely Dorset apple cake which was there as a 'welcome' to the Barn on arrival. Would definitely recommend Fossil Barn for a stay.

Thank you very much for your kind feedback. We hope to see you again. Property Owner

"We had such a fantastic stay at fossil barn."

It is a home from home! Julie and Mick were just lovely from the minute we arrived and so kind to our children. They have created a beautiful barn and we felt lucky to stay in it! It was clean, well equipped, comfortable and the main lounge area was beautiful. So lucky to also have a huge garden during our stay! We have already recommended fossil barn to family and friends.

Thank you for your kind feedback. We look forward to seeing you again. Property Owner

"Thoroughly enjoyed our stay at Fossil Barn, it is a extremely lovely well equipped home from home."

The owners were welcoming and helpful and would definitely recommend this property for up to 4 people. Nothing to find fault with and little touches like the welcoming apple cake and complimentary toiletries were great. Would definitely book again.

Thank you for your very kind feedback. We hope to see you again Property Owner

"Location great."

I was not aware of so many steps up to the front door. Too many cobwebs high up but these should have been cleaned away. Black mould on shower tiles. Ensuite shower door too small a gap to get through. Hanging space too low for dresses. Double bed extremely squeaky at every turn. Internet access very very poor. TV kept constantly buffering. No info pack on things to do and see etc. Grandson kept hitting his head on ceiling in twin room. For the money they could've done better.

Hello. I am so sorry that Fossil Barn did not meet your expectations. I apologise for the cleaning issues and will discuss this with our cleaning company. Unfortunately in Dorset internet access can be slow. Thank you for your feedback Property Owner

"Lovely barn conversion."

Had a lovely relaxing stay.

"Fossil Bar was just lovely and everything we needed for a week away."

We were made very welcome during our stay esp our two small girls who loved Poppy the dog. The size of the property was perfect and felt just like a home from home. An excellent base for everything we wanted to do on our break. And we would love to come back again. Thanks to a Julie and Mick

"Fossil Barn was a lovely comfortable place to stay to explore Dorset."

We all enjoyed sitting in the glass living area with lots of space to spread out and views to the garden (shame the weather was too cool all week to sit out apart from the day we arrived, unfortunately. Great British summer!). Kitchen was very well-equipped. If I had a tiny niggle it would be that we could have done with a bath mat to stand on after our showers in the en-suite, we had to borrow the one from the main bathroom that our sons were using. Maybe it was an oversight? At any rate it didn't bother us enough to ask the owner for a second one so all good. Good location in a nice village - very handy to have the 2 pubs close by, we had delicious food at the Caribbean event at the Lugger. Handy to have a pharmacy very close - we unfortunately had to pay a visit to the urgent treatment centre and couldn't get the required antibiotics from the late night Asda or Tesco so great to find them available at Chickerell Pharmacy next morning. Lovely comfy bed and bedding so we slept well. We enjoyed seeing Poppy the dog (although she did leave us a little present on the lawn LOL). We would return to Fossil Barn if we return to that area, although feel we have seen most things in that part of Dorset now and done the walks we wanted to (our favourite was probably the walk across the ranges from Lulworth Cove to Mupe Bay - highly recommended when the ranges are open).

"We loved Fossil Barn, such a lovely conversion and with the garden and top comfort we loved it."

Also, 2 good pubs in the village and lots of walks from the door. Julie and Mick were very welcoming and helpful. Would recommend unreservedly. Thank you!

"Mike and Julie were brilliant hosts."

The welcome pack, apple cake tea sugar etc plus the ppi pack were more than we expected. Really great place to stay.

"A comfortable and well equipped property in a great location to explore the beautiful Dorset Coast Julie and Mick are perfect hosts and supplied a welcome hamper of home made Apple Cake, tea ,coffee and milk."

Poppy ,the family dog, is a joy and we loved saying hello every morning . There is so much to do for all age groups in the vicinity of Fossil Barn and would throghly recommend to families and couples alike .

"Lovely property,great hosts."

Central location in village. Very easy to go out and visit all the sites,great base to discover Dorset.

"Fossil Barn is a lovely property, very well equipped and maintained."

It's perfectly located for visiting the beautiful coastal areas.

"Lovely accommodation, nice welcome apple cake, supplied household cleaning products, which was a nice touch."

Comfy beds, clean throughout. Close enough to walk to a couple of local pubs and a good base for touring around the county.

"We were delighted by the welcome we received on arrival."

The Fossil Barn is a beautiful holiday home, with a lovely garden, and every comfort. We were delighted to find milk, a home-made Dorset Apple Cake, and a personal PPE pack for us and the cottage was spotless. At this time of worries over Covid 19 we were very reassured with the extra protective covers on the bedding and would not hesitate to spend time again in Chickerell at Fossil Barn. The chilled wine cabinet was a treat too. Our Hosts and Poppy the Springer Spaniel were delightful. The advice and help from Sykes prior to finally deciding to take our holiday despite the virus was excellent and very reassuring. We found Weymouth unspoiled and not over crowded at the beginning of September. The holiday was very therapeutic after an extraordinary year in 2020.

"Loved the cottage and the location, just a short drive to so many places to visit."

We didn't get round them all in 10 days..we need another visit. The village is lovely with everything you need and the cottage was comfortable, with excellent hosts. Weymouth was really accessible by car and bike. Great holiday!!

"Fossil Barn was an excellent holiday home and a haven from the elements during a very wet and windy week in Dorset."

We were only sorry we couldn't make use of the large garden. The owners were very friendly and helpful and gave us lots of useful local information. It was an ideal location for visiting Weymouth and further afield in the county and, although we didn't use it because of the weather, had the added benefit of local bus services.

"The property certainly has the WOW factor!"

"The situation is excellent with church, pub, shop and bus stop within easy reach"

"Beautiful, comfortable, well equipped property close to Weymouth's amenities."

Lovely large & peaceful garden to enjoy the sunshine.

"Great accommodation ideally suited to exploring Dorset."

Lovely private enclosed garden Clean with good facilities Weather was fab

"We had a lovely week at Fossil Barn and would definitely consider returning in the future."

The garden is beautiful and perfect for our 3 year old to run around all day and all night. The barn definitely has a wow factor when you walk in with all the glass windows.

"Lovely accommodation and location."

"We had a lovely stay, Julie and Mick made us feeel very welcome."

Property was lovely and in a good location for exploring the area. Stayed April 2018

"Fossil Barn is a beautiful property and we had an excellent week exploring Dorset."

Stayed August 2017

"Fossil barn is a lovely holiday home in a great location."

The owners could not have been more helpful and welcoming. You even managed to get the weather perfect for us too Stayed June 2017

"The property was faultless, well equipped, spotlessly clean and in a lovely quiet village setting."

We were made to feel very welcome by the owners. The Turks Head pub just down the road does excellent food and the staff are very friendly. We had a great week.Stayed May 2017

"Very nice property in a lovely location."

As there was only two of us we had a bathroom each - bonus!! Turks Head in the village really good for meals & drinks. Weymouth easily accessible by bus if you don't wish to move the car. Stayed June 2017

"A wonderful high spec property in a great location."

Very comfortable with private garden. Would highly recommend. Stayed September 2016

"A superb property with fantastic amenities, they really have thought of everything."

Everything was sparkling clean and welcoming when we arrived. It is a great location for exploring Dorset, and all Weymouth has to offer - stayed August 2016

"Fossil BARN is a hidden gem, the cottage has a lovely garden visited by a wealth of birds and overall a peaceful retreat."

The facilities are excellent within the cottage. pubs five minutes walk away and Dorset attractions all within an hour. Owners extremely friendly and helpful - stayed June 2016

"We found Fossil Barn very welcoming ,comfortable and in a very good spot for all the visits we wanted to do."

Best wishes to the Dorchester football team,super grounds. Stayed October 2015

"Wonderful stay with friendly and welcoming hosts - would definitely return."

Stayed August 2015

"Really nice place to stay would highly recommend!"

"Cottage exceeded our expectations and location excellent"

"Accommodation superb as before."

Can't wait to return there for another peaceful holiday! Stayed April 2015.

"The property so far has been the best we have visited in the recent years."

Very good for our kids, spacious room and high standard. We would come back!

"We had a fantastic stay in this well appointed, spotlessly clean cottage."

The garden was perfect for playing or just sitting and there were two decent pubs within walking distance, what more could you ask for.

"Fossil barn is a stunning property and we wouldn't hesitate to stay there again."

The village is an ideal location for exploring Weymouth and the surrounding areas.

There are no reviews featuring this term Show all reviews
Show more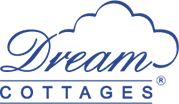 This property is part of the Dream Cottages collection.
Over 350 carefully selected and perfectly located properties, helping you create your perfect holiday.
Summary
Entering this one floor property via low rise steps to the kitchen
Two bedrooms: 1 x king-size with en-suite shower room, basin and WC
1 x twin
Bathroom with bath, shower over, basin and WC
Open plan living area with kitchen, dining area and sitting area.
Gas central heating
Oven and hob, microwave, fridge, freezer, washing machine, dishwasher, TV with Freeview, DVD, iPod dock, WiFi
Fuel and power inc. in rent
Bed linen and towels inc. in rent
Secluded rear garden, enclosed and gated, extensive patio with feature lighting and lawn with garden furniture
Sorry, no pets and no smoking
Sorry no infants
Shop and pub 5 mins walk
Please note the off road parking space available is for 1 vehicle only
Additional street parking also available.
The property
Located within the grounds of the Owners 17th century thatched Manor, one of the oldest and prettiest properties in Chickerell, Weymouth, this assiduously designed and high specification character barn conversion is bound to be a favourite.
The centrepiece of Fossil Barn is the hand built oak and glass fronted living area with solid oak flooring throughout.
With a generous fully enclosed garden to admire from the impressive lounge, you can leave open the large glazed Oak doors on a summers day to let the outside in or close them and snuggle up on a winters day.
Complementing the living area is a generous modern kitchen which feels like the heart of the property with its oak floors and warm tones of the wooden worktops.
Adding to the sense of luxury and convenience are the bath/shower rooms, effectively one for each of the two bedrooms.
A handcrafted stained glass fossil design window in the main bedroom echoes the attention to detail that this property enjoys.
A tranquil coastal village within a mile of the Fleet, the largest natural inlet of sea water in England.
The village has shops, two public houses, a restaurant, chemist and post office.
The Turks Head, just a few minutes' walk from Fossil Barn is well renowned locally as it provides good portions of home cooked food which can be enjoyed both inside and in the pub garden.
Just outside the town boundary of Weymouth, a Georgian seaside resort which you can dip into easily if you would like a day on the award winning blue flag sandy beach or a stroll along the pretty harbour in addition to exploring the World Heritage Jurassic coast hunting for fossils.
A warm Dorset welcome awaits you when you arrive at Fossil Barn, fresh and delicious Dorset apple cake (the apples are picked from the garden) to accompany the welcome tea and coffee, a perfect way to settle you into your holiday.
About the location
WEYMOUTH
Dorchester 7 miles; Bridport 17 miles.
The popular resort of Weymouth makes an outstanding year-round holiday destination, with a wide variety of attractions on offer, appealing to all tastes and ages. The glorious golden sandy beaches have excellent facilities for all kinds of watersports, whilst from the picturesque, bustling harbour you can take regular fishing trips. A short drive takes you to Portland Harbour, and the rugged "Isle" of Portland, linked to Weymouth by the dramatic Chesil Beach. Visit Dorchester, Thomas Hardy's "Casterbridge", only 7 miles away, or take a journey along the scenic coastal road and call in at Abbotsbury Swannery and Subtropical Gardens. Alternatively, just head down to West Bay - the views of the stunning Dorset Heritage Coastline are not to be missed!
View more holiday cottages in Weymouth
NOTE: APPROXIMATELY 12 STEPS FROM PARKING AREA TO FRONT STABLE DOOR

For bookings taken after 9th August 2022 this property will no longer accept infants who sleep in cots
This property offers the following short breaks:
Winter
Off-season
Last minute
Christmas