5 Guests

3 Bedrooms

1 Bathroom

Pets Yes
Features
Off road parking
Garden / Patio
Cot available
Pub/shop < 1 mile
Washing machine
Dishwasher
Seaside
Broadband / WiFi
Reviews & Ratings
49 Customer Reviews
"Very comfortable house, kitchen very well equipped- wish all the properties over the years via different companies had been similarly equipped."

Great location, wore our own groove in the Rodwell trail. Enjoyed the cafe and the castle cove beach just along down the road from it. Visited various other places along the coast. The statues on Portland, shame the area hadn't been strimmed around so overgrown, nice walk up to the nature reserve. Visited the Portland Museum learnt things about Marie Stokes, very clever lady. Was at the Crabshack on the very windy evening. The wind gives us a push in the back going home. Most enjoyable holiday - thank you

"This is my second visit to Home Waters The kitchen is very well equipped with everything you need."

The only thing missing is somewhere to put recycling. It's in a beautiful & perfect location for my visit & I'm sure I'll be back. Thank you for our lovely stay for my sons wedding

"We loved the accomodation and the situation of the house near to the sea."

We would have liked to have had more spare toilet rolls on arrival and the toilet roll holder was a bit of a hazard, not being fixed to the wall. An extra sheet would have stopped the duvet slipping off in the middle of the night and an extra set of keys would have been useful. Other than that though, we were very satisfied with our accomodation and thoroughly enjoyed our stay.

"Lovely property in a great location."

Would definitely book again in the future, just a couple of minor points that would make futures stays more enjoyable. The TV is quite small for a living room a bigger one would be great. No recycling facilities ( seperate bin required), we made a trip to portland recycling facility to dispose of some but was unable to do this more than once.

"Lovely house,lovely positioned,very cool in the heat of the day,no problems most relaxing and quiet could def."

recommend it to anyone and car parking at the door.

"This was our 2nd time here and we are booked already for September."

The only negative things are: upstairs toilet doesn't flush v well which can be embarrassing; more choice of pillows needed - all too soft; and would be great to have an indoor bin specifically for recycling so that we can put in the car and take to portland recycling centre. We use big bags for life so no biggie but might help others.

"Great place, love it there, been there four times now."

Perfect for oldies, perfect for grown up kids, perfect for grandchildren and perfect for dogs. Only thing I can moan about is the down stairs toilet smelt a bit of wee, but that could be a man problem!!?

Thank you for your review . It's great you hear that you and your family have returned to Home-Waters so many times. We're sorry to hear the comments about the downstairs washroom. We have raised this with our cleaning supervisor and we hope that everything is clean and fresh for your next visit. Property Owner

"A fantastic, well-equipped property - perfect for a family - and in a quiet, great location."

It has everything you could need: from kitchen utensils, dishwasher and plates; to kids toys, board games and local information. The back gate was great for getting bikes in and out. Around the corner from a lovely little beach, and practically on the bike trail into town. Thank you for a great stay - we can't wait to come back!

Thank you for your comments. We love the bike-friendly trails in and around Weymouth too. We hope to welcome you back to Home-Waters soon. Property Owner

"Lovely accommodation."

Booked our return holiday already. The only minor negative comments would be: Clean under the cushions under the sofas occasionally; and It would be nice to have salt/pepper and foil for using oven trays. But the best Sykes accommodation yet. Thank you. T

Thank you for your feedback. We're glad you enjoyed your stay at Home Waters and we look forward to welcoming you back to Weymouth soon. We have raised the issues with our Cleaning Supervisor and replenished the kitchen stocks. Property Owner

"Cannot fault it."

Lovely, comfortable, everything on the doorstep. Only downside is no dishwasher tablets but hand washing I'm used to lol. Lovely place and area.

"2nd stay at this great property, really liked the improvements to outside with extra parking and the decking at the rear."

Really well equipped house in a brilliant location. One area of improvement would be a bigger TV in the lounge and put the second TV in the main bedroom.

"The property could do with a bigger television."

It was very difficult to watch it in comfort and almost impossible to read.

"This is a very clean cottage just a few yards from the coast where there is immediate access to the causeway of Portland island, and to a tarmac path (disused railway) into Weymouth centre via a delightful 2-mile walk along an old railway line (well cared for) with a Mon-Sat cafe half way along."

However, a real disappointment was the lack of any recycling facilities in the cottage, and we finished up bringing all our recyclable materials home with us - a situation which would have been so easy to resolve, especially these days. We had to report to the agents Dream Cottages that the central heating appeared not to function, that the cooker main switch was loose on the wall, and that the Henry hoover appeared either to be very full or required a scented additive to control the 'pong' when in use. The bath still awaits a safety handle and a slip mat. But overall, a very enjoyable holiday in a very useful location.

"The house was generally lovely and in a great location."

Unfortunately there were a few issues which I feel needs to be addressed The mattress in the single bed room needs to be replaced as it has no support in the middle and our 7 year old granddaughter found it uncomfortable. The hot tap handle in the kitchen needs to be adjusted. We also found the internet connection was poor and the connection to the tv was also poor especially in the evenings when the tv continuously froze. On arrival we found the downstairs flooring was filthy and needed a good clean and the house would benefit from a larger dustbin especially as we were a family of 5 and were unable to recycle our rubbish.

"Lovely property so close to the water's edge, just gorgeous."

Clean and contemporary - thoroughly enjoyed our stay, thank you

"We will definitely book Hone Waters again - the house was well equipped with absolutely everything we would need and was immaculately clean throughout."

It has clearly been refurbished / redecorated too. It is a really good location that is handy for the beach and also the Rodwell Trail into Weymouth. We highly recommend this house!

"We can't recommend Home Waters enough!"

The location is absolutely superb, perfect for the dogs being right on the beach and next to the Rodwell Trail. 40 mins walk to Weymouth or a 10 minute drive and very convenient for many other tourist attractions and walks. The house itself is spacious and airy, the secure back garden was a definite bonus with having the dogs with us and the bedrooms are very comfortable. My mum commented that the bed in the single room wasn't as comfortable as the twin beds so perhaps that could be changed but other than that our stay was perfect and we can't wait to come and stay again! My only other comment would be that a little BBQ would be a great addition to the garden if possible

"Nice property."

Its in a great location, 40m from the sea. The property was very clean with good quality fixtures and fittings. Appliances and cooking equipment is very good, with a good sele tion of utensils. Negatives! Just a small one. It could do with a bigger TV in the lounge, however, that's being a bit picky

"It was like home from home."

I felt I could have lived there felt so at peace. So clean and spacious. Love sitting in garden every evening.

"Home Waters came close to being "at least as good as your own home", a target we set many years ago."

Apart from lots of minor paint damage, the house was very well presented. Once we'd sorted the C.H. controls we soon warmed up after our cold journey from Cornwall. The bed was really comfortable, the flooring throughout was good and the bathroom very well fitted out. The lack of a hairdrier was an inconvenience; everything else we needed for the week came from Tesco. The house was a good 45 min walk from the town centre, but there were also many car parks there. The weather wasn't brilliant - but it was Christmas, so it could have been worse. Each pub we visited was welcoming and dog-friendly. If possible, we plan to return when the weather is better, to see even more of the area.

"A lovely welcoming, superbly clean and well equipped house in a super location."

"Such a lovely place to stay, amazing location."

Beautiful facilities, lovely new bathroom and kitchen, will we definitely return!

"We had a very relaxing holiday the place was superbly clean and really packed with everything you needed"

"We had a negative start as dirty laundry and rubbish was left in the property , however it had been cleaned and was spotless."

Dream cottages were really hard to contact which resulting in us having to ring the owner direct. It did get resolved the following morning after arrival. Because of that we initially said we wouldn't book again. By the end of our 4 days there we changed our mind as we were in such a great location and we had a nice time. Was ideal for our set up.

"Excellent location close to Rodwell Trail and Smallmouth Beach - perfect for dog owners."

We had two days when we didn't use the car at all. We were lucky with sunny weather which meant we could enjoy being out all day and eating outside during the day. We would definitely go back to Home Waters if we were visiting Dorset again. The house and sheltered garden (with sun loungers) met all our needs

"Great house, great location, just a couple of things would have been good, an outside back light, the outside tap to have been working and something on bottom of stairs to stop, dogs and children would have been great."

but would recommend and hopefully return in the future.

"Lovely house within a great location next to the sea."

The upstairs area and bedding were all very cosy. Cutlery and dishes were of very good quality. Only (minor) negative is flooring in living room looks dated & feels cold, and doesn't go with the general comfy feel in the house.

"The property was excellent, well equipped."

It was a great place to stay as it was really really close to the sea. There was plenty of walking and we only used the car once in the whole week . We walked to Weymouth a couple of times and also walked to Portland. Highly recommended.

"Second time in the holoday house, loved every day of it, so close for the beach the kids loved it, only 10min drive into the town."

Can't wait to go again next year

"Home Waters is in a fantastic location and your listing and holiday home were as usual the super high standard that we have experienced over more than a decade of booking with Dream Cottages."

Thankyou for your valuable feedback, we are so pleased you loved Home Waters. The Owner has fixed the tricky keysafe. We look forward to welcoming you back soon Property Owner

"The photograph really does not do this cottage justice."

There are amazing views from the property across the bay to Portland and it is just a few yards from the Rodwell Trail and water's edge. The property is warm and comfortable and we thoroughly enjoyed our stay. The only minor concern was the very limited parking; just one small space which was not always easy to access. We would definitely recommend the property and would stay there again.

"A lovely, clean, well equipped house right by the sea."

We've had a wonderful stay in Home Waters and would highly recommend this holiday rental. Everything we needed was on hand and even the weather was on our side! We honestly can't think of one thing we'd change about this property....even the WiFi was good! Thank you for the perfect Dorset holiday, Jay & Gina, Suffolk

"The fridge was not cold enough and I didn't know how to turn it up."

The freezer was fine. In the fridge we got mould on our margarine. Otherwise a very handy location for a holiday

Thankyou for your valuable feedback. Since your stay the Owner has in the start of 2021 installed a new kitchen and a new fridge/freezer. Property Owner

"Easy booking, lots of information about key handover and safety."

The cottage was well equipped and perfect for what we wanted.

"We had a fantastic week."

Very cosy and suited us well. The only thing was the double bed mattress was very uncomfortable. One side of the bed was certainly lower than the other.

Thank you for your valuable feedback and glad you had a wonderful stay. The owner has taken your comments on board and has ordered a new mattress for the double bed. Property Owner

"Last minute booking so picked this smaller home over a previous town house style we stayed in before in the same area."

Nice size for a couple, cosy once we switched the heating on. Main bedroom bed was very comfortable plus linen and towels were immaculate and of a good quality. Quiet area which we know well. Only downside was the shower which was powerful but went all over although that certainly wouldn't put us off booking again if it was available.

"Loved the enclosed and secure garden for our small dogs but if you don't want them to go upstairs a stair gate is needed."

The house is lovely, well decorated and comfortable except the sitting room. It's plain, unwelcoming and the chairs are so uncomfortable, far too low even for the fittest of us. We spent a lot of our time in the dining/kitchen area. The back garden is a sun trap but needs some sort of shade - umbrella or covering over the decking.

"Excellent accommodation,clean and well equipped."

Close to a small dog friendly beach ideal for morning needs. On the the Rodwell trail, which is ideal for longer walks. Bus service excellent. Close to beautiful sights of Dorset.

"We had a problem with reception on the TV Dream Homes came round immediately and when they could not fix they got someone else in to do this."

Excellent service in a lovely holiday home , highly recommended .

"Television reception is very poor and only BBC channels were able to be watched."

Overall we were very pleased with the cottage and it was in a great location.

"A wonderful position, with good views and a lovely, enclosed rear garden."

"Ideal place to stay and well equipped."

Lots of walks and activities close by. Particularly good for us that we could take dogs - Part of the family and made it even more enjoyable. Stayed March 2018

"Lovely family long weekend which had everything we needed - a property that was extremely comfortable and well equipped, close to the beaches and the weather was great - perfect!"

Stayed April 2017

"Home Waters is a comfortable modern cottage in a quiet location with excellent links to both Weymouth and Portland with buses every 10 minutes."

The sea is just 50 metres away with the Rodwell Trail following the coast towards Weymouth. This was ideal for us with our dog together with a local shop just 5 minutes walk away. Stayed July 2016

"An ideal base for exploring the Weymouth and Portland area."

Just what we wanted! Stayed April 2016

"The property was immaculately clean throughout, and in a good location for walking to Weymouth or Portland."

Thoroughly enjoyed our stay in April. Stayed April 2016

"My daughter and her family stayed there for the 3rd time and were very happy with everything as usual."

Stayed October 2015

"We spent a fantastic time in this excellent property."

House and garden were in top condition, clean, well organised and ready to use when we arrrived. The neighbourhood was calm and there wasn´t any traffic noise from the street. We were impressed of the short way to the sea. Best regards from Germany. Karl Stayed September 2015

"Lovely holiday!"

Property in a great Location. Everything provided necessary and a very clean & tidy house. Thankyou - Stayed April 2015.

There are no reviews featuring this term Show all reviews
Show more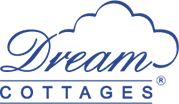 This property is part of the Dream Cottages collection.
Over 350 carefully selected and perfectly located properties, helping you create your perfect holiday.
Summary
Three bedrooms: 1 x king-size, 1 x twin, 1 single
Bathroom with bath, shower over, basin and WC
Cloakroom with basin and WC on ground floor
Kitchen
Dining room
Sitting room.
Gas central heating
Oven and gas hob, microwave, fridge/freezer, washing machine, TV, DVD, Blu Ray, WiFi
Fuel and power inc. in rent
Bed linen and towels inc. in rent
Cot available on request
Parking for two cars, 1 x Off road parking, 1 x Driveway with dropped kerb at front of property
Enclosed patio with decked area and furniture
Two well-behaved dogs welcome
Sorry, no smoking
Beach 2 mins walk
Shop and pub 15 min walk.
The property
Located in a tranquil position on the edge of Portland Harbour at Ferrybridge, the southerly tip of Weymouth, is where you will find Home Waters, a lovely three bedroomed house. Providing an excellent base for your family holiday, Home Waters is located near to Smallmouth Bay with its small sandy beach.
The comfortable and cosy sitting room is the ideal place to relax and enjoy chatting with loved ones or maybe watch a movie, alternatively enjoy the fresh air relaxing outside in the patio area.
The famous Portland Bill lighthouse is a short drive or bus ride away, enjoy lunch at The Lobster Pot while enjoying the views.
With its abundance of wildlife, cliff top walks and the spectacular Chesil beach to explore for lost treasures Portland offers a rugged charm all of its own. A leisurely 30 minutes' walk away along the 'Rodwell Trail', an old converted railway line will lead you to Weymouth town centre with its numerous shops, restaurants, attractions and the main award winning beach with its golden sands and shallow waters.
If you prefer it is about an eight minute drive/bus journey away. A short coastal stroll will take you to hidden away Sandsfoot beach and castle ruins which is an ideal alternative to the more commercialised town centre beach.
The surrounding waters, which welcome the very best of the world's waters sports enthusiasts were where the sailing Olympic events were held in 2012. With the benefit of parking and a landscaped patio garden in the perfect coastal location Home Waters makes for a comfortable family holiday home.
About the location
WYKE REGIS
Weymouth 2 miles
Dorchester 9 miles
Wyke Regis is a village on the south western side of Weymouth that sits on the northern edges of Portland Harbour and reaches as far as the back of Chesil beach and The Fleet, just two miles from the centre of Weymouth. There are local shops, cafés and restaurants including the famous Crab House café, with it's own oyster beds on the doorstep. The National Sailing School, an Olympic legacy, offers a wide variety of water sports and is just two miles away on the edge of Portland Harbour. The Fleet Lagoon that runs between Wyke Regis and Chesil beach is an important area for wildlife and there are many species of birds to be seen in the area, whilst Chesil beach is also a renowned spot for fishing. The Fleet is probably most famous for being the testing ground for Barnes Wallis's bouncing bomb, immortalised in the film the Dam Busters. Wyke Regis is the perfect location from which to explore many of Dorset's most iconic locations on the Jurassic Coast.
View more holiday cottages in Wyke Regis
Note: Parking accessed through arch, 2.3m high x 6m wide. Parking space 2.5m x 5.5m
Note: Guests are required to bring their own cot linen
This property offers the following short breaks:
Winter
Off-season
Last minute
Christmas