Sleeps 5

Bedrooms 3

Bathrooms 2

Pets Yes
Features
Off road parking
Garden / Patio
Cot available
Pub/shop < 1 mile
Washing machine
Dishwasher
Seaside
Broadband / WiFi
Reviews & Ratings
32 Customer Reviews
"We love this house!"

It's was the perfect size for 2 adults, 2 teenagers and a dog. It had everything we needed, the views from the front bedrooms were lovely and the garden is a great sun trap- it was so relaxing sitting out there watching the bees and butterflies. The location was excellent- made good use of the Rodwell trail and chesil beach was just a walk away. We can't wait to stay at Tides Reach again!

"Lovely stay, clean and comfortable."

Enjoyed sitting in the garden for breakfast and later in the day with a cup of tea. One recommendation I would make is to have a small coffee table in the living room. Also please be aware that the shower door in the on suite sticks at the bottom and if you shut it completely you have to get down and lift it up to get out. But had a great stay and would return.

"It was very un homely."

No books, games, dvds Dining chairs were soiled. Fridge wasn't balanced and water kept collecting in the bottom. Minimal of everything including dishwasher tablets. Babies sock behind sofa. Sweets behind cupboard. Grass too long.

I am sorry that you found Tides Reach un homely. All the books , games and toys have been put back into the property now that the risk of covid has reduced. The grass has been cut and the gardener will be tending the garden regularly. The dining chairs will be refurbished in July and I will ask Dream Cottages to look into the other matters . I hope this is helpful. Property Owner

"Would have been nice if lawns had been mowed, five of us and only three garden chairs"

"Tides Reach is well placed for exploring Dorset."

The garden is completely secure for dogs of any size, and the estate was quiet. We had a couple of minor issues during our stay which were dealt with promptly by Dream Cottages. Our only suggestions for improving the property would be to install a larger shower cubicle in the en-suite as the current one is small and old, and the door is awkward, and it would have been helpful to have more cleaning products left at the property.

"Tides Reach was beautifully presented and pristine throughout."

The property is perfectly situated for walks along the causeway, days on the beach and trips across to Portland or into the town centre. Nicely furnished, ideal for couples or families.

"This is a great location to be based from, lots of lovely walks, but also easy access to other activities."

My only negative about this house is the showers they are poor.

"Thank you for a good week in Dorset despite the gales."

The house was warm on arrival which was appreciated. Generally clean, comfortable , quiet and well-equipped (but the shower over the bath had very little power to it making it unusable and the power shower quickly ran out of hot water and there were only two of us.) Also a roll of binbags needs to be provided. Otherwise we have no complaints. The house is in an excellent location for visiting Dorset, right by Chesil beach. We enjoyed visiting Portland Bill, Weymouth seafront, Lime Regis (fossil hunting), Abbotsbury, the Olympic rings with great views, and adored Lulworth Cove and Durdle Door, (though Dorchester was a little underwhelming). The Jurassic Coast was stunning and the house good. Thank you.

"Great location everything we needed had a lovely stay"

"This property is in a lovely area."

We liked the enclosed garden for the dogs safety. The property was clean warm and comfortable, with everything in the kitchen that was required. The nearby beaches were great. The Rodwell Trail was good for a walk. We specially liked Lorton Meadows for a long walk with the dogs. Which was a ten minute drive. Home now feeling very relaxed after a good week.

"Comfortable and clean property, ideally situated for walking into Weymouth along the Rodwell Trail."

Also a small beach at the end of the close and within walking distance to Portland. Pretty garden, fully enclosed. Well equipped (although we couldn't find any oven gloves). Our party of 4 adults and our Golden Retriever had a lovely week, and I would definitely recommend staying here.

"I feel that I need to let you know that we were unhappy with the condition of the cookware (saucepans, frying pan, utensils) & dishwasher upon our arrival."

Two saucepans & a frying pan had been put away with burnt on food on them. Some of the serving & cooking utensils had been put away with dried on food on them. The dishwasher had large lumps of meat & food in the filter which we had to clean out and run a wash cycle on empty before we could use it. All of the other items had to be cleaned before we could use them. There were also dirty towels left in the wardrobe of the small back bedroom! In these times of us all taking more care with hygiene we feel that some one has overlooked checking on these items as the previous holidaymakers have not followed your advice & emails (which we have read & complied with). Overall the property was ideally situated & conformed to all of our expectations which we have come to expect from many holidays where we have stayed in Dream Cottages accommodation. On this occasion we think you have been let down by your cleaning staff considering the extra time they are allowed to clean for this pandemic crisis - time which has been taken away from our entry time. We have tried to be constructive in our comments & look forward to hearing from you in response.

We thankyou for your valuable and constructive feedback, we are sorry to hear that there were cleanliness issues at the property. We have taken this on board and with look at measures within the Housekeeping team to help ensure these do not occur again. Thankyou once again and we hope to welcome you back to Weymouth again. Property Owner

"Lovely house with great amenities."

Secure back garden so safe for the dog. Lovely little beach minutes away so we were able to keep away from the crowds. Would definitely recommend and would certainly stay again.

"This was our second stay at Tides Reach- the area is ideal, with beaches at the end of the road and the Rodwell Trail leads straight into Weymouth."

The house has everything needed for an enjoyable holiday, and a nice secluded garden. There is a smart TV at the property now, and the internet worked fine for us.

"Lovely house in great location."

Some features could do with updating. A smart TV is pretty standard these days so the TV here is somewhat out of date. The shower head in the end suite should be replaced as it has black mould on it. There was no soap in any of the bathrooms. I get that it's self catering but some soap in the 3 toilets would seem a reasonable expectation.

Thank you for your valuable feedback and pleased you loved the house and it's location. The owner has now a smart TV in the property. We look forward to welcoming you back to Dorset again soon. Property Owner

"The cottage is in a perfect location for Weymouth and Portland Bill."

Very clean and comfortable. There is a nice walk to be had at the bottom of the road, turn left on the path and you come to lovely views. Local shop a few minute's walk. a Lidl supermarket is a few minute's drive towards Portland Bill much more convenient than the other supermarkets. All in all a very nice holiday destination

"The house was well equipped and well positioned."

It was lovely being so close to the sea. The garden was really dog friendly and it was great being able to let our dog out in the garden without worry. Some reviewers complained about the WiFi but we had no problems at all. Everything connected easily and the speed was really good. Would definitely stay here again.

"We had a great holiday, however the wi fi did not work on any of our devices which was very disappointing as it is a selling point on your portfolio."

The en suite bathroom appears to have had a leak previously and there is a musty smell in there.

"Fantastic location for family + dog (secure enclosed garden) We thought we'd be using chesil beach everyday but instead we used the fantastic sandy sheltered beach a hundred yards from the house."

Used the Rodwell trail a few times and an easy walk into Weymouth. House was great, had everything we needed. Make sure you take a smart device if you rely on streaming services during the evening/bad weather, as the TV is pre-smart but does have spare HDMIs. WiFi was of good speed, but password was wrong in the welcome docs. Great holiday, we were lucky with the weather and will be booking again next year.

"The house is very comfortable with a lovely garden, the garden furniture we used daily."

Good sized rooms, well furnished and clean and spotless. The house is in the perfect position for the Rodwell Trail, Smallmouth Beach, Sandsfoot Castle and Chesil Beach. Local shops close nearby too. A great location for cycling and a nice quiet area with views of the sea and Portland from the bedroom. Surprised and disappointed the WI-FI access had limited and inconsistent availability and only connected to iphones.The instruction folder mentioned to contact the actual internet provider for issues and not Dream Cottages/Sykes.

"Just perfect for location and comfort."

Well equipped and should be 5 stars.

"NO EVERYTHING WAS PERFECT EVEN THE WEATHER"

"Apart from the accommodation being brilliant the location was extremely good."

We would certainly consider Tides Reach again. Thanks Sykes Cottages

"The house is very well equipped with a secluded garden and is ideally situated, with 2 lovely beaches nearby and the Rodwell trail at the end of the road."

We would love to come back!

"House was excellent."

Lovely and clean with great facilities in a brilliant location. The week spent there was relaxing.

"Delightful house in lovely location."

Clean tidy comfortable with a lovely garden. Would recommend.

"Very comfortable, very clean, great holiday - stayed August 2018"

"Lovely house and garden."

As always Weymouth never fails to deliver, literally sun, sea and sand all the way. Accommodation superb and well equipped. – stayed June 2018

"Lovely clean comfortable house and super seaside location - stayed August 2018"

"Lovely property, light and airy and very comfortable."

It was very well equipped and felt very welcoming. We loved relaxing in the garden, and walking into Weymouth along the disused railway path. Stayed July 2018.

"We had a great holiday."

The accommodation was in a great location. It was clean, had everything we needed and we would definitely return again. Stayed July 2018. Thank you. Stayed JUly 2018.

"A very nice comfortable property."

Lots of good walking nearby - stayed June 2018
Show more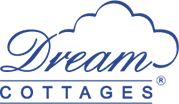 This property is part of the Dream Cottages collection.
Over 350 carefully selected and perfectly located properties, helping you create your perfect holiday.
Summary
Bedrooms: 1 x King-size double, en-suite with shower, basin and WC, 1 x twin bedroom and 1 x standard single
Bathroom, bath with shower over, basin and WC
Sitting/Dining Room, Cloakroom with basin and WC, Kitchen.
Gas central heating
Gas hob and electric oven, Fridge/freezer, dishwasher, Travel cot, Bluetooth speakers
Smart TV, Wifi
Off road parking for two cars
Enclosed rear garden with lawn and steps to patio area
Fuel and Power inc. in rent
Bed linen and towels inc.in rent
Welcomes 2 well behaved dogs at cost of £21 per pet per week
Sorry no smoking.
The property
A stylish detached house only a few steps from the South West Coast path with beautiful views toward the Isle of Portland, Tides Reach is a delight for a seaside holiday. The property is very well maintained and is airy, sunny, offering a comfortable living area with sitting and dining area perfect for relaxing.
Kitchen has all necessary equipment to make a delicious meal.
Garden has a superb terrace for you to enjoy a cold drink, an interesting read and watch the sunset. Within a short drive is the National Sailing Academy and the area around the Portland Harbour is perfect for kite surfing, sailing, windsurfing, walking.
The island has an interesting Tout Quarry swarmed with butterflies in summer and the iconic Portland Bill lighthouse. If you wish to reach the town centre, you may take Rodwell trail which is a 20-minute walk to the centre, or you may take a ride with a car which is only 5 minutes.
Georgian Esplanade and golden beach with array of family attractions will keep you busy and entertained.
You may wish to try traditional fish and chops by the harbour or ice cream as you explore the area. Stunning places such as Durdle Door and Lulworth Cove, West bay are only a short drive away from Weymouth. Tides Reach is a great family holiday base for those more adventurous.
About the location
WYKE REGIS
Weymouth 2 miles; Dorchester 9 miles.
Wyke Regis is a village on the south western side of Weymouth that sits on the northern edges of Portland Harbour and reaches as far as the back of Chesil beach and The Fleet, just two miles from the centre of Weymouth. There are local shops, cafés and restaurants including the famous Crab House café, with it's own oyster beds on the doorstep. The National Sailing School, an Olympic legacy, offers a wide variety of water sports and is just two miles away on the edge of Portland Harbour. The Fleet Lagoon that runs between Wyke Regis and Chesil beach is an important area for wildlife and there are many species of birds to be seen in the area, whilst Chesil beach is also a renowned spot for fishing. The Fleet is probably most famous for being the testing ground for Barnes Wallis's bouncing bomb, immortalised in the film the Dam Busters. Wyke Regis is the perfect location from which to explore many of Dorset's most iconic locations on the Jurassic Coast.
Region Information
This property offers the following short breaks:
Winter
Off-season
Last minute
Christmas