4 Guests

2 Bedrooms

2 Bathrooms

Pets No
Features
Off road parking
Cot available
Pub/shop < 1 mile
Washing machine
Dishwasher
Seaside
Broadband / WiFi
Reviews & Ratings
50 Customer Reviews
"I've stayed here 4 times now n the apartment is amazing but one of the ..."

I've stayed here 4 times now n the apartment is amazing but one of the bathrooms the floor had dust n hairs in the corners but apart from that it was very clean There's everything you need, there's even a try with some tea, coffee sachets, sugar n biscuits but bring extra toilet roll when you do your food shop

"We have stayed in all three apartments and wouldn't hesitate to book again"

"This is our fifth time at the apartment the views and the apartment are exceptional we will definitely be coming back."

First class accommodation.

"This is out 10th year of coming to this property and we love it."

We will be booking this again next year!!!

"The door on the main road would not open from the flat by pressing the blue button on the phone if someone wanted to get in if you forgot your key ."

Every thing else was fine a lovely flat, we have stayed many times in flat 3 but that was taken sowe stayed in flat 4 this time have already booked flat 3 for next year and looking forward to staying there, I have a special needs son and the stairs are a little hard work for him but he really loves it there and the views are fantastic, thanks Neil jones.

"Black out blinds/curtains would have been preferable as the rooms were quite ..."

Black out blinds/curtains would have been preferable as the rooms were quite bright in the early morning otherwise it was as described

"Our 4th visit to this apartment."

Yet again we had an amazing time. Very clean as always. They have replaced the fridge/freezer thank god n the mattress. Toilet has been fixed now you can flush it

"Lovely apartment with fantastic views to wake up to."

Well equipped and very clean. The spiral staircase is a challenge with luggage as is the plumbing in the showers but that comes with property of this age as we know. Overall a very relaxing and enjoyable break. Would recommend it highly.

"Good location and pleasant views with parking."

2nd bedroom en-suite shower not draining properly. No mixer tap for hot and cold water. Main family bathroom splash prevention glass partition no wide enough having to stand at the end of the bath to avoid water splash. Limited poor qulaity toilet paper. Electric kettle light indicator when on is not working. Pity unable to sit out in the lovely garden on the ground floor and the shared courtyard is bare surrounded by 4 walls with a bench which could be improved with some pots/flowers to make it a more conducive enviroment etc.

"First class apartment with stunning views our third visit and will definitely be coming back."

"The appartment was really nice."

But we were never told that me and my wife would have to go up four flights of stairs to get to flat four in which we were staying. My wife is seventy one and I am sixty eight. We had to carry our suitcases up the stairs. every time we ventured out my wife who has just had a partial knee replacement really struggled up the stairs and it got to the stage where she did not want to go out because the strain of going back to the room at the top of the stairs we should have been informed .

"Another fabulous stay ( 7 times now!"

) this is a perfectly situated property with amazing views and if the sea is your thing you couldn't get any closer. Spacious enough for the 3 of us, nice and comfy furniture. Fridge not quite as cold as we'd like but we managed fine. Equipped with everything you need for a fabulous stay. Hope to be back before long.

"23 07 22. Stayed in this apartment a few times pre pandemic and it has a lovely location and view we were quite disappointed with a few things though."

Stairs are manageable to us but 31 steps and heat rising up the stairwell with no ventilation is not good for anyone. Kitchen was grubby we needed to give the worktops and fridge a good clean. Fridge has never been that good but was worse than ever with water running down the inside so we weren't comfortable storing food in it, it barely cooled down drinks and this cost us extra to eat out and have takeaways. The repairs to the shelves make the fridge look unclean. Bed in main bedroom really uncomfortable and toilet in bathroom sometimes not flushing properly. It's well enough equipped but not worth the charge when you can't use the facilities - mainly fridge, bed, toilet need sorting so we're trying another property for next year.

"There were a few small issues reported by previous guests … although these didn't bother us in the slightest you couldn't help but look out for them once you were aware of them!"

For little cost and effort these could easily be sorted out to please everyone!

"We had a wonderful week in the apartment and we couldn't believe how close we were to the beach and what fantastic views."

Lovely walks along the seafront to Weymouth and the harbour. It might be useful to others to point out that the parking on the drive from the main road can be awkward. We used the garage once but found it narrow for our Clio so doubt whether a bigger car could get in. As mentioned in other peoples feedback the double bed mattress is uncomfortable and needs to be replaced with a better quality one. Apart from that we had a great time and would recommend.

"We really enjoyed staying there."

Superb view of the sea. All facilities are enough and thoughtful. Only one thing I would like to reach the owner that main bath room toilet seat is wobbly. Master bed mattress seems same as soft I read reviews though. Super flat we would like to be back again.

"Just a few minor points there was no toilet paper."

Had to nip out lol. The fridge again wasn't at the right temperature which I have addressed twice before. Mattress might need replacing but wasn't an issues for me I slept very well. I have booked again so all is good. The apartment is stunning n the views. Falling asleep n waking up listening to the waves. This time there was a tray of tea, coffee biscuits etc but for me personally I would of preferred toilet roll but everyone is different and you can't please everyone. Thank you again for an amazing time.

"The fridge doesn't keep items cold despite turning up to the highest level, they are cool but not as cold as you would normally expect."

Also the main bed isn't very comfortable, you can feel the springs when lying on it. Other than that it was a lovely stay.

"Fantastic location and lovely beach views from this second floor flat, which was spotless and well equipped with everything we needed."

We loved our stay.

"Lovely property & in a fantastic location."

Went in the winter & the flat was lovely & warm, so after being out all day was nice & cosy to stay at in with everything you need to cook a nice meal & relax. We left something behind & Sykes as promised posted it back to us promptly.

"We love this flat, as I've said time and time again when asking for a review."

We've worked out we've been every year(sometimes twice a year!) since 2013. What a little find! I never really want to share with others in fear of losing out because they book it before me. Haha! I'd cry!!! We've even made good friends with the others that stay in number 3 at the same time. We love Weymouth and surrounding areas. This flat is a perfect home from home! A time to really relax and enjoy the sea views. Thank you.

"The apartment location was fantastic."

Sykes cottages were very quick with a response for our late booking (day before we went!) and the service and communication from Sykes was brilliant. The apartment was just outside the town so it was a bit of a walk but for us this was ok. It was flat and even. The area (as we were just outside town) was very peaceful with just the gentle waves for company. There was quite a climb of stairs for the top floor apartment which was a struggle with all our bags, but we had a few breaks as we climbed ! The apartment had everything that you needed, however, you will need to take additional toilet rolls as there is only one in each toilet so if more than 2of you, you may get through them very quickly!!!! I did miss the personal touch of the apartment, (welcome package , tissues,shampoo, shower gel) but this is just my opinion. The apartment was clean and tidy and would recommend to anyone that enjoys walking or even just stopping in as we could have watched the sea all day every day from the apartment. We were very lucky that the weather was fantastic for September. So we did loads of walking and went on the rib boat to durdle dor (again, would highly recommend) Overall a very enjoyable stay and would recommend

"This was a last minute booking as our previous accommodation with another company had been double booked."

The staff at Sykes were really helpful in finding us a last minute place and the booking process was fairly simple, apart from an issue with payment as we were in Guernsey at time of booking! The accommodation was excellently placed, away from the town but within walking distance. Wonderful views, clean and comfortable.

"Fantastic apartment with glorious views, spotlessly clean, very comfortable with great facilities."

One minor point being the fridge, it just couldn't get cold even though we set it to the lowest setting which was 1

"Extremely frustrated at length of time kept waiting on the phone to advise we had unfortunately locked ourselves out of the apartment."

We ended up leaving the pub we had chosen to eat in to rush over to the office so that we could ensure we were able to get back into the property and then relax. Not the sort of service we used to get when it was actually 'Dream Cottages' that ran the office.

"The double bed mattress needs replacing urgently as the springs are protruding so we didn't have one good night's sleep in the 7 nights."

This was a real shame as the apartment was glorious. The door to the clothes dryer was broken so, made it very difficult to use. It just needs replacing. The kettle needs descaling/cleaning as all drinks had a greasy film. When you fill the kettle with water you can see the film on top. Clean it using Oust descaler - it will fix this problem immediately! The owner will need to buy a new can opener as the one supplied disintegrated in my hand as I used it. I left it with all of the pieces on the side in the kitchen so it can be seen. The cooking tongs need replacing as they are plastic and old and as a result bits of plastic was coming off when used. Just for your info, some of the light bulbs need replacing - one in the lounge to the freestanding lamp and kitchen under-lighting. The owner won't know unless someone mentions it. In the wooden cupboard in the main bathroom on the first shelf, there is an old toilet brush stuffed at the back - I suggest this is moved as it doesn't look very nice. Finally, the intercom system didn't allow you to buzz people up and I don't know whether this function has been disabled deliberately or whether there is a fault which is why I mention it. If all of the above were fixed it would have been a faultless review.

"Wow. We are booking next year"

"The apartment was in an ideal position, overlooking the beach."

Everything was very neat and tidy and fully equipped. If I have to comment on a negative, the bed could do with being more comfortable. Plenty of places to eat in and around Weymouth. Would recommend the Sunday lunch at Weymouth Pavilion, excellent value. The Oasis Café in Overcombe is well worth a visit, very popular. All in all, despite the weather at times, we had a brilliant stay and would book again.

"This is the 4th time we have booked this apartment which speaks for itself!"

A wonderful apartment, consistently clean on all 4 of our arrivals! Really like the key safe which makes arrival really easy. The views are tremendous - worth the climb of the 31 stairs to get to the apartment. The mattresses are probably ready to be replaced as they are very, very soft and may be a problem for anyone with back issues. Potential customers need to be aware there are no 'black out curtains' just blinds so if you need really dark space to sleep that may cause you a problem although it wasn't an issue for us and we really enjoyed having the windows open through the night to hear the sound of the sea. Love the fact there is just a pathway in front of the property not a road as it is not noisy. Also despite being a road near to the back of the property you don't really pick that noise up in the apartment. We have stayed here in October and July, August and this really is the perfect all year round property and we hope to be back for visit number 5 at some point!

"Brilliant location & fantastic apartment - only down side is the 31 stairs to reach it, which were no problems for youngsters but for less able 70+ year olds challenging, but they rose to the challenge!"

Thoroughly recommend, spotless clean with all the facilities required for a comfortable seaside holiday, plus parking for 2 cars, great!

"Now we were for the second time in this apartement and we love it, right on the sea you hear always the sea noise."

to explore the very interesting jurasic coast it's a perfect location. Greatings from switzerland. Stayed October 2018

"A wonderful location and equipped to a very high standard."

We enjoyed the sea views and being so close to the beach and walked into Weymouth several times, being able to leave the car at home. The apartment was clean and quiet and there was plenty of room for a family of 4. We'd definitely like to visit again! Stayed August 2018.

"We have been to this appartment many times and it never disappoints us."

The views are magnificent and if the weather is poor you can spend the week sitting in the lounge with a pair of binoculars watching the activity in the bay. You will find everything you need as the apartment is well equipped and clean and modern. It really is home from home and we will be returning next year. Stayed June 2018

"Easy to book and pay for."

Good instructions to find it. Excellent flat, clean, well equipped, great location. Will come back again. Stayed May 2018

"Good customer service and flexibility shown by both the agency and owners."

The was our 3rd stay in this wonderful apartment. Excellent location with great sea views and loved waking up to the sound of the waves on the shore. High quality furnishings help towards a comfortable stay. Some further comments left at the property and we can't wait to come back soon! Stayed May 2018

"We have recently booked Beach View Apartment 4 for the 4th time which clearly speaks volumes."

Beautifully presented, incredible views and wonderful memories. Can't wait tp look out of those windows again and relax in that beautiful apartment equipped with everything you could ever need.

"Great location, excellent furnishings, totally clean and comfortable."

This was our second visit and we are hoping to have a third soon! Stayed May 2017

"Fantastic 'flat' we love it and visit regularly."

The standard is very high and always has been. It has the added bonus of warmth and a brilliant WIFI signal. Always very handy these days... The managers and the owner are always on hand to put things right, not that there is very much to go wrong.. Perfect accommodation. We love it. Thank you. Stayed March 2017

"The apartment was very clean and tidy, with a great view, the whole family really enjoyed our stay, and we will be back."

Thank you again. Stayed February 2017

"Very useful and accurate information provided throughout."

Property is a great location with stunning sea views. I will recommend Dream Cottages to friends & family. Stayed September 2016

"Excellent location and superb facilities."

Stayed July 2016

"A beautiful apartment which was in a lovely location and very clean on our ..."

A beautiful apartment which was in a lovely location and very clean on our arrival proving all we needed for an excellent holiday - stayed June 2016

"We have stayed in this appartment a number of times and have never been disappointed."

The views are what makes us return year after year, always something going on from children paddling in the little bay to boats making their way into harbour. The appartment was spotless as usual and is well equipped to ensure that you have everything you need for a relaxing holiday. The booking process was very easy and we hope to be back again next year. Stayed June 2016

"Very nice apartment , lovely views, booking again for next year."

Stayed May 2016

"Wonderful apartment, very well equipped and spotlessly clean."

We really could not have wished for better. We were so pleased with our holiday that, as you're records will show, we have already put a provisional booking on apartment 2 for next year. Stayed April 2016

"We again had a wonderful week and APARTMENT 4 was as wonderful as ever."

Housekeeping and maintenance very good and as always would very highly recommend. Thanks. Ken and Liz. Stayed November 2015

"Couldn't find one single fault with the flat."

Excellent. Stayed September 2015

"Apartment was fantastic with beautiful views across the bay."

Very comfortable home from home. Would definitely recommend to family and friends. Easy walk into town and a pub across the road if feeling lazy for a nice meal. Good safe parking for 2 cars. Thank you for a wonderful holiday. Stayed July 2015

"Property was as expected as we have stayed here few times before."

Lots to do in Weymouth, car parked securely in the garage for a week and we could walk everywhere. Hoping to visit again next year, maybe a different apartment for a change but definitely through Dream Cottages.

"This was about our fifth stay."

All perfect. My only problem is the wifi will only work if you go outside the front door of the appartment It did work perfectly on our second stay. Apart from that a great place to stay. Housekeeping very good. Would really recommend.- Mr Blake - Stayed January 2015

There are no reviews featuring this term Show all reviews
Show more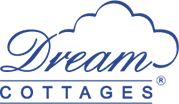 This property is part of the Dream Cottages collection.
Over 350 carefully selected and perfectly located properties, helping you create your perfect holiday.
Summary
All second floor
Two bedrooms: 1 x king-size double, 1 x twin single with en-suite shower, basin and WC
Bathroom with bath, shower over, basin and WC
Kitchen
Open plan living area with diner and sitting area
Garage.
Gas central heating
Gas hob and electric oven, fridge, freezer, washing machine, tumble dryer, dishwasher, TV with Freeview, DVD, WiFi
Fuel and power inc. in rent
Bed linen and towels inc. in rent
Cot available
Garage for 1 car with additional off-road parking
Enclosed walled communal courtyard area with picnic bench and clothes line
Sorry, no pets and no smoking
Shop 10 mins walk, pub 5 mins walk
Weymouth beach 1 min
The property
Stunning second floor apartment with panoramic sea views in the popular area of Weymouth close to Lodmoor RSPB. Sleeping four people, it is the ideal haven for couples or a small family wishing to escape the hustle and bustle of the town centre, while still close to the main beach and shops.
Admire the views to the Isle of Portland through the windows in the master king size bedroom while enjoying your morning tea or coffee. During the day relax on the beach and enjoy the sun, swim and forget about daily routine.
Take an evening walk along the Esplanade to the town centre and visit the popular local amenities while watching how beautiful the Old Harbour looks after the sunset. Get ready for your day out in the comfortable bathroom while the children play in the twin room.
Relax after an exciting day out and get comfy on the sofa, watch a romantic movie or enjoy a quiet evening in with family and friends by the light of electric fire place. Locally you can wander around Weymouth town centre or visit Nothe Fort and Gardens where you can picnic, and the children can play.
You can walk along the Rodwell trail from Weymouth to the Isle of Portland following a disused railway line which is now a green paradise for wildlife.
Along the way you can stop and enjoy refreshments at the ruins of Sandsfoot Castle. A short bus ride or drive in the car will also take you to the beautiful and unique Isle of Portland with its famous Portland Bill lighthouse or visit the quarries, now turned to nature reserves.
Explore the World Heritage Jurassic coast and make sure to visit Lyme Regis for a day of fossil hunting. With its abundance of activities right on your doorstep this first-rate apartment is the perfect seaside retreat.
About the location
GREENHILL
Greenhill, is a pretty region of Weymouth notorious for it's pretty pastel beach huts, beautiful gardens and pebbly beach. The beach at Greenhill is the perfect option for those seeking a quieter beach day away from the hustle and bustle of the traditional sandy beach day activities. There are a choice of beach side cafés as well as a pitch & putt that is adjacent to tennis courts. There are many Georgian houses which front onto the seafront and esplanade, along with many other historic buildings, enjoy the variety and extensive sea views as you stroll along the seafront. It's a short 10-15-minute stroll from Greenhill into Weymouth main town centre, where you can find local independent shops tucked away in the side streets, surrounded by many high street favourites. Greenhill is the ideal location for people who want to be close to the centre without being in it.
Note: The picnic bench is in an enclosed walled courtyard.
Note: Guests do not have access to lawned garden
This property offers the following short breaks:
Winter
Off-season
Last minute
Christmas