Sleeps 9

Bedrooms 4

Bathrooms 3

Pets No
Features
Off road parking
Ground floor bedroom
Garden / Patio
Cot available
Highchair available
Pub/shop < 1 mile
Washing machine
Dishwasher
Games Room
Seaside
Broadband / WiFi
Reviews & Ratings
25 Customer Reviews
"We had a brilliant holiday in Barley Mews, with mostly sunny weather, even if the wind was rather chilly at times."

The location was great – 2 minutes from the coast and walks in Nothe park, and within easy walking distance of Hope Square's restaurants, bars and facilities. The property was clean when we arrived, and we especially appreciated the comfortable beds. However, there are a few matters we would like to bring to your attention, which we believe should be rectified or brought to the attention of future guests. Although we didn't use them all, the comments take account of the fact that the property had 4 double beds (assuming therefore 4 adult couples) and could accommodate 9 people. • Parking: As we had one medium sized and one small car, we managed, but we had to shuffle to get the second car out safely. I doubt you would have fitted two large (ie family) cars in the spaces provided, and there is very limited alternative parking. We are dubious that this is adequate for 9 people, 4 couples and potentially 1 child. Guests should be warned that manoeuvring in and out of the parking is tricky and the spaces only suitable for small / medium sized cars. • It is difficult to get adequate ventilation in the living areas and bedrooms. We couldn't reach the roof vents and the windows in the walls do not open. Even in April it was hot & stuffy in the afternoons, and in hot weather it would be intolerable. • To get to the outside space you have to go through the middle of the family bedroom – a privacy issue, and a bedroom where in the evening a child might be sleeping. • It was very awkward having no shower in the downstairs bathroom which is potentially shared by 5 people. • Although the double bedroom downstairs has a free-standing hanging rail, there are no drawers, shelves or cupboard. • The quantity of dining equipment is inadequate – not enough wine glasses or tumblers for 8 adults; no serving dishes or tablespoons; no tumblers in the bathrooms. In a property of this quality, this is unacceptable. And although the property sleeps 9, there were only 8 dining chairs! • The concave doors on the kitchen cupboards are lethal if opened together – I trapped and cut my finger quite badly trying to open both together. At the least, guests should be warned to open the doors singly. • And we couldn't find a First Aid Kit anywhere. • Only 1 key was provided for the mortice lock. The key safe would be used if all were going out, but if some members of the party were to go out whilst some remain in the property, if the door were locked & the key put in the safe, then those in the property would be unable to get out. 2 keys would solve this problem. • The TV in the games room isn't working – believe there is a lead missing. • We were surprised not to find a town map and leaflets about places to visit, as we have always found these in previous properties we have stayed in.

"The on-suit shower door had a broken seal and was difficult to close, the whirl-pool bath in the other on-suit did not have the whirl-pool function, the pool table was broken and the shower (in the whirl-pool bath room) leaked/sprayed water onto the bedroom floor."

The neighbour at No. 3 was complaining about parking, until she took it upon herself to re-paint the markings. I did note the parking instructions and parked considerately, to allow for vehicle parking/manoeuvring, but her NEIGHBOURS son complained that he had difficulty in getting in/out when visiting, despite the parking spaces for No. 1&3 being empty. I emphasise that I was polite in my dealing with them, but the (in my parties opinion) complaints were unfounded and spoilt our stay. We noted in looking back through reviews left by other guests that the faults listed above had reported/commented on previously (Aug 21 for the shower) and have not been repaired/maintained. Although our party easily coped with it, it became apparent that their may be an issue for others when it came to showering, as you only have the facility in the on-suit bedrooms. This is was/is obtrusive to people staying in those rooms. On the whole, our stay was ok, but I would not stay here again, and would not readily recommend it to others.

"We had a fantastic multi generational holiday, the house was comfortable and warm and the decor was lovely."

It is in a prime position with everything in easy walking distance, even for our octogenarian. We had a small problem with the downstairs sink which was quickly and professionally dealt with to our satisfaction. There are two things that we found a little frustrating, we could only get a handful of stations on both of the tv's and a comfortable chair for older people would have been lovely as we had to prop Mum up with loads of cushions! - These are not complaints, just what would have made it perfect for our family. We would definitely stay again.

"The outside space was unkempt and therefore unusable - TLC needed."

More hooks on doors needed for hanging clothes/towels. Tumble drier should have been in working order - how can 9 guests on a rainy day be expected to dry their clothes? More serving bowls for food would have been helpful. One of the en suites did not have a full shower door/screen, therefore floor became drenched and a towel was not adequate to soak up the water. No lock on bathroom door, providing no privacy. However, spacious comfortable property, perfect location, parking great, games room provided much fun, very much enjoyed our stay. Would we return? No, due to no pets allowed.

"Really disappointed with our accommodation this year."

Property was not thoroughly cleaned. Blinds in living area all broken. The fridge door is broken. The pool table was broken on arrival. The jacuzzi bath didnt work. Hair ball on bedroom floor. Sweet wrappers in cupboards. Thick dust on reachable beams. Outside bins not emptied on arrival. Extractions fans very very loud. Light flickering in shower. All in all a huge disappointment for us. Would like a conversation with someone about this and compensation.

"The property was spacious and well equipped with everything you could need."

We had a lovely time there.

"The only thing I would say is that the garden needed to be weeded as it had quite a lot of weeds."

Saying that we did sit out there with our drinks

"The house was really lovely so central for every thing as we took are elderly ..."

The house was really lovely so central for every thing as we took are elderly parents with us it was perfect in every way

"Adequate hot water was a problem at this property."

Water was not hot enough for a bath

"The cottage is in an amazing location with easy parking and walking access to seafront and shops / restaurants."

The interior is stylish and contemporary and given current Coronavirus rules was still pretty homey and comfortable. If I have any issues I think more seating is needed in the main living area - one big L shaped sofa doesn't quite work for a property that can accommodate 9 people, and the fridge door is a bit dodgy. But overall it's a great space for any number of people and I did love relaxing on the mezzanine floor.

"Tap needs fixing in kitchen."

Fridge in kitchen far too small. Shower in ensuite floods bathroom every time used. Great location.

"Beautiful house."

Clean and comfortable. Lots of space for a family holiday.

"Barley Mews was beautiful, warm, cosy very enjoyable the jacuzzi bath was amazing and the games room was enjoyed by all having the extra space was ideal having 3 grown up children, so it felt like we wasn't squashed together, the only minor thing is the shower in the master bedroom room, the floor gets pretty drenched when using because the shower hasn't got a door just a screen So have to mop up after use, but other than that perfect ."

We thoroughly enjoyed our time at the Mews and in Weymouth which is a beautiful part of England can't wait to return, and when we do we will be definitely be booking with dream cause they always deliver. Xx

"We would have selected 'Exceeded Expectations' except that we have used you guys before and you had already set high expectations."

..which you met yet again.

"My husband, son and daughter in law and 2 granddaughters age 10 and 13 had an absolutely amazing holiday in Weymouth made all the better by staying at Barley Mews."

Upon entering the property we were delighted with everything. It is light and airy, spacious, clean and finished to a very high standard and we couldn't ask for more. The location was perfect with lots of eating places close by and only a short walk to the beach. The added bonus was the games room which we all enjoyed immensely. We wouldn't hesitate in recommending Barley Mews and look forward to returning

"Fabulous accommodation for our family."

Bedrooms and on suite facilities were great and the games room was a real hit with our kids. 2 mins from all the facilities at Brewers Quay. Parking facilities were a real bonus. Thank you for a fabulous holiday. Geraint Evans

"Fantastic holiday fantastic location fantastic property Would definitely book again Could do with hairdryer in property been having our holidays with dream cottages last 5 years love Weymouth and this property was amazing Shame now Skye's have changed booking arrangements would booked same weeks same property would re booked straight away Been told can not do that ."

.... what shame dream cottages have always been so fab

"Barley Mews is a lovely property in an excellent location."

Unfortunately, there was a real issue for us with the several low wooden and also plastered beams on the first floor. We were warned about the ground floor low ceilings but not upstairs ( the site description does not mention these). Four of our guests were men of 6' or over and they managed to sustain a couple of nasty head knocks each upstairs ( and downstairs) throughout the week. When we arrived, the fridge was not clean ,the toaster was broken and the downstairs toilet was dirty and the TV didn't work as it wasn't receiving a signal from the aerial. I contacted Dream Cottages who dealt quickly with these problems although the TV was never sorted as someone was going to come with a new code and never did. As far as the kitchen is concerned, for a property of this size and for potentially 9 guests, it is lacking in some basic cooking utensils e.g.it has only one very small (and well- used ) frying pan. There were no egg cups ( Dream Cottage staff brought some of these round). The rug in the larger of the downstairs bedrooms smelt very musty and had to be put in the games room. None of the cues for pool had tips on the ends so the game could not be played. The ceilings downstairs are just too low for adults to use the games anyway. We were disappointed to find a 'welcome 'pack of only 1 tea towel, 2 dishwasher tablets, 3 tiny guest soaps, 1 jcloth and 2 big bags. There bathrooms had no complementary toiletries at all. I could have brought these necessities with me of course had I been forewarned. It was a pity to immediately have to go shopping on arrival. I would like to say again what a lovely holiday property this is and with a little more care and thought , would be an all- round success. I cannot however recommend it for just adults of normal and above height. It is quite stressful to be constantly taking care as to avoid a concussion.

"Fantastic house, perfect location."

Would definitely return.

"Excellent accommodation!"

Spacious, well equipped and comfortable. Would be happy to return to Barley Mews.

"Great property - quiet but central location - great specification and clean!"

"A wonderful place to stay - just round the corner from the sea."

Amenities on the doorstep. Would definitely return.

"We had a lovely weekend despite the awful weather and although we stayed in mostly Barley Mews had a fantastic games room where we spent lots of time laughing, also nice quiet space on top floor for reading."

The cottage was extremely comfortable, warm and spacious. It's in a good location, everything is in walking distance. We were 8 adults, the bedrooms all have king size beds and plenty of space. We will definitely be returning and would recommend it to family and friends.

"My wife and I rented this house for a week and were joined for the weekend by family, making a total of 6 adults and two children."

It was an ideal choice being so close to the harbour and town centre yet quiet and peaceful with two parking spaces. The conversion from brewery mews is very well done and the quality of furniture and fittings is impressive. All beds were comfortable and the bedding good quality. The bathrooms are modern and in pristine condition. The first floor open plan kitchen, lounge and dining area is where most time is spent and it works very well. Plenty of space and a well equipped kitchen. Downstairs is an unusual feature of a games room. We didn't make a lot of use of it but we can imagine a family with older children loving it. It is hard to find fault and the same is true of the Dream Cottages agency which is about 3 minutes walk from the house. Very good service right from initial contact. This part of town is really interesting and there are lots of good pubs, restaurants and walks, right on the doorstep. We would happily return and have no hesitation in recommending it.

"5 Barley Mews is a lovely holiday home, the kids particularly loved the games room and also the contemporary layout with separated living areas."

The house has been well developed from its industrial past with plenty of interesting features and has been appointed to a very high standard. it is located in a great area in the old harbour side of town which is quiet but only seconds walk from the main town area. it was our first UK holiday renting a house (4 kids 10, 12, 14, 16) and we will definitely be doing it again! Stayed August 2018.
Show more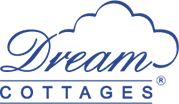 This property is part of the Dream Cottages collection.
Over 350 carefully selected and perfectly located properties, helping you create your perfect holiday.
Summary
Over three floors
Four bedrooms, one ground floor king-size, one ground floor king-size with single bed, two first floor king-size with ensuite
Ground floor family bathroom with bath, WC and hand basin
Games room with seating area
First floor open plan kitchen/dining/lounge with TV
Second floor seating area with balcony overlooking first floor.
Gas central heating
Gas oven and hob, Microwave, fridge, fridge/freezer in games room, washing machine and tumble dryer
TV with freesat in games room, TV with DVD player in lounge
Wi-Fi, telephone
bed linen and towels included in rent
travel cot & high chair
Off road parking for two cars
Patio courtyard area
Sorry no pets.
The property
Barley Mews sit behind Weymouth's historic Harbour.
This beautifully converted malt store comes from the days of the Devenish Brewery founded in Weymouth in 1821 and due to it quirky nature there are low beans at varying heights throughout. Over 3 floors, this delightful conversion offers generous space great for large families or several groups to come together and enjoy a self-catering holiday on the Dorset Coast. The contemporary feel of the property is apparent as you enter on the ground floor, explore the games room, set up a league for a table football competition, pool game, table tennis tournament, go a few rounds with the punching bag.
Please note in the games room the lowest ceiling height is 5ft 9".
Two of this property's four bedrooms, and a family bathroom are also on the ground floor.
In the family bedroom the lowest ceiling height is 5ft 7".
Head upstairs to the first floor when you will find the relaxed open-plan living space, rustle up a family meal in the beautifully designed modern kitchen with curved units and enjoy eating together at the large dining table.
Bedrooms three and four are on this floor, both are king-size with en-suites .
Upstairs you will find yourself in your own minstrel gallery with additional seating, where you can kick back with a great book and a glass of wine.
Outside, the private courtyard garden, at the rear, is all ready with a table and chairs so you dine al fresco, relax and enjoy the sea air. Just a few moments' walk from the harbourside and Newton's Cove, this ideal location means you can easily walk to the beach, restaurants, cafes.
If you crave additional adventures, Lulworth Cove and Durdle Door are a short 25 drive to the east.
The National Sailing academy, Portland and Chesil beach are a short drive to the west.
Barley Mews is ideal for large families or groups of friends to come and explore the Jurassic Coastline.
About the location
BREWERS QUAY HARBOUR
Dorchester 8.7 miles; West Lulworth 15.8 miles
Brewers Quay is the old Victorian brewery situated at the heart of the harbour, in Weymouth, Dorset. Much of the grade II listed complex and surrounding brewery buildings date from the late 1800 early 1900's and many have stones inlaid commemorating their construction year. This area is now a popular destination with many restaurants, café and bars, creating a vibrant culture, where you can relax with a drink and watch the world go by. Tucked away down the harbourside streets, you will find original Tudor harbour buildings, estimated to have been built in 1600 and well worth a visit, with a very interesting history to share. You will also find the Weymouth Museum, with some incredible exhibitions, and the harbour is also home to the lifting bridge, where you can watch the luxury yachts head out to sea, and then walk over the bridge to the town's winding streets of boutique shops and the seafront esplanade and beach. There is more to this seaside town than meets the eye; Brewers Quay is a much-loved holiday destination in Weymouth!
Region Information
Note: Ground floor has low ceilings

Please note that there are lots of low beams and restricted head height throughout property.

Note: This property does not accept single sex groups

Note: Whirlpool bath shown in photo is not operational as a jacuzzi function, only as a standard bath.
This property offers the following short breaks:
Winter
Off-season
Last minute
Christmas