4 Guests

2 Bedrooms

1 Bathroom

Pets No
Features
Garden / Patio
Pub/shop < 1 mile
Washing machine
Seaside
Broadband / WiFi
Reviews & Ratings
20 Customer Reviews
"The good bits."

.. A lovely property in a reasonable location. It is well set up. Spacious. Clean . In good condition. Everything we used worked. (Although the tv in the back bedroom apparently became very hot - might need checking) Opportunities to make it better!? The dining chairs - they might look stylish but I didn't find them comfortable. Curtains or privacy blinds downstairs might suit some, but then they would spoil the lovely stone windows. Add a dishwasher - the absence ain't the end of the world, I know, but washing pots on holiday... Things to be aware of. Parking... If it is important to you to be able to park outside the place, well, your chances are slim due to some tactical positioning, but we always found a space within a sensible distance. But if you have a large vehicle be aware that the road between parking on both sides could be a bit tight. But don't weigh up the lists - the niggles aren't serious and won't spoil your holiday.

"Lovely property, conveniently placed for Weymouth."

Has a lot of character with it's quirks. Plenty of space for us as a family of 3. Unfortunately, we did not find the property to be that clean. The whole place could do with a good dust and a thorough clean. The toilet seats are both broken. Sofa is not the most comfortable. Parking was also a little difficult as the property is at the end of a tight residential cul-de-sac with cars parked bumper to bumper up both sides of the road. We had a warm week and the bedrooms were extremely hot during the night - not a criticism, just an observation!

Thank you for your valuable feedback, we are so pleased you enjoyed your stay at Highland Chapel and found it spacious and quirky. It a shame you did not bring your cleaniness concerns to Dream Cottages attention during your stay, the team would have been happy to come and solve these. These comments have been passed onto housekeeping for future reference. The toilet seats have now been fixed. We hope to welcome you back to Weymouth in the future! Property Owner

"A charming conversion of an old chapel and a small modern house, very clever, overlooking a peaceful graveyard."

The small outside courtyard is very sunny and urgently needs a sun umbrella to provide shade for the small table and four chairs.. We agree with previous comments that the bedrooms could do with curtains, especially for the side window in the main bedroom. Parking can be tricky but you can usually find a space nearby.

"The cottage was lovely, the location was not portrayed as pictures suggested at the front of the property, they gave the impression that the cottage was detached and up a small slope, parking was cramped and on residential streets."

Unfortunately both toilet seats were in disrepair the upstairs being the worst.

"We had a lovely last minute short stay in Highland Chapel."

Very comfortable and close to the centre of Weymouth. The house is on a one way street but we were always able to park nearby. Quiet area. Comfortable beds and furnishings and the patio is a super sun trap. Bring a sleep mask as the windows only have venetian blinds and the morning sun can be very bright at this time of year. The lack of curtains was a disappointment for us as it woke us all too early, so based on that I'm not sure we would return even though the rest of the house was lovely.

"We booked this cottage last-minute and were not disappointed."

It's in a great position, very quiet and ideal for visiting the likes of Lulworth Cove, Lyme Regis, etc. and close enough to walk into Weymouth. The cottage itself was very clean and comfortable - we had a lovely, relaxing stay and will definitely return.

"We like the cottage for its originality and the romantic view over the cementary, though I understand it might be unsettling for some people."

We find it well equipped even if there are some little details that could be fixed easily ( the erratic remote control, the half-dismantled coffee machine) To me, the only weak point is the lack of outdoor equipment: a sun chair, cushions on the wooden chair, a sun umbrella... As we were blessed with beautiful sunny weather, it would have been nice to relax comfortably on the terrace. Hope this helps! Regards

"Fantastic accommodation."

Clean, comfortable and lovely decor. Great location. Would definitely stay again.

"Beautiful property, very comfortable and clean."

I agree with previous comments about the parking. I am aware there is not much that can be done about it bit it could be an issue for some holiday makers. Also I agree that curtains would be nice. I am aware they don't really fit with the design aesthetic but should be an option for privacy. A few more kitchen items would be nice, a teapot and some eggcups for example, but overall a lovely property, thoughtfully converted, and we had a lovely stay.

"Very comfortable cottage - would be made exceptional if it had a dishwasher and curtains"

"Firstly the parking was an issue as there wasn't a guaranteed space."

On some occasions we had to park on another street as there were no spaces which wasn't clear on the listing. We also feel that the windows in the lounge and kitchen could benefit from having curtains installed as there was a lot of dog walkers passing by in the cemetery late at night which we felt a bit uncomfortable with as they could see us in the lounge and kitchen. The house itself was very clean however there were some spots that hadn't been dusted or cleaned e.g. under the sofas, radiators and behind the headboards to the beds. We had some issues with the broadband on some occasions but this wasn't a major issue as we just played one of the board games provided. Some things lacking in the kitchen such as oven dishes but again not a major issue but would have been nice to be able to cook something on some occasions. On our last day it was a little bit cold in the evening as it was windy and raining but we couldn't get the heating to come on even though we followed the guide provided. Again not a major issue as it was summer but it would have been nice to have a little extra warmth in the evening.

"The only things we felt would improve our stay was the bed, a king size bed would have been more comfortable and a fan as it was extremely hot."

"Cottage lovely but bathroom could do with updating and outside areas needed tidying up and a little TLC would make such a difference - overall it is very good and we had a lovely holiday."

"Nice quiet spot"

"Cottage was extremely comfy with everything you needed for the stay."

The bed in master bedroom was probably the most comfortable I have slept in apart from my own! If I can have 1 small criticism that is that it's fairly tricky to use the shower attachment above the bath as access is awkward. We got round it but maybe relocating the chest of drawers in the bathroom would help.

"A very good stay if booking again would want to know property facilities in more ..."

A very good stay if booking again would want to know property facilities in more detail and not just a general list of facilities of all your properties

"A really memorable location for a holiday in a cleverly converted chapel"

"The overall stay was good, and the place perfectly clean and tidy, and beds were comfortable and the place warm but just a couple of points."

The kitchen lacks some basic items such as oven gloves, a measuring jug and chopping board. There was a glass countertop but it's quite difficult to work with. Also this is probably personal preference but the window shutters upstairs don't block out light very well. The front bedroom is right in front of a street light so this made sleeping a little difficult.

"Property was lovely and warm which was very welcoming after a long car journey."

It was very clean and had everything you could wish to make it a little home from home. The location is very good for the town centre and beach. I loved all the old chapel features it added something very special to the property. Would definately recommend this property to other people and would stay here again if ever in Weymouth.

"The bed in the smaller room was soft and a bit small considering the room could accommodate a larger bed."

Also, the blinds weren't totally effective at blocking out the street lights, so I'd recommend curtains or blackout blinds. However this is just minor feedback, the property was very clean and comfortable, in very good condition, and we are very happy with our stay.

There are no reviews featuring this term Show all reviews
Show more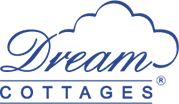 This property is part of the Dream Cottages collection.
Over 350 carefully selected and perfectly located properties, helping you create your perfect holiday.
Summary
Over two floors
Two Bedrooms: 1 x double with Juliette balcony, 1 x double with bay window
Bathroom with bath, shower over, basin and WC
Open-plan living area with a kitchen, dining area and sitting area
Ground floor cloakroom/utility room, basin, WC
Double doors to Terrace area
Gas central heating
Electric oven with gas hob, fridge, microwave, washing machine, TV
WiFi
Fuel and Power inc. in rent
Bed linen and towels inc. in rent
Enclosed terrace
Road-side parking
Sorry, no pets or smoking
Pub 0.2 miles
Shop 0.6 miles
Beach 1 mile
Note: There are steps within the property
The property
Highland Chapel is a delightful terraced house based in the heart of Weymouth and has been fully renovated to include a modern look whilst keeping plenty of the character that comes with the original arched chapel windows and stone work.
This unique property is situated on the edge of a beautiful Victorian cemetery, and you will even find an old fountain within the outside wall.
Coming through the front door brings you to the spacious hallway, into the open-plan living area that features three superb stone arched windows, and through to the fully equipped kitchen and dining area, perfect for spending time together while making the evening meal.
The seating area comprises of a set of plush velvet sofas which will be perfect for those tired evenings relaxing in front of the TV, after a long day at the beach.
Moving up onto the first floor you will find two large double bedrooms; the master bedroom offers a Juliet balcony with double doors, giving views of the cemetery, while the second bedroom has a delightful bay window.
This property benefits from having a family bathroom on the first floor including a shower over bath and a skylight, as well as a cloakroom/utility room on the ground floor which is host to a WC, sink, and washing machine.
The double doors that lead out of the sitting area, take you onto a sunny terrace, which is perfect for relaxing with a drink in the evening sun.
Located just one mile from Weymouth's famous Georgian sea front and award-winning beach, you will be able to enjoy fish and chips on the sea front with ease, or maybe take a wander around the old harbour with an ice cream.
The town centre has all of your high-street favourites as well as plenty of local independent shops, so you can discover the talents and crafts of the local people.
Venture out to Lulworth Cove and see the incredible Jurassic Coastline from the water, by going on a Jurassic Kayak Tour, experiencing the coast from a unique perspective and gaining knowledge of the amazing marine life.
For something totally different, travel 15 miles north, and visit Monkey World - which sees apes rehabilitated into natural living groups again after suffering abuse or neglect through smuggling of primates - and go on the journey around the centre and learn about the stories behind the primates' rescues, and maybe you'll catch some cheeky monkey business too!
Highland Chapel is a striking property full of character that will only enhance your enjoyment of the lovely location of Weymouth.
About the location
WEYMOUTH
Dorchester 7 miles
Bridport 17 miles
The popular resort of Weymouth makes an outstanding year-round holiday destination, with a wide variety of attractions on offer, appealing to all tastes and ages. The glorious golden sandy beaches have excellent facilities for all kinds of watersports, whilst from the picturesque, bustling harbour you can take regular fishing trips. A short drive takes you to Portland Harbour, and the rugged "Isle" of Portland, linked to Weymouth by the dramatic Chesil Beach. Visit Dorchester, Thomas Hardy's "Casterbridge", only 7 miles away, or take a journey along the scenic coastal road and call in at Abbotsbury Swannery and Subtropical Gardens. Alternatively, just head down to West Bay - the views of the stunning Dorset Heritage Coastline are not to be missed!
View more holiday cottages in Weymouth
Note: Please be aware that this property overlooks a peaceful Victorian cemetery.
Note: Parking is on street and available on a first come first serve basis.
This property offers the following short breaks:
Winter
Off-season
Last minute
Christmas