Dog Friendly Cottages Northumberland
Your search returned 282 cottages.
Sykes Rating


Sleeps3
Bedrooms2
PetsYes

Stone-built, end of terrace cottage in the heart of Middleton-in-Teesdale. Dog-friendly, delightful accommodation with woodburning stove. Close to High Force, Raby Castle and the Northern Dales. Barnard Castle 10 miles. (Ref. 926370)

Sleeps2
Bedrooms1
PetsYes

Lovely cottage on owners' working farm near Staindrop. Double bedroom with en-suite, WiFi, parking, dog welcome. Ideal for a couple. Staindrop 2.8 miles. (Ref. 954745)

We don't charge Credit Card fees

Sleeps2
Bedrooms1
PetsYes

Delightful stone-built former cow byre in the heart of County Durham. Romantic base, woodburner, lots of character in a peaceful rural location. Consett 10 miles. (Ref. 961944)

Sleeps4
Bedrooms2
PetsYes

A delightful, stone-built, pantiled cottage in the Northumberland village of Bowsden. Lovely décor, oil fire and enclosed garden. Pet-friendly. Close to the Cheviot Hills and Holy Island. Wooler 9 miles. (Ref. 938431)

Don't miss out, sign up today! To receive discounts, exclusive offers, travel tips and guides. We'll also enter you into our monthly Prize draw. T&C's Apply

An error occurred, could you double-check your email?

You have subscribed successfully

* By signing up you re agreeing to our privacy policy, confirm that you are over the age of 18, and that we can contact you for marketing purposes via email.

Sykes Rating


Sleeps4
Bedrooms2
PetsYes

A bright and airy detached chalet with private decked veranda, one mile from Longframlington. Open plan, home-from-home, well-equipped chalet. Ideal peaceful getaway. Alnwick 11 miles. (Ref. 934221)

Sleeps4
Bedrooms2
PetsYes

Delightful bungalow in pretty village of Warkworth. Pet-friendly. Off road parking. Views from garden of River Coquet. Shop and pub 1 min walk. Amble 1 mile. (Ref. 952283)

Sleeps4
Bedrooms2
PetsYes

Character, semi-detached Grade II listed cottage in Barnard Castle. Ideal for families and friends alike. WiFi, pet-friendly. Great base for exploring the Yorkshire Dales. Caldwell 9 miles. (Ref. 931727)

Sykes Rating


Sleeps9
Bedrooms4
PetsYes

A spacious, stone-built, end of terrace cottage, set in a remote location. Outstanding countryside views. Lovely garden. Luxurious hot tub. WiFi. Woodburner. Middleton-in-Teesdale 3 miles. (Ref. 922717)

Sykes Rating


Sleeps7
Bedrooms4
PetsYes

A beautiful Grade II* listed 16th century property on the edge of the village of Stanhope. With stone flagged floors, stone spiral staircase, Tudor fireplace and woodburner. Durham 22 miles. (Ref. 21851)

Sykes Rating


Sleeps4
Bedrooms2
PetsYes

Delightful semi-detached cottage in the quaint fishing hamlet of Low Hauxley, on the Heritage Coastline. WiFi. Well-equipped and comfortable with a woodburning stove. Beach across the road. On the Coast and Castles cycle route. Amble 1.5 miles. (Ref. 924140)

Sykes Rating


Sleeps8
Bedrooms4
PetsYes

A superb detached cottage close to the Northumberland village of Lowick. Large living room with games area, well-equipped kitchen. Lawned garden, pet-friendly. Well placed for exploring the Cheviots and the Heritage Coastline. Wooler 8 miles. (Ref. 917752)

Sykes Rating


Sleeps8
Bedrooms4
PetsYes

An outstanding upside down cottage with WiFi, a woodburner and a wonderful balcony overlooking the surrounding countryside. Barnard Castle 10 miles. (Ref. 917583)

Sykes Rating


Sleeps2
Bedrooms1
PetsYes

Idyllic first floor Teesdale cottage a minute from superb pub in pretty Romaldkirk. Lovely accommodation, spacious garden. Barnard Castle 6 miles. (Ref. 2895)

Sykes Rating


Sleeps4
Bedrooms2
PetsYes

A single-storey cottage close to the banks of the River Derwent in County Durham. Pet-friendly, walks and fishing on the doorstep. Durham 15 miles. (Ref. 933545)

Sykes Rating


Sleeps8
Bedrooms4
PetsYes

A superb detached cottage in the harbour village of Beadnell. En-suite bedrooms, woodburner, pet-friendly, enclosed lawned garden. Beach within walking distance. Bamburgh 5 miles. (Ref. 954220)

Sykes Rating


Sleeps3
Bedrooms2
PetsYes

Lovely semi-detached cottage in unspoilt location, near Frosterley village. Cosy accommodation in an Area of Outstanding Natural Beauty. Frosterley 2 miles. (Ref. 8149)

Sykes Rating


Sleeps7
Bedrooms3
PetsYes

A superb detached property in the pretty hamlet of Wark. Spacious, well-equipped accommodation. Dog-friendly, enclosed garden. WiFi. Ideal cycling, walking and touring country. Cornhill-on-Tweed 2.5 miles. (Ref. 934939)

Sykes Rating


Sleeps6
Bedrooms2
PetsYes

A charming, stone-built cottage in the Northumberland town of Allendale. Luxurious, pet-friendly accommodation. Woodburner, enclosed garden, panoramic views. Short stroll to pubs and restaurants. Hexham 11 miles. (Ref. 933156)

Sleeps7
Bedrooms3
PetsYes

A stunning conversion of a Grade II listed Presbyterian Church set in the pretty village of Rochester near Keilder Forest. Woodburner. Character accommodation. Ample opportunites for walking, cycling, golf and watersports. (Ref. 915814)

Sykes Rating


Sleeps17
Bedrooms6
PetsYes

Superb conversion of Victorian powerhouse. High quality accommodation. Four poster. En-suites. Close to sandy beach. Whitby 15 miles. (Ref. 29872)

Sykes Rating


Sleeps2
Bedrooms1
PetsYes

Delightful, detached barn conversion set on the outskirts of the popular market town of Wolsingham. WiFi. Garden with furniture, pet-friendly, well situated for walks and cycling. Durham 14 miles. (Ref. 933881)

Sykes Rating


Sleeps6
Bedrooms3
PetsYes

Lovely barn conversion in hamlet location, close to Berwick-upon-Tweed. First floor sitting room with countryside views. Ideal base for touring Northumberland and Borders. Berwick-upon-Tweed 3 miles. (Ref. 2541)

Sykes Rating


Sleeps6
Bedrooms3
PetsYes

Attractive detached cottage in Falstone in Northumberland. Beautiful surroundings, with open fire and a lovely garden. Bellingham 9 miles. (Ref. 15521)

Sykes Rating


Sleeps6
Bedrooms3
PetsYes

Beautiful semi-detached cottage in the small village of Stainton in Teesdale. Far-reaching countryside views, peaceful location. Close to walks, castles, market towns and more. Barnard Castle 1 mile. (Ref. 948501)

Sykes Rating


Sleeps4
Bedrooms2
PetsYes

First class, semi-detached cottage in tranquil hamlet of Hury in Baldersdale. Quality accommodation, magnificent views of reservoir and countryside. Barnard Castle 10 miles. (Ref. 1933)

Sleeps6
Bedrooms3
PetsYes

Luxury well-presented accomodation, set within the stunning grounds of Hesleyside Hall. Three sumptuous bedrooms. woodburning stove. walking, cycling and fishing available. Bellingham 2 miles. (Ref. 954147)

Sykes Rating


Sleeps5
Bedrooms3
PetsYes

A delightful detached cottage in the peaceful Teesdale village of Piercebridge. Exposed beams, open fire, WiFi. Close to River Tees. Good walking. Barnard Castle 10 miles. (Ref. 1710)

Sykes Rating


Sleeps7
Bedrooms3
PetsYes

Lovely detached 16th centuty barn conversion on working farm. A superb Ravensworth cottage with beams, en-suite facility and courtyard. Excellent touring base. Ravensworth 1 mile. (Ref. 4068)

Last booked within the last 2 days

Sykes Rating


Sleeps4
Bedrooms2
PetsYes

Superb barn conversion in small courtyard setting between Barnard Castle and Middleton. Character beams, woodburning stove, en-suites to both bedrooms. Glorious views, ideal walking country. Barnard Castle 4 miles. (Ref. 16399)

Sykes Rating


Sleeps5
Bedrooms2
PetsYes

Perfect place to relax and unwind. A detached stone-built barn standing alone in a field in scattered hamlet of Holwick. Upside down with lovely views. Middleton 3 miles. (Ref. 609)

Sykes Rating


Sleeps4
Bedrooms2
PetsYes

A charming cottage in the pretty Durham village of Staindrop. Pet-friendly with woodburning stove. Perfect for touring The Durham Dales. Barnard Castle 5 miles. (Ref. 943949)

Sykes Rating


Sleeps6
Bedrooms3
PetsYes

Lovely traditional cottage, one mile from the village of West Woodburn. Multi-fuel stove. Pet-friendly. WiFi. Close to the Northumberland National Park. Otterburn 5 miles. (Ref. 920229)

Sykes Rating


Sleeps4
Bedrooms2
PetsYes

A cosy cottage in Amble, Northumberland. Stunning uninterrupted views over the sea. Woodburner. Open plan accommodation. Harbour 2 mins walk. Alnwick 10 miles. (Ref. 24822)

Sleeps4
Bedrooms1
PetsYes

A lovely, single-storey cottage adjoining the former schoolhouse. Original windows, wooden floors, comfortable accommodation. Alnwick 14 miles. (Ref. 942898)

Sykes Rating


Sleeps2
Bedrooms1
PetsYes

Delightful, character cottage in the heart of Weardale. Fantastic views, comfortable cottage and well-equipped. Wonderful walks available. (Ref. 905619)

Sykes Rating


Sleeps6
Bedrooms3
PetsYes

A stone-built barn conversion on the outskirts of Mickleton-in-Teesdale. Lovely views and good footpaths. Ideal family location. (Ref. 912110)

Last booked within the last 2 days

Sykes Rating


Sleeps6
Bedrooms3
PetsYes

Charming, end-terrace cottage in Iveston, County Durham. Centrally located. WiFi. Conservatory. Pet-friendly. Lanchester 2.5 miles. Durham 8 miles. (Ref. 925520)

Sykes Rating


Sleeps6
Bedrooms3
PetsYes

Character, Gold Award-winning coach house in tranquil hamlet, 5 miles from Bellingham. Gracious accommodation, woodburner. Perfect for Hadrian's Wall, National Park and coast. Hexham 19 miles. (Ref. 1096)

Sykes Rating


Sleeps4
Bedrooms2
PetsYes

A wonderful cottage at the base of the Simonside Hills. Cycle routes and walks galore from the doorstep. Woodburner, lovely views, warm and cosy. Thropton 0.75 miles by foot. (Ref. 23687)

Sleeps4
Bedrooms2
PetsYes

A single-storey, semi-detached bungalow, situated on a quiet estate in the heart of Beadnell. Well-equipped accommodation, with enclosed, sunny, rear garden. A great base for touring Northumberland. Seahouses 1.5 miles. (Ref. 17562)

Sykes Rating


Sleeps8
Bedrooms4
PetsYes

Spacious detached house 500 yards from vast sandy beach at Beadnell. Views across the bay, excellent for touring or exploring the coastline. (Ref. 2366)

Sleeps5
Bedrooms2
PetsYes

A wonderful end-terrace property in the village of Hurworth, near Darlington. Woodburner, WiFi, pet-friendly. Nearest shop and pub a couple of minutes' walk away. Darlington 4.5 miles. (Ref. 936426)

Sykes Rating


Sleeps8
Bedrooms4
PetsYes

Lovely, mid-terrace townhouse, just yards from Amble Marina. Juliet balcony with sea views. Wonderful touring location for discovering Northumberland. Alnwick 9 miles. (Ref. 30438)

Sykes Rating


Sleeps4
Bedrooms2
PetsYes

Delightful, terraced cottage in Amble. Inglenook with woodburning stove. Pet-friendly. Short stroll to seafront with views over Coquet Island. Well-placed for pubs and restaurants. Alnmouth 4 miles. (Ref. 922857)

Sykes Rating


Sleeps5
Bedrooms2
PetsYes

End-terrace cottage with wood-fired hot tub and woodburning stove. Pet-friendly. WiFi. Spacious accommodation. Barnard Castle 8 miles. (Ref. 927830)

Sykes Rating


Sleeps5
Bedrooms3
PetsYes

Delightful end of terrace cottage, in Longframlington village. Pet-friendly, WiFi, multi-fuel stove, village pub, great shop. Easy access to coastline and Cheviots. Alnwick 6 miles. (Ref. 951057)

Sleeps5
Bedrooms3
PetsYes

Grade II listed Northumberland terraced cottage in Glanton village. Open plan living, pet-friendly, pub 1 minute stroll. National Park nearby. Alnwick 9 miles. (Ref. 958281)

Sleeps8
Bedrooms4
PetsYes

An immaculately presented barn conversion located outside the village of Staindrop in County Durham. Modern accommodation. Large garden. Staindrop 1.5 miles. Barnard Castle 5 miles. (Ref. 957972)

Last booked less than an hour ago

Sykes Rating


Sleeps8
Bedrooms4
PetsYes

Large stone-built, pet-friendly cottage in the Northumberland town of Wooler. Woodburning stove. Ideal for a family or group of friends. Easy access to the Cheviot Hills and just a short drive to the Heritage Coast. Alnwick 18 miles. (Ref. 926481)

Sykes Rating


Sleeps4
Bedrooms2
PetsYes

Delightful detached cottage in wonderful rural position between Lowick and Ford. All ground floor. Open fire, views of Cheviots and sea. Berwick 11 miles. (Ref. 409)
*Applicable to holidays commencing at least 6 weeks in the future. Full balance due 6 weeks prior to departure. Please refer to
£25 deposit offer terms & conditions
for further information.
Just show me Pet Friendly Northumberland Cottages
A family pet deserves a holiday just like you and our pet friendly cottages in Northumberland are a fantastic choice.

For starters, there are the most amazing sandy beaches like Bamburgh and Embleton Bay, most of which warmly welcome dogs. So 'Scamp' will have endless fun romping around the dunes and paddling in the sea. When you fancy a good walk, you'll be spoilt for choice every day on your dog friendly cottage holiday in Northumberland. Ideas for short walks are the circular walk around the Holy Island of Lindisfarne; or the riverside stroll in and around Blanchland in the Derwent Valley. A couple of good longer options include the walk from Sycamore Gap to Housesteads Roman Fort alongside Hadrian's Wall; or rambles across the heather-clad hills of Rothbury in the Northumberland National Park.

Before heading to Northumberland, don't forget to pack your pet's lead...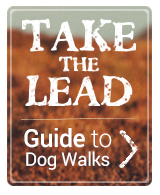 Quite a few English Heritage and National Trust properties accept dogs on leads in their grounds, including the Cragside Estate, Wallington Hall and Dunstanburgh Castle - don't miss the short coastal walk to Craster, home of the oak-smoked kipper!

With all these wonderful ways of spending the day and exercising your faithful friend, expect relaxing evenings in your dog friendly cottage in Northumberland, with 'Scamp' stretched out on his blanket snoring to his heart's content!