Telegraph Special Offer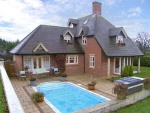 When there is good weather in the forecast and you have a few days stored up in your holiday allotment there is nothing better than checking out of your everyday life and checking in to a beautiful self-catering holiday cottage. Spend your days relaxing in the sun and exploring a new area for a 35% discount off of the regular rental price!
Take a 3 night last minute break within the next 7 days and a 35% discount will be applied to the normal weekly rental price.
All of these self-catering cottages have holiday availability within the next 7 days and the owners would love to welcome you to your home away from home with a 35% discount.
Simply choose the area of the UK or Ireland that you would like to visit, and enter your desired holiday start date beneath the map on the left to view all of the available cottages. Should you need any help booking your last minute break, please do not hesitate to call our friendly reservation specialists on 01244 352275 or let us call you.
NB: All properties and prices featured are subject to availability. Last Minute Breaks (LMB) in June from £152 (sleeps 4, 3 nights) is based on Ref: 1447 on 16th June and is subject to availability and usual LMB booking conditions.