As you'll probably already know, here at Sykes Cottages we've been nominated for a prestigious British Travel award for the third year running! We've been nominated for Best UK Holiday Cottage/ Self Catering Booking Company and to help convince you to vote for us, we wanted to show you what we've done to improve in the last year in order to deserve your vote this time around.
We've moved to a bigger and better office
In March 2015, we completed our move to our new office in Chester city centre. Aside from the obvious danger to my bank balance that comes with having a wealth of shops and restaurants on the doorstep, the move spells great things for Sykes as it gives us the opportunity to keep growing and expanding the company to be better than we've ever been before.
We've won awards
It's not just the British Travel Awards we've been successful in; in the past year, we've been delighted to have continued our status as an award-winning company outside of the British Travel Awards too! In December 2014, we won the prestigious Travolution Award for the 'Best Use of Search Engine Marketing' and in March 2015, we were named one of the Top 1000 Companies to Inspire Britain by the London Stock Exchange Group. Here at Sykes, we always strive to ensure that we're the best that we can be for our customers, owners and staff and so we were over the moon that our achievements and hard work have been recognised by such respected brands. Here's hoping for more success in the coming months!
We now have over 6,000 cottages to book
Our cottage portfolio is expanding every day and we're working hard to make sure that we have a fantastic selection of holiday cottages for you to choose from. Currently, the count stands at over 6,000 cottages! All of our cottages are equally wonderful but there are some that have joined our ranks in the past year that really stand out; for example, The Abbey in Penzance which is a beautiful luxury property and one of Cornwall's most important listed buildings; The Rowan Yurt in Hepworth- this gorgeous, romantic yurt has proved to be one of our most popular properties this year; and Dome House in Bowness-on-Windermere, which is a stunning architect-designed property recently featured on Channel 4's Grand Designs.
Vote for us in the British Travel Awards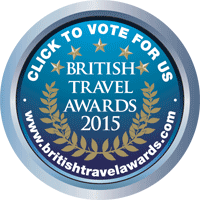 If you haven't voted for us yet in the British Travel Awards and you'd like to, you can do so by clicking on the above button. We'd like to take this opportunity to thank everyone who has voted so far; we're absolutely thrilled that you've taken the time to vote for us and we'll be keeping everything crossed that we can win this for you for the third year in a row!
Louise loves reading, shopping, baking and cosy country pubs with log fires. A nice cup of tea will never be turned down. She has spent many childhood summers on the beach in Cornwall and walking the hills of the Lake District.