Whether it's for a birthday, anniversary or just because, nothing says you care like booking a surprise holiday for your loved one. Whether you want a relaxing break or something to let out your adventurous side, we have a huge choice of properties that will suit your every need and are happy to help keep your booking a surprise. Take a look below at our latest infographic for hints and tips on booking – and keeping – that holiday a surprise!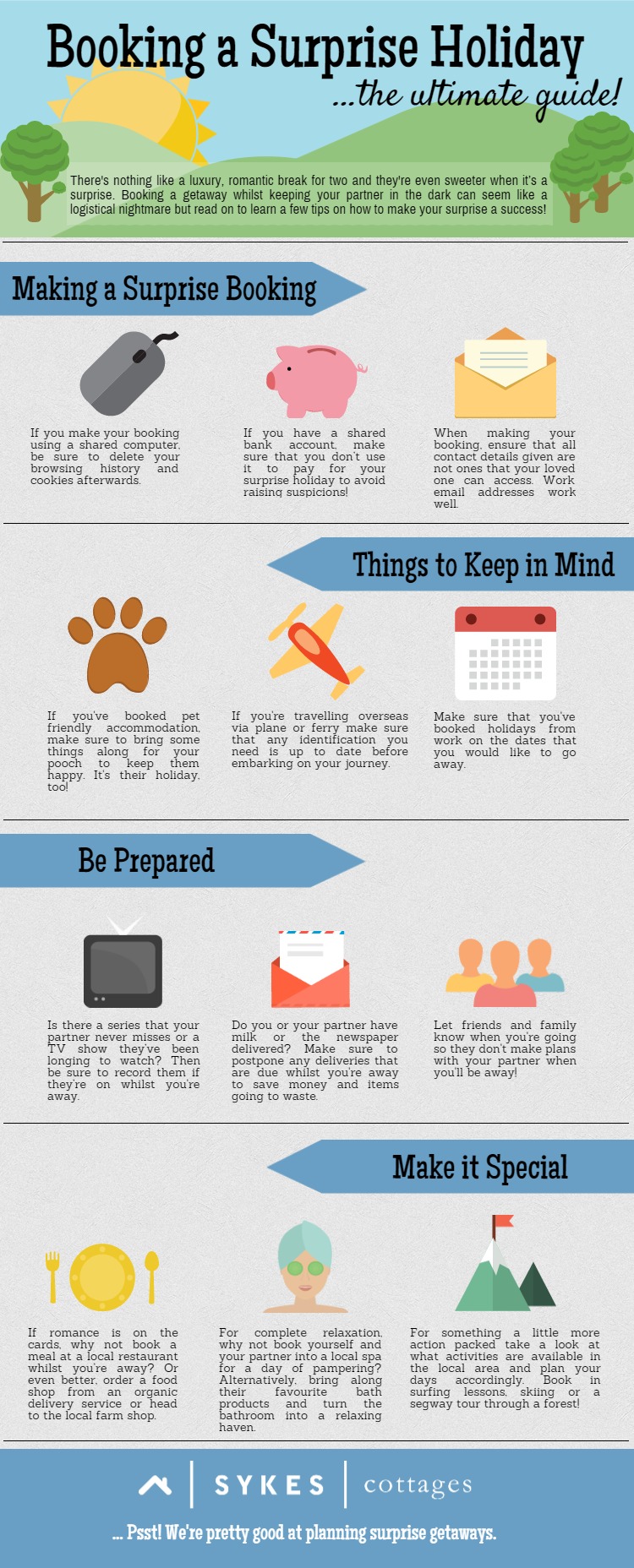 Copy and Paste the Code Below onto your Website to Share with your Readers
Booking a Surprise Holiday… The Ultimate Guide!
There is nothing  like a luxury, romantic break for two and they're even sweeter when it's a surprise. Booking a getaway whilst keeping your partner in the dark can seem like a logistical nightmare but read on to learn a few tips on how to make your surprise a success!
Making a Surprise Booking
When making your booking, ensure that all correspondence goes to an address that your loved one doesn't have access to. Book using your work email and ask whether they will be sending you anything in the post – if so, use your work address for that, too!
If you have a shared bank account, make sure that you don't use it to pay for your surprise holiday. Use your personal bank account to avoid raising suspicions!
If you make your booking using a shared computer, or a computer that your loved one has access to, be sure to delete your browsing history and cookies afterwards.
Is there a series that your partner never misses or a TV show they've been longing to watch? Then be sure to record them if they're scheduled for whilst you are away.
Things to Keep in Mind
Make sure that both you and the recipient of the surprise have booked holidays from work on the dates that you would like to go away.
If you're leaving it until last minute to unveil your surprise, you can take some of the strain from your loved one by doing some of their packing for them.
If you aren't staying in the UK think about any identification that you both might need and check that any identification is up to date before embarking on your journey.
Don't forget that if you or your partner have a four legged friend, make sure to book pet friendly accommodation or arrange for a friend or family member to look after them.
Let their friends and family know about the surprise, to ensure that they do not make plans with your loved one over the time you will be going away.
Extra Touches
While You're Away
Think about whether you want to have a relaxing or an action packed getaway. Does your loved one need to unwind or would an energising holiday full of activities suit them better?
If romance and relaxation is on the cards, then why not book a meal at a local restaurant whilst you're away? Or even better, order a food shop from an organic delivery service and cook up a romantic meal for two.
If you're looking for something a little more action packed then take a look at what activities are available in the local area and plan your days accordingly. If you're near the coast then why not surprise your lucky holiday companion with surfing lessons, or if they'd rather stay on dry land, book a segway tour through a local forest.
Back at Home
If you're keeping the getaway a complete surprise and not telling your loved one until last minute, there are a few thoughtful things you can sort out back at home so that they don't have to!
Postpone any deliveries that they may have. Do they have milk or the newspaper delivered? Perhaps they receive a health snack food box through the post. If so, then put these deliveries on hold until you return from your getaway.
A lover of reading, eating and shopping Leanne will often be found spending time with her two pugs or snapping away on instagram. A big fan of the city, She likes nothing more than getting away for a weekend break in the UK, her favourite places being London and Bath.