When considering UK attractions, our thoughts are instantly turned to well known tourist traps such as The Tower of London, Hadrian's Wall and Stonehenge, but throughout Britain there are a number of overshadowed attractions tucked into reclusive corners and quietly delighted visitors who have stumbled off the beaten track to find them.
To help you discover these hidden gems which are dotted around the UK, Sykes Cottages have put together the following infographic which highlights a number of alternative attractions for you to visit this year.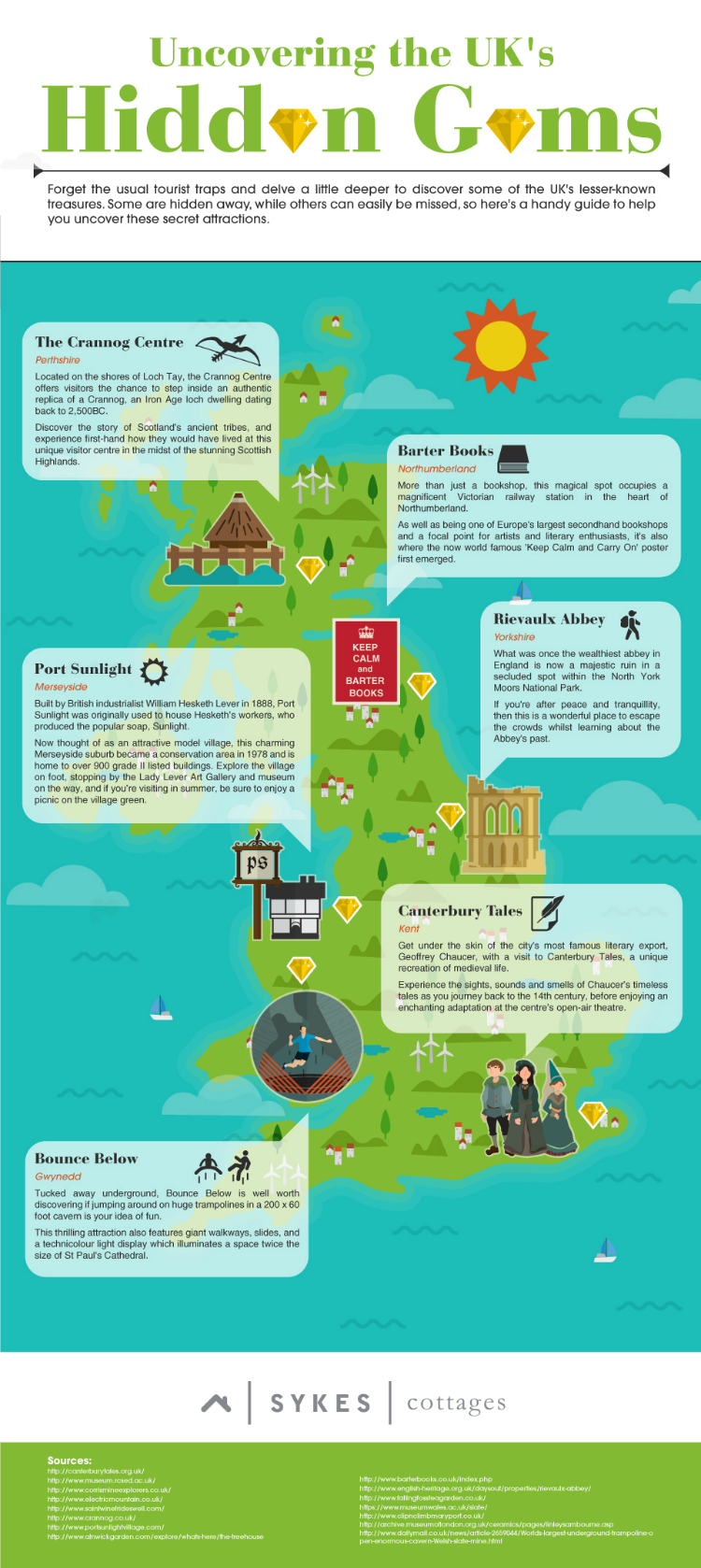 Uncovering the UK's Hidden Gems
Forget the usual tourist traps and delve a little deeper to discover some of the UK's lesser-known treasures. Some are hidden away, while others can easily be missed, so here's a handy guide to help you uncover these secret attractions.
The Crannog Centre Perthshire
Located on the shores of Loch Tay, the Crannog Centre offers visitors the chance to step inside an authentic replica of a Crannog, an Iron Age loch dwelling dating back to 2,500BC.
Discover the story of Scotland's ancient tribes, and experience first-hand how they would have lived at this unique visitor centre in the midst of the stunning Scottish Highlands.
Barter Books Northumberland
More than just a bookshop, this magical spot occupies a magnificent Victorian railway station in the heart of Northumberland.
As well as being one of Europe's largest secondhand bookshops and a focal point for artists and literary enthusiasts, it's also where the now world famous 'Keep Calm and Carry On' poster first emerged.
Rievaulx Abbey Yorkshire
What was once the wealthiest abbey in England is now a majestic ruin in a secluded spot within the North York Moors National Park.
If you're after peace and tranquillity, then this is a wonderful place to escape the crowds whilst learning about the Abbey's past.
Port Sunlight Merseyside
Built by British industrialist William Hesketh Lever in 1888, Port Sunlight was originally used to house Hesketh's workers, who produced the popular soap, Sunlight.
Now thought of as an attractive model village, this charming Merseyside suburb became a conservation area in 1978 and is home to over 900 grade II listed buildings. Explore the village on foot, stopping by the Lady Lever Art Gallery and museum on the way, and if you're visiting in summer, be sure to enjoy a picnic on the village green.
Canterbury Tales Kent
Get under the skin of the city's most famous literary export, Geoffrey Chaucer, with a visit to Canterbury Tales, a unique recreation of medieval life.
Experience the sights, sounds and smells of Chaucer's timeless tales as you journey back to the 14th century, before enjoying an enchanting adaptation at the centre's open-air theatre.
Bounce Below Gwynedd
Tucked away underground, Bounce Below is well worth discovering if jumping around on huge trampolines in a 200 x 60 foot cavern is your idea of fun.
This thrilling attraction also features giant walkways, slides, and a technicolour light display which illuminates a space twice the size of St Paul's Cathedral.
As a food lover Nicole can often be found in the kitchen, covered in flour and experimenting with new tastes! When not making a mess she loves to explore her Celtic roots by roaming the Scottish countryside or exploring the bays along the Anglesey coast with her fiancé.