Sleeps 6

Bedrooms 3

Bathrooms 2

Pets No
Features
Off road parking
Ground floor bedroom
Garden / Patio
Pub/shop < 1 mile
Washing machine
Dishwasher
Seaside
Sky TV
Broadband / WiFi
Reviews & Ratings
33 Customer Reviews
"We have had fantastic holidays at this property over several years, and the addition of two bottles of wine and a card enhanced the welcome."

However, this year, prior to booking and on departure, we seriously questioned whether it was justified at the price. The price increase was considerable (well beyond covering inflation) and the lack of improved facilities to justify the increase is why it has dropped a star. The only discernable differences were the welcome lack of the musty smell in the main bedroom en-suite, and the addition of a bread maker. The WiFi still doesn't cover the whole property, and you are still greeted by a huge water-stain on the carpet as you enter. With unsold (discounted) months in Aug, and similar new-to-market properties soon to become available within the immediate vicinity, this otherwise delightful property needs to re-evaluate its place in the market and adjust accordingly.

"We had a wonderful holiday."

Thank you. The veranda was the place we used the most. Our only niggles were the ensuite bathroom, the sink and tap was awkward to use. No hot water from the tap, and we had a wet floor after each shower. One of our party got stuck in the shower room bathroom as the door kept sticking shut! The kitchen was great.

"Everything."

Regarding our stay at no1 the old coach house was excellent. It was a nice pleasant walk downhill to Dartmouth with views of the river dart also you could also see the steam train running up the line. The location was nice and peaceful with everything you need to spend a week away.

"This is a lovely property in a great location, it has everything you need to give it a home from home feel whilst being away."

As previously mentioned in other feedback there is a damp / musty smell in the main bedroom, this is particularly noticeable when using the wardrobes and drawers to store your clean clothes in. I guess in a building of that age it suffers from rising damp? If I was the owner it is definitely something that I'd be investigating and trying to resolve.

Many thanks for taking the time to leave your feedback. We have passed your comments on to the owner who has informed us that there is no rising damp issue but has now upgraded the extractor fan in the en-suite master bedroom which should eradicate any damp smell. We do hope you enjoyed all Dartmouth had to offer and look forward to welcoming you back soon. Property Owner

"Excellentocation, very well appointed property."

"Excellent location for Dartmouth attractions, ideal for walkers, very spacious to accommodate 6 adults, good parking undercover."

"Largely content with our holiday."

There were however one or two issues which I feel I should bring to your attention.Please do not regard these as complaints more areas for improvement? I already contacted your office about the non functioning DVD player which was eventually replaced to our satisfaction.There was mention on the website of an I pod docking station and a music centre(whatever that means).Neither was found during our stay. The bed in the ensuite bedroom was hard,uncomfortably so. Both the bath and sink waste are very slow in draining and will sooner or later result in blockages.

Thank you for taking the time to leave some feedback. We are sorry to hear that you were disappointed with some aspects of your stay. The points you have raised will be looked into so that improvements can be made for future stays. We look forward to welcoming you back to Dartmouth in the future! Property Owner

"One of our best walking holidays in Devon, having been coming to the county for some 20 years, with the added attraction of coming back after a day walking the beautiful coastal paths to a cosy home, with an easy access, and not having to drive through Dartmouth."

"An excellent property in an ideal location; near enough to walk into Dartmouth and to the Castle, and located on a back road out of Dartmouth thereby dismissing any need to drive through the town centre to get anywhere."

For anyone that has ever tried parking in Dartmouth, the fact that the drive will accommodate three cars is a huge bonus. All of the rooms are spacious and airy and I wouldn't hesitate in recommending it.

"Had a wonderful week in Dartmouth."

The house was fully equipped and in a lovely position. We would certainly return.

"Our week at the Old Coach House was one that we will always remember."

The position is ideal for both town and exploring further afield. There was everything in the house that we could require and the comfort was second to none. We could find nothing negative with this property. Many thanks for allowing us to have a wonderful week. Regards Mr & Mrs Gray.

"We stayed in this property about 8 years ago, so it was good to return; enjoy some improvements but maintain its character and style."

We love the location as it's a lovely walk into the main town though nicely placed away from the hustle and bustle of large crowds. An evening walk onto Dartmouth castle is most pleasurable.

"We've just had a fabulous week in Dartmouth."

1 The Old Coach House was comfortable, well furnished and well equipped for our party of 5, it exceeded our expectations. For us it was in an ideal location as it's far enough from the centre of town to give us the quiet break we were looking for. We will book with Coast & Country again.

"Exactly what we needed."

Ideal location and very peaceful.

"The Old Coach house is spacious, clean, located out of the town centre with off road parking for two large cars."

"Good marking above but with the following proviso: Toilet seat in shower room is too small."

Hooks on backs of doors throughout the property would be really useful. Provide WiFi which we mentioned in 2016. No shelves in bathroom bearing in mind we all have toiletries and the shower room is so small that shelves would really be a help. Get rid of blinds in the front bedrooms and have thick curtains, the blinds in the double are quite tricky to operated. Larger proper doormat would be useful and help prevent dirt being trodden in.

"Good position within walking distance of Dartmouth and all its attractions."

Cottage was comfortable had everything we needed

"Good"

"A beautiful, old house in a picturesque, convenient location."

Unfortunately, some aspects of it were of a poor quality - twin beds and that in the master bedroom were very uncomfortable (we requested a mattress topper for the twin bedroom), the lamps in the double bedroom did not work, the extractor hood in the kitchen did not work, lamps were displayed on a sideboard in the hallway but there was nowhere to plug them in, the tap over the sink (in the newly refurbished en-suite bathroom) only has hot water so brushing your teeth was difficult as the water got very hot! Aside from these issues, the upstairs lounge was lovely, light and comfortable and the outside patio area was a lovely little suntrap in the mornings. Washing machine and dryer were most convenient.

"The old coach house is very spacious and comfortable."

Good size bedrooms, especially the master bedroom. However, in the second double room there is a musty damp smell, and in the twin rooms the beds are a bit lumpy and you need to sleep on top of a duvet to make it more comfortable. Both bathrooms are lovely though the second bathroom is a bit small. The lounge is very big snd spacious and the kitchen has everything and more that you could ever want. The little balcony is an added bonus. The only real drawback is the lack of wifi (which I didn't realise wasn't available when I booked) and this would put me off using the coach house again. Dartmouth itself is lovely and will definitely be back but be warned that parking is a bit of a nightmare and must be a challenge in peak season.

"Beautifully presented, clean, well-equipped and comfortable"

"There has obviously been some water damage on the ground floor at some point and their is a smell of damp in the area constantly and it ruins what could overall be a lovely property."

Wifi would be a good addition

"Lovely clean and spacious."

"This was our second stay at The Old Coach House."

This time with another set f family members. Our young grand children enjoyed the warmth and space.

"One of the problems was the front door lock."

Easy to open and lock from outside. However, because it was a deadlock it was inappropriate to leave the door unlocked even when we were all in the house. Once locked from the inside it was then very difficult to open, each time took numerous attempts. Otherwise, the house was excellent. Good sized accommodation, very well maintained and included everything you would need on a self catering holiday. It was a home from home experience for us which we much appreciated and would visit again.

"Excellent"

"House needs a bit of TLC."

E.g. Mouldy grouting in shower room. Broken cupboards in kitchen (see above). Too many mugs, bowls, plates etc in various states but no kitchen scissors. Pans all too small when cooking for six.

"Good"

"The property was well equipped and a good location."

However, it was not cleaned to an acceptable standard e.g toys and playing cards from previous occupants left under sofas accumulation of debris along bathroom skirting boards and in corners.

"Spacious with excellent furniture and fittings, lovely kitchen and lounge with large bedrooms with storage space."

If there is a small thing you could improve, it might be to provide a couple of folding deck chairs for the deck. Those iron seats are awful!

"Excellent accommodation-all you could wish for."

"Lovely location however property shoed signs of significant water penenetration and although this had been remedied the water marks and an unpleasant musty spell was evident each time you entered the property."

"A very nice property with everything you could want provided."

Very clean and comfortable. Will certainly visit again.
Show more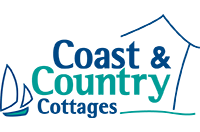 This property is part of the Coast & Country Cottages collection.
Choose from over 400 properties in Salcombe, Dartmouth and the surrounding South Devon coast and countryside - the perfect destination for a holiday all year round.
Summary
Three bedrooms: 2 x King-size, one en suite (bath, shower over, wash basin and w.c.), 1 x twin
Family bathroom (large power shower, basin and w.c.)
Cloakroom with w.c
Open plan sitting and dining room
Modern kitchen
Decked balcony and furnished terrace.
Electric oven and induction hob, larder fridge, freezer, microwave, dishwasher, washing machine and tumble dryer
Gas central heating and hot water. TV with Sky Freeview, DVD iPod docking station and music centre, Further TV in Kitchen breakfast room
Wi-Fi available. Parking for up to two-three cars on the drive. All bed linen and bath/hand towels are supplied
You will need to bring tea towels, beach towels and oven gloves.
The property
1 The Old Coach House is a characterful property in a peaceful location, with glimpses of the picturesque Warefleet Creek.
The house is approximately 15 minutes (mostly downhill) walk into the centre of Dartmouth, 60 yards from National Trust Woodland towards the lower end of Weeke Hill.
Dartmouth Castle and Warfleet Creek are nearby with Blackpool Sands beach just four miles or so away. From a side entrance, the front door leads into a spacious hallway where the open plan sitting and dining room features leather sofas, TV with Sky/Freeview, a DVD player, docking station and a feature fireplace.
The dining table seats six comfortably.
On the first floor is a newly fitted contemporary kitchen with a large breakfast bar and 4 stools, and doors onto the first floor furnished decked balcony; a lovely spot for a morning coffee.
The hallway cupboard houses the washing machine and dryer.
There are three bedrooms, all at ground level with the master housing a King-size bed and en suite bathroom with a bath and shower over.
The second, a twin bedroom, has two single beds whilst the third bedroom features a King-size double.
In addition to the en suite is a family bathroom on the ground floor with a power shower, and a cloakroom containing another w.c.
Outside, a paved terrace covers three sides of the house and is bordered by attractive trellis with flowers and shrubs, and outside furniture.
Note: This property has a Good Housekeeping bond of £200.
About the location
DARTMOUTH
Totnes 12 miles.
Dartmouth lies on the banks of the beautiful River Dart estuary in the popular and picturesque South Hams area of South Devon. Located within an Area of Outstanding Natural Beauty and close to the coast, Dartmouth is one of the most popular tourist destinations in Devon. It offers a stunning waterfront, ancient narrow streets lined with boutique shops, restaurants and art galleries plus many local events such as the annual Dart Music Festival and the Port of Dartmouth Royal Regatta, along with the Dartmouth Food Festival held every October. There are many interesting cycling and walking routes around Dartmouth, including the South West Coast Path, the Dart Valley Trail and plenty of quiet country lanes. A trip on the Dartmouth Steam Railway through picturesque countryside to Paignton is a must, and so is a boat trip across to Kingswear and on to Brixham, a pretty little harbour town. For those seeking some beach activities, there is a wide choice in the South Hams area such as Blue Flag Award winner Blackpool Sands, and Slapton Sands, both extremely popular and just a stone's throw from Dartmouth. A relaxing location in South Devon.
View more holiday cottages in Dartmouth
Region Information
All bed linen and bath/hand towels are supplied. You will need to bring your own tea towels beach towels and oven gloves.