Sykes Cottages is proud of its 4.5 star rating on TripAdvisor.
Our TripAdvisor rating
We currently have many thousands of reviews on TripAdvisor. As you can see from our TripAdvisor profile on FlipKey, the overwhelming majority of these reviews (95%) are either four or five stars.
In 2014 and the previous three years, Sykes Cottages received 'Rated Excellent' awards from TripAdvisor.
If you browse through our selection of self-catering holiday cottages, many of the properties will have the TripAdvisor review on the page for you to read.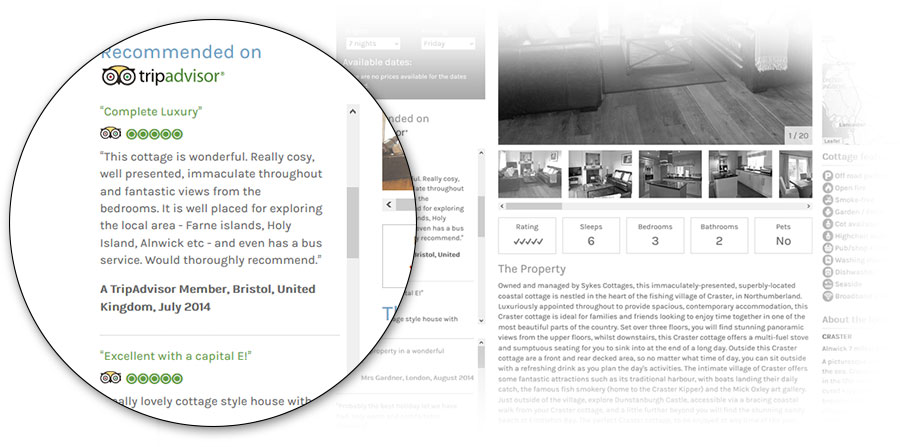 Feedback from our customers
From your first visit to our website to the moment you close the door of your holiday cottage for the last time, we want every stage of your holiday at a Sykes cottage to be special. We personally select and approve the thousands of properties we have available to rent and know that it is our attention to detail which makes such a difference.
Feedback is important so we ask each customer to tell us about their experience and to rate their holiday in terms of quality and value, standards of cleanliness, décor and furnishings and whether they would recommend the cottage to their family and friends. We read all customers' comments, listen to what they tell us and then work with owners to improve, wherever we can. If they wish, holidaymakers can also leave their feedback on TripAdvisor.
We feature the comments in each of the cottage descriptions on our website together with the feedback left on TripAdvisor to help you choose your holiday cottage with confidence. In 2014, over 97% of our customers told us they would be happy to book again and for the fourth time in a row, our services have been rated as excellent by TripAdvisor.