6 Guests

3 Bedrooms

4 Bathrooms

Pets No
Features
Pub/shop < 1 mile
Washing machine
Dishwasher
Seaside
Broadband / WiFi
Reviews & Ratings
12 Customer Reviews
"Very nicely appointed rental."

Plenty of SMART TVs everywhere. And a bathroom to every bedroom. We were a party of 2 grandparents, 2 parents and two young children and there was plenty of space. No scenic views as on a side street, which was quiet (except for the fledgling seaguls at 5 a.m.) while we were there. Very short walk to quayside and shops. The other thing to note is the flight of stairs which are quite tight in places...and 39 steps from the hall to the top bedroom.

"We decided to go to the music festival in Dartmouth with only a week to go, we were surprised to find that such a nice looking property had not been booked and with a garage as well."

On arrival we were not disappointed, what a lovely house in the middle of Town. Clean, modern and with all the facilities you require. We would definitely like to come again.

"Our stay at Harbour cottage was amazing."

The property is exceptional and the owners have done a superb job on upgrading the property. Attention to detail is another level. It has everything anyone could want and then some more. Stunning bathrooms and furnishings. The kitchen only contained the very best appliances. I can honestly say the photos don't do it justice. We loved our stay so much 5 stars isn't enough. Thanks you

"We have stayed at Harbour Cottage 3 times now, which shows that we really enjoy staying at the property."

The location is superb and having a garage is great. Our main feedback: The staff in the Dartmouth Coast & Country office are brilliant. They are very friendly, helpful and professional. They have done a great job with our all our bookings and nothing is too much trouble. The property was spotless on arrival and we welcome some of the small changes/improvements that have been made. The property is very comfortable and well equipped and as already stated, the location is brilliant. Just a constructive comment: The heating is not the easiest to set. We are aware that others have stated this but we've found it OK after reading the instruction booklet provided. We have really enjoyed all our stays at Harbour Cottage and look forward to more in the future. Many thanks Jane & Bryan Allen

Thank you so much for both your repeat visits to Harbour Cottage and also for the wonderful feedback. We hugely appreciate both. We are particularly glad that you like the new little improvements we've been making to the property - we've been working hard to ensure it's both homely, whilst being of a very high aesthetic standard. We've also got a new cleaning company this year - so it's great to hear that they are keeping the place spotless for our guests (and I will be sure to pass on this feedback to them too). We do hope to see you at Harbour Cottage again soon. It's a pleasure to host repeat guests who come back to enjoy both the property and the bustling seaside town of beautiful Dartmouth. Property Owner

"The house was dirty - oven and trays were greasy and disgusting."

Generally, there was dust accumulating in various areas, dirty and stained glass dining table and bedside tables. Not up to our expectations at all especially given the fee for the week. The house has been refurbished to a good standard but let down by poor cleaning standards. Privacy is an issue as bathrooms don't have frosted windows. My wife will probably add her own review at some point….

Thank you so much for your valued feedback and I am very sorry that you felt the cleaning was not up to your personal standards. Our cleaners work exceptionally hard throughout the whole season and occasionally of course, something does get missed. We have spoken with our cleaning company and asked them to address these concerns specifically. We appreciate your comments about the high standard of refurbishment of the property as we've spent many happy hours choosing furnishings that we hope reflect a beautiful 5 star beach home. We do hope to welcome you to the house again to enjoy all the wonderful treats Dartmouth has to offer. Property Owner

"We absolutely loved the quality of everything-especially the stair carpet and sensor lights!"

We really appreciated the themed rooms with the Bert and Buoy throws and pictures too . Everything was excellent and the position of Harbour Cottage was perfect for us. Just one point to note ; the house can be very warm and we noticed the towel rails were on during the night but didn't know how to adjust them. Thank you SO much for a wonderful holiday experience.

We just wanted to acknowledge and thank you for your extremely kind feedback. And I especially love you noticing the investment we made in the theming of the rooms (seal, seagull and puffin) from Bert and Buoy! (I had a lot of fun doing that earlier this year). Thank you also for bringing to our attention it was still very warm in the house. Whereas I'm delighted our guests aren't frozen, I do appreciate being too hot can also be frustrating too. We will get this sorted for your next visit to us! Soon I hope! Property Owner

"Really lovely property in a great location for access to the town, and a good sized garage, which was a high priority for us."

Why not 5 stars in all areas? Well the bedrooms were extremely hot with no fans provided which meant windows had to be opened, so on the nights the angling club had socials, it was noisy and people chatting outside the entrance meant no sleep. It was a week of pleasant summer weather, not the extreme hot weather the country experienced the week or so after our stay. And then of course, the seagulls started at 4 am. Probably would have been fine if we'd been able to have the windows closed. Also the stairs and the top floor floorboards creaky enough to wake anyone trying to sleep on the second floor. Also, lovely kitchen with everything you could want - unless you want a microwave - just a minor thing though. Overall we did have a lovely week in a lovely, good quality holiday home - but the whole family were weary the whole time from the sleep problems.

Thank you so much for your valued feedback - we really do appreciate you taking the time to tell us about all the things you loved (garage, location and the fact it's a lovely property) and also your concerns with being too hot. We are working with the agent to try to find a resolution to this - although the seagulls are a different issue I'm afraid. I'm also glad you liked the kitchen as we've tried to make that a home from home environment. One small thing of note is that there IS a microwave - it's situated within the small over and has a specific setting to use it as such. So one action I will take for your feedback is to ensure we make the instructions of how to find and use it, easier to find. Hope to welcome you again to the property soon. Property Owner

"House and position in town first class."

Glass dining table we could write our names on, needed a proper clean. Mouldy coffee grounds in the coffee maker, cutlery left in the dishwasher. Generally a bit dusty in corners. I did show photos to the lady in the Coast and country office. When we arrived we were told there was a new broadband system and given a new password, we connected to the router but there was no internet connection and therefore no smart tv just the basic channels. This was finally connected on Thursday. As we have another holiday booked with your company at the end of the month we are hoping it will be cleaner.

Hello there Thank you so much for taking the time to write us this valuable feedback and let me start by apologising for the cleaning standard you found at our property. Our cleaners are usually exceptional so I was disappointed to see your comments and wanted to assure you that we have addressed this immediately with Coast and County. In addition, the router had been upgraded so I'm sure it was frustrating to not have the Smart TV connected for part of your stay. I'm glad that you found the house comfortable and that the facilities suited your needs - it really is in the best position in town and we hope to welcome you back one day soon. Property Owner

"Our stay in Harbour cottage was a real treat."

The house had absolutely everything we needed, was clean, and perfectly situated in the centre of Dartmouth. Having the garage was super handy as we didn't have to worry about parking. Picking up and dropping off keys was also pain-free. The only issue we had was the house was so hot and we couldn't seem to be able to change the central heating settings (even with the manual). Perhaps an 'idiot guide' would be helpful. But other than that, the house was perfect. Hope to stay there again next year.

Thank you so much for your lovely words about our holiday home. We are working on trying to get a simpler guide to the heating system. It's an incredibly efficient system - but know it can be a little confusing to operate. We will have it fixed for when you visit again! We look forward to welcoming you back next year. Property Owner

"The cottage was better than expected, it was spacious and immaculate."

The location was superb, car not needed as everything was on our doorstep. The Sykes team were excellent, friendly, helpful and very professional.

Thank you so much for your lovely feedback. We really appreciate the comments about our holiday home. And yes, it's great that everything is indeed on the doorstep - pub, restaurants, seafront, fudge shop and fish and chips all under a 30 second walk away! We do hope to be able to welcome you again one day. Property Owner

"This is our second visit to Harbour Cottage so you can tell we really like it."

Just a couple of observations this time. The sink in the bathroom at the top of the house was not draining at all. I unscrewed the plug and found it was fully clogged with hair. An unpleasant job I had to do on day one! Kitchen well stocked but I would add a pair of tongs to the equipment. The heating was very complicated to understand and no matter what we did we ended up having to open windows whilst the heating was on (not very eco friendly) ..perhaps a step by step "idiots guide" would help as the booklet was very difficult to follow. The location of the property is second to none and having off street parking a real bonus in Dartmouth. The welcome cleaning pack was an added bonus but could we suggest more than one black sack be incuded especially as the booklet in the house asked that all bedding and towels are placed in black sacks on departure and all rubbish should be in black bags before being placed in the seagull proof bags. However these are small observations in an otherwise excellent house.

Thanks so much for your valued feedback and your lovely comments about Harbour Cottage. First, I'm so sorry you had an issue with the sink. We have put some 'sink unblocked' down all sinks so I hope that reduces the problem. And thank you for your excellent advice around tongs - I bought a pair and placed them in the property so you will see them next time you visit. In addition we've added some more useful kitchen items, like a kitchen DAB radio/bluetooth speaker, kitchen roll holder - and a bumper stack of bin liners! Property Owner

"The house was perfect, will definitely be returning"

Hello there. Thank you so much for your lovely comment about Harbour Cottage. We're so delighted to hear that it was perfect for you and we do indeed look forward to welcoming you back one day! Property Owner

There are no reviews featuring this term Show all reviews
Show more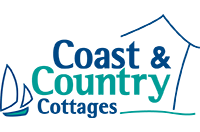 This property is part of the Coast & Country Cottages collection.
Choose from over 400 properties in Salcombe, Dartmouth and the surrounding South Devon coast and countryside - the perfect destination for a holiday all year round.
Summary
Three floors
Three bedrooms: 1 x King-size with en suite shower room
1 x twin (can be joined on request) with en suite shower room
1 x double with en suite shower room
Further shower room on the ground floor
Spacious entrance hallway
Open plan kitchen / sitting / dining room
Utility room
Garage.
Double oven with microwave, plate warming drawer, dishwasher, fridge freezer, and wine cooler
Washing machine and tumble dryer located in the utility room
Smart TVs Underfloor heating
WiFi. Integrated Garage for one car. Bed linen and towels supplied
Strictly No Smoking
The property
Harbour Cottage is an individually styled and elegantly presented holiday home, designed and furnished to the very highest standards throughout.
On the first floor is a stylish open-planned living area with a luxurious corner sofa, SMART TV, books, games and wi-fi.
The dining area has a glass topped table and six chairs.
The kitchen has high quality units under a granite worksurface.
The utility room is on the ground floor at the back of the garage. Three beautifully furnished boutique-style double bedrooms are found on the second and third floors.
The master bedroom, on the second floor, with a King size bed, and SMART TV.
A sliding door leads into the en suite shower room, equally stylish, with a large walk-in shower cubicle.
Bedroom two is on the second floor with two single beds (can be joined to provide a super-King bed on request) and SMART TV.
A sliding door leads into the en suite bathroom with panelled bath with shower over.
Bedroom three is on the third floor with a Double bed, SMART TV.
A sliding door leads into an en suite shower room with a large walk-in shower cubicle.
There is a further shower room on the ground floor.
The spacious garage has a roller door and automatic lighting and an internal door leading into the property.
This four-storey accommodation has been extensively remodelled to offer a luxurious retreat and is just a few short steps from Dartmouth's boutique shops, restaurants, art galleries and the picturesque waterfront.
About the location
DARTMOUTH
Totnes 12 miles.
Dartmouth lies on the banks of the beautiful River Dart estuary in the popular and picturesque South Hams area of South Devon. Located within an Area of Outstanding Natural Beauty and close to the coast, Dartmouth is one of the most popular tourist destinations in Devon. It offers a stunning waterfront, ancient narrow streets lined with boutique shops, restaurants and art galleries plus many local events such as the annual Dart Music Festival and the Port of Dartmouth Royal Regatta, along with the Dartmouth Food Festival held every October. There are many interesting cycling and walking routes around Dartmouth, including the South West Coast Path, the Dart Valley Trail and plenty of quiet country lanes. A trip on the Dartmouth Steam Railway through picturesque countryside to Paignton is a must, and so is a boat trip across to Kingswear and on to Brixham, a pretty little harbour town. For those seeking some beach activities, there is a wide choice in the South Hams area such as Blue Flag Award winner Blackpool Sands, and Slapton Sands, both extremely popular and just a stone's throw from Dartmouth. A relaxing location in South Devon.
View more holiday cottages in Dartmouth
The property is set over 4 floors.

The garage dimensions are 12ft wide, 20ft long and 6'3" height

Strictly No Smoking
This property offers the following short breaks:
Winter
Off-season
Last minute
Christmas