4 Guests

2 Bedrooms

1 Bathroom

Pets Yes
Features
Off road parking
Ground floor bedroom
Open fire
Garden / Patio
Cot available
Highchair available
Pub/shop < 1 mile
Washing machine
Dishwasher
Seaside
Reviews & Ratings
45 Customer Reviews
"The cottage is gorgeous, small but all we needed."

The grounds are beautiful, we particularly enjoyed watching the butterflies on the bush out the front. The beds were super comfy. Kitchen was very clean and well equipped. Sue popped in to say hello and was very welcoming. The only thing not up to par was the shower, hardly any pressure at all. Very limited phone signal so I would recommend researching places you want to visit before you get there.

"We would not have stayed the full week at the cottage if it wasn't for us having a second week booked away in Looe."

The cottage looks beautiful outside but there is no sort of path as you get to the cottage it has a grass lawn which because of the wet weather made it everytime you went out you got wet because the grass wasn't cut. A path would stop the mess and feet getting soaked. Then inside the property the living dinning area was big enough there was a tv but this was starting to look like it had seen better days with lines down the screen. Kitchen area the plates and utensils had worn, some chipped and some even broken. We had to fix the frying pan before we could use it but they were bowed so cooking with them was a nightmare. They had no pint/half pint glasses to make drinking a beverage easier. The bedrooms - the double room smelt of damp and on leaving our clothes all felt damp, the bed was so uncomfortable, the mattress was lumpy and gave me a bad back not one nights good sleep , the single room mattress was slightly better. The bathroom was terrible the shower was awful just about got hot and without standing on top of the taps you could barely get wet. Then the cleanliness there was spider webs annd dust everywhere, dog biscuits under the cabinet in the bathroom, broken sockets and skirting board loose on walls and an ants nets in the double doors. If guests are staying the cottage should be dusted everywhere not left. I would not recommend for the cost of this cottage we paid a lot of money and it really needs a update and money spent on the cottage as this is falsely sold as no where near good enough awful. We have taken photos if required I think that the amount paid for this cottage is extremely over priced for its standard. We would like to request our money back as the property is not as discribed.

"Thoroughly enjoyed our stay at Whispering pines the cottage was fabulous, as a previous review said the pictures don't do it justice."

The location is lovely and perfect for dogs large garden and very secluded a real getaway from it all. The local pub is great walkable with lovely food. The only thing that could improve the cottage would be a better shower and new pans.

"We have just spent a wonderfully peaceful week at Whispering Pines, the location was perfect, the gardens surrounding the property are stunning and well kept, you can see the sea at many hidden breaks in the hedges, it is a shame you don't have a proper sea view from sitting in the garden though, something I think could easily be achieved, by taking back one or two bits of planting."

The property was clean and had everything we needed, lovely flowers and biscuits on arrival, a nice touch. Good amount of space for 2 adults and 2 small dogs! Daddy long legs spiders increased by the day, we could tell this wasn't a cleaning issue, just woodland location! Don't underestimate the advice of zero Wi-Fi, I didn't realise how much I relied on this, for checking weather, travelling directions, planning the day ahead etc, there is zero phone reception, not being able to make a phone call was refreshing but no for everyone, so bare that in mind if booking! Would highly recommend the Manor House down the road for food, went there a lot and didn't have a single complaint! This property is a perfect stay for escaping life and noise. Lots of space to walk and relax! Very happy with our stay!

"The most beautiful location for a holiday home."

So much green space to run around in, my kids loved exploring! It was the perfect base to explore the many beautiful places nearby. The cottage was kitted out perfectly for a family with dishwasher and washing machine. We want to book again for next year!

"Loved it. We were there the second time and certainly plan to come back again."

Thanks a lot for the hospitality.

"Third stay now in this place of peace and bliss."

We are all different but for me I can say my heart and soul feels nourished when here. The location is idyllic the cottage just perfect and the gardens and grounds are cared for with a wonderful appreciation of biodiversity that enriches a stay there. The hosts always so lovely and the personal touches of flowers and biscuits make you feel so welcome. Thank you! Back before too long I hope

"Although I'm rating this 8 out of 10 (and 4 stars), here's why."

On arrival the cottage was pleasing and on entry, we were welcomed with fresh cut flowers, fresh eggs, a tin of shortbread and even a Thorntons Easter egg. I mean - that's a welcome many would enjoy (and we did enjoy it all). The layout was comfortable and nicely furnished. It was chilly, this was only really based on the time of day and the free-standing oil heaters waiting for our arrival to be turned on (that's no complaint - we hate wasted energy). For me - I'm almost always "working" 24/7 and blind to the internet. So when you're told - this is almost 100% inaccessible, do like me and take advantage - switch off, visit the local pub and beach and enjoy the weather roll in over the sea. We were unfortunate enough to visit whilst there was a heavy storm (60mph winds, heavy rain and hail). The tucked-back position of the cottage shelters everyone visiting and we barely noticed it bar the views. Due to the proximity, we were visited by one of the cottage keepers with matches and candles "just in case" there was a power cut (no issues but the thought was truly appreciated). I want to be very clear - the following is more of a note of the current condition and I'm very picky and detailed. None of the listed improvements being incomplete would stop us from going back. For our stay, we noted the following which could be improved on: Some minor maintenance to the ceilings for some cracking ceiling plaster. The wooden frames of the beds would benefit from checking as they all squeak (one of the singles is far worse than the others). The bathroom could do with a makeover - the tiles look old and the grouting and sealant around the bath and basin etc were old and very grubby. The shower pressure was annoying (basically non-existent), and with the lack of bathroom size the consequent bath size was "petite". Other than that - the hot water tank barely fills the bath with enough hot water. And some of the double glazing would benefit from repair or replacement. A single request would be to open up some basic views to the "sea views" that are blocked by just a small handful of overgrown shrubs or even trim back trees. My only true gripe was that the mattresses were unusually hard, and I would rate these harder than a standard "firm" mattress.

"Absolutely gorgeous cottage."

The photos don't do it justice. I would have liked to stay longer. So peaceful. I arrived late in the dark on a cold wet night, and the heater and outside light had been turned on which made for a lovely welcome. So did the flowers and the shortbread biscuits. The shower water pressure isn't great, but I had a bath which I don't normally do and that was nice and relaxing. Can recommend this as a place to get away from it all but still be within easy reach of the attractions. The Manor House pub and restaurant is lovely and the food delicious. The local cider too. Will most definitely return.

"Spotlessly clean and well maintained cottage."

Grounds kept lovely and tidy. Furnished well and we genuinely had a fantastic few days. Would definitely book again

"Our 3rd visit to Whispering Pines and definitely not our last."

We love it there, the property is very beautifully located in a secluded location whilst still being within walking distance of the beach and a short drive from either Bridport or Weymouth. As always the property is in lovely condition and had everything we needed for the week we stayed. Looking forward to coming back for another trip later in the year.

"The whisping pines wasn't good for my wife as she's in a wheelchair,Sue her husband came and said we could moveto Mimosa."

Mimosa was first class fitted out for all my wife's need and probably made my wife's last wish come true.Theres no words to say thank you to Sue and Henry for the kindness they showed my self my wife and my son,absolute best ♥️♥️

"Whispering Pines is a gem."

Quiet and private, but only a short drive from the sea and all necessary amenities. A lovely, tastefully furnished and impeccably clean home from home.

"This was an amazing cottage, a perfect hideaway and retreat."

Perfect for getting away from it all. The owners Sue and Henry were extremely helpful and friendly and were available if needed. They lent us a BBQ one evening and nothing was too much trouble for them. The cottage was exceptionally clean, everything was provided and the grounds were beautiful. If I could have stayed for a month I would have done, or perhaps forever... Would definately return and would recommend to others. The local beach was not ideal for swimming, and used mainly by fishermen, but many other beautiful beaches nearby. Was so pleased to have found this gem.

"Overall the cottage was nice and clean, but the microwave, kettle and toaster were grubby and Door locks needed attention."

"We had a fantastic stay at whispering pines cottage."

Beautiful outlook lots of wildlife around lovely pub and food. The cottage was perfect we will be visiting again.

"We enjoyed it a lot (also the two corgi dogs) and booked it again for 2023!"

"This is a lovely cottage and I really liked the new decor."

The comments about the place looking tired last year have really been addressed, and it is a great place to relax. I don't think the shower will cope with any further modernisation, given the cottage's position near the top of the hill, but the bath is a luxury I haven't known for a while and there was ample hot water. The gardens are delightful, sufficiently wild, yet with interesting planting. The grass in front of the cottage is a picture of daisies and buttercups. The nooks for meals and dining out are also pretty. The only drawback really is the hike from the car park; a bit strenuous for someone living without stairs any more! By the end of the week I was getting used to it. But with wifi a luxury all along this coast (Abbotsbury is on dial-up!), I'm not sure I'll come back. I find that I need that facility these days, especially when animals (or people) are sick.

"We were disappointed with the shower over the bath (no water pressure)!"

& we had problems with the main entrance door & lock but these problems didn't stop us enjoying the holiday

"A lovely cottage in a spectacular setting with sea views and extensive gardens, great for walking and exercising the dog."

An ideal location with easy access to the beach, south west coast path and the south west ridgeway.

"Hardly a Dream cottage though I think it may have been some while ago."

It was clean with some nice touches but is badly in need of some TLC Photo and description were deceiving.. Will not be trusting Dream cottages again

"Everything inside the cottage was very dated, well worn or smelt fusty/musty."

The photos on the website were somewhat out of date. The beds were very uncomfortable and we we were so tired every morning from a poor nights sleep.

"The cottage was stunning, set within it's own beautiful huge flowered garden."

The kitchen appliances are very modern, including a surprise dishwasher. The location was perfect; so close to the sea and the area's wonderful visitor destinations. I was not worried but my family disliked the shower a little. The double bed was very comfortable but had a loud springy sound when a person moved. I'm not sure if the mattress was new or not, but it was comfortable. All in all, would highly recommend.

"The property looks slightly tired but it's clean and situated in a lovely garden."

There is no WiFi in the property which is a huge drawback.

"Situation wonderful."

The bathroom needs a makeover. The shower was as good as useless. Old pipe work open in flooring - ideal for insects and spiders of which there was quite a few. The double glazing panels have blown and need replacing. This gives the impression of dirty windows. There is a smart TV which had bbc I player but there was no Wi Fi. How does that work? The TV was not HD. The entry door was sticking. To be honest all the doors and windows need replacing. The kitchen units had been replaced and kitted out well. We enjoyed our holiday but feel the property at this rental cost should be at a higher standard.

"Double bed needs up grading."

Also garden path needs installing. Shower needs some attention. Double glazing let's it down as view from windows was obscured by the grime.

"Third Holiday with Sykes a pleasure to deal with and excellent cottages on their website."

Would have no hesitation to recommend them

"The description of the cottage does not mention the long and uneven path from the car park up to the cottage."

It does say to be careful on the "uneven" steps and the grassy area in front of the cottage, and strongly advises to arrive in daylight, but It fails to mention that the uneven steps stretch quite a long way followed by a long, steep and winding uphill path. While a couple of carts are provided to help take luggage and provisions up to the cottage, these are very unstable and difficult to navigate over the steps. One cart overturned spilling our groceries onto the path! Although in our 70s, my husband and I are fortunately both quite fit but we still struggled to get our belongings into the property. If we had had any health issues we would never had managed. This difficult access, especially the distance from the car park should be highlighted in the description and information provided.

"This lovely little stone cottage has the most amazing grounds full of wildlife ..."

This lovely little stone cottage has the most amazing grounds full of wildlife the views are spectacular and the nighttime stargazing fantastic A true little gem

"The kettle has a slight leak & we would have preferred larger water tumblers but otherwise it was super"

"Place was excellent as advertised."

. We couldn't quite work out the oven, minor really as the place and its area was great. BBQ would be good too if that was the area outside the property was very spacious. Close enough for a 15 min walk to the pebbly beach. Lovely area.

"Directions to cottage could be a improved by including the actual sign on the road (wayward pines) other than that it was lovely even thought the weather was bad."

"Flowers and chocolates in cottage was a very nice touch."

Owner visited to make sure everything was OK. Extensive grounds were perfect and safe for our young dog and only a short walk down to coastal path. Wood burner made cottage very cosy and oil filled radiators in bedrooms adequate. Kitchen well equipped.

"Lovely relaxing cottage, set in quiet gardens."

Ideal location for exploring Dorset.

"Lovely setting and good sized accommodation, grounds and parking really good, Cottage needs a new/refurbished bathroom, shower pretty basic and needs new tiling and grouting etc."

The rest of the cottage is fine, really nice living room/Kitchen, fridge ok although small, lots of lovely places to visit in local area

"The grounds of the Cottage were lovely, we felt that the cottage needed a bit of refurbishment also the Fridge was too small and it wouldn't be big enough for 4 people, also the shower was very dated and not working properly, we couldn't connect to any Wi-Fi and no signal on our mobiles, after a 5 hour journey with traffic there was no milk, tea, coffee, sugar unlike all the other cottages we have rented over the years, we felt it was very over priced for the details on the website."

Best regards Mr & Mrs D Ingleby

"Lovely little place, the garden is great."

"This is a gorgeous cottage set in absolutely beautiful grounds which themselves are set in one our nations finest counties (Dorset)."

Whilst at the property, the only sounds we heard was birdsong and the rustling of leaves, this combined with the perfect weather gave us a very relaxing and re-energising holiday.

"A good holiday in a lovely setting"

"If you want a quiet peaceful holiday break this is the place to stay this second ..."

If you want a quiet peaceful holiday break this is the place to stay this second visit to this area both times we enjoyed our stay plenty of places to visit and lots of beautiful scenery would highly recomend

"Nice accommodation, lovely setting"

"We thoroughly enjoyed our stay at Whispering Pines cottage."

We stumbled upon this tranquil hideaway with views out to the sea by complete chance and booked and went the very next day. Considering the quick turnaround the booking process was great and within half an hour we had secured our family holiday. The cottage itself was clean and comfortable set in beautiful gardens surrounded by beautiful flowers and butterflies. The location was perfect for exploring the beautiful Dorset coastline from Portland Bill and the beautiful Durdle Door to the sandy beach at Weymouth and fossil hunting at Charmouth. We would love to go again. Many thanks for a wonderful holiday! Stayed July 2018.

"A great place to stay very relaxing and central to all the local attractions."

We will be back.- Stayed June 2018.

"Nice property with beautiful garden/grounds, and easy access to the beach."

Stayed May 2018

"We really enjoyed staying at this lovely cottage with beautiful gardens."

It was a peaceful location and an easy drive from the larger towns of Dorchester and Weymouth, with cinemas and restaurants. Nearby villages of Abbotsbury & Portesham were very pretty - stayed July 2017

There are no reviews featuring this term Show all reviews
Show more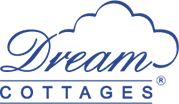 This property is part of the Dream Cottages collection.
Over 350 carefully selected and perfectly located properties, helping you create your perfect holiday.
Summary
All ground floor
Two bedrooms: 1 x double, 1 x adult bunks and single (can only accommodate maximum of 4 guests)
Bathroom with shower over, basin and WC
Living area with kitchen, dining area, sitting area with log burner.
Free standing electric heaters, log burner, electric oven and gas, microwave, fridge, washing machine, TV
Fuel and power inc. in rent
Bed linen and towels inc. in rent
Cot and high chair on request
Off road parking for two cars
Garden area with lawn, patio
The property
Whispering Pines is a delightful cottage set in the tranquil Tamarisk Wayside Gardens nestled close to two other holiday cottages, with each offering their own private garden space. Surrounded by stunning countryside, and with panoramic sea views of the Jurassic Coast, it is an ideal base for exploring all that West Dorset has to offer. It is a stone cottage bungalow with the accommodation laid out on one level.
There is an open planned living room with kitchen, dining and sitting areas.
The bedrooms are comfortable and homely and perfect for peaceful sleeping in this tranquil location.
This property accepts four guests.. From the sitting room, guests can open the patio doors and enjoy the grassed lawn area where you can relax, share a picnic or play some games with the family.
The property happily welcomes two well-behaved dogs. In chilly weather the cottage is perfect for snuggling up in the lounge, in front of the log burner whilst you read a book or enjoy a warming hot chocolate.
The setting of the cottage is delightful, with pretty gardens overlooking the South West coast and the surrounding West Bexington countryside.
The stunning landscape will tempt you to explore further for sure, and the World Heritage coastline will always beckon visitors. Only a few minutes' drive away is the market town of Bridport (6 miles) with its array of quaint shops and lovely streets, and with a popular market offering local fresh produce and interesting stalls.
When venturing further on foot, or by bike or car, you will reach beautiful village of West Bay with its cute harbour and stunning cliffs. A short drive further you will reach the tallest point on the South coast – Golden cap, which sits tall and proud and offers outstanding views for miles around.
Lyme Regis and Charmouth are both nearby and very much a fossil hunters paradise. The coastal town of Weymouth has an award-winning sandy beach and is an hour's drive away, with many attractions for adults and children alike.
Nothe Fort and Gardens offer fantastic views of the rugged Isle of Portland and also the iconic Lulworth cove, and a stroll down to the harbour will find a perfect location for crabbing and watching the boats sail by. Whispering Pines is cute and full of charm, and ideal for families and friends looking for a quiet haven.
About the location
WEST BEXINGTON
Abbotsbury 3 miles; Bridport 6 miles.
Lying next to the sea and Chesil Beach, equidistant between Burton Bradstock and Abbotsbury, is the small village of West Bexington. This is a stunning area of Outstanding Natural Beauty, as well as an area of Special Scientific Interest - pebbled Chesil Beach, which extends for 14 miles, from Burton Bradstock to the Portland peninsula, is part of the Jurassic Coast and now a World Heritage Site. Fishermen and walkers are well provided for, as a great variety of fish can be caught at any time of year, and the South West Coastal Path runs right alongside the beach. Only confident swimmers should attept to swim here, but Weymouth, offering lovely, gently shelving sands, is only a short drive away. There's lots to see and do within easy reach of the village. No journey to this area would be complete without a visit to picturesque Abbotsbury, 3 miles, with its Swannery, Tithe Barn and Sub Tropical Gardens, with Dorchester, Bridport, and Lyme Regis all within easy reach.
Note: max 4 people.
Note: no Wifi.
Note: two steps down to garden.
Note: guests need to bring their own cot linen.
Note: The Fossil and The Cross 994206, Whispering Pines and Mimosa Cottage 994408 are surrounded by lovely gardens. Whilst each cottage has a distinct and separate area for their use, these gardens are not enclosed and are on different levels, so children should be supervised.
Note: mobile reception is poor in this area.
Note: the cottage is accessed via a partially unmade road. There is a 50 metre slope to access the cottage.
This property offers the following short breaks:
Winter
Off-season
Last minute
Christmas