4 Guests

2 Bedrooms

1 Bathroom

Pets Yes
Features
Off road parking
Cot available
Highchair available
Pub/shop < 1 mile
Washing machine
Dishwasher
Broadband / WiFi
Reviews & Ratings
50 Customer Reviews
"We really liked the cottage, well described and perfect for what we needed."

The beds were comfy and the kitchen was wet equipped. Unfortunately, the cleaning wasn't the best and it could do with a proper deep clean rather than the surface type clean that was done for our arrival. The kettle had an enormous amount of limescale build up and desperately needs cleaning. The electric fire didn't work which would have helped keep the downstairs warm as it got quite chilly of an evening. The parking space is very small, you have to unload people and things before you park as there's no room to get out, we do have a big vehicle though. The neighbours didn't like us doing this and commented to us which made us feel like we were upsetting them or doing something we shouldn't. We also would have appreciated being told before booking that there was cctv, we noticed a camera half way through our stay. Generally it was really nice although slightly let down by a few things that could easily be resolved with a little care.

Thank you for your feedback. Please be assured that the porch CCTV is only active when the cottage is vacant in the winter months. We have raised the cleaning issue with Dream Cottages and a new heater will be fitted over winter. It is perfectly fine to load and unload outside Magnolia Cottage. We are sorry and confused why the neighbours complained. Hope you had a great stay otherwise. Property Owner

"Cottage great nice and roomy facilities good however directions need updating as ..."

Cottage great nice and roomy facilities good however directions need updating as pub no longer exists and we do like a pub within walking distance

Thank you for your feedback. Yes it's such a shame that The Fox has closed, we have updated our description, The Smugglers Inn is walkable but a bit further. Glad you liked the cottage and hope you had a great holiday Property Owner

"Would have been helpful to have salt and shakers provided."

Shower control not working properly, runs very hot, and will not turn down. Had to keep turning water off to have comfortable shower. Otherwise excellent facilties. Excellent situation for visiting intesting places in Dorset.

Very sorry about the shower. A new thermostatic shower has now been fitted. If you had called Dream Cottages it could have been fixed during your stay. Glad you found the facilities and location to be excellent and hope you visit again. Property Owner

"Generally, a good place to stay for a week, more so for a couple than a family, since the stairs are quite steep and could be a risky for smaller folk."

The Master bedroom: The Queen size bed ( 6ft wide) is very comfortable and while firm, does yield for a good night's sleep but does not restrict movement around the room - very nice. Taller folk will soon be aware of the sloping thatched roof. It has to be noted that the floorboards move a lot and this means a lot of squeaking whenever you move around in this room - this can be heard right across the ground floor so at night, it can be noticeable to the point of annoyance. I feel that the neighbours must be able to hear this given our own experiences: The second bedroom does not suffer from this at all. It must also be noted that the toilet of the adjoining property backs onto the wall of the headboard - folk in the master bed will unfortunately hear quite a lot of flushing and other actitivies including much door closing ( slamming) late at night / early morning. Light sleepers will find this disconcerting. The Lounge is airy, the sofas are decent and the TV is a very good size. The many windows allow good light although you are visible to neighbours approaching their property. The car port is right next to the cottage roof / next door's kitchen window and reversing out, one needs to take note of the overhang and the small patio which tyakes a day or so to learn - larger SUVs will notice this and it might be worth mentioning to avoid disappointment. The instructions for finding the property do need to be updated and improved. The pub / Stable Bar are long gone (sadly) so it should be removed as a landmark from the documentation. Coming from Preston / Weymouth, the first drive past Church Lane is the drive for East Farm itself, by the old telephone booth - and this too has a sign on the wall for 'East Farm' which will catch the latecomer out on a dark night. A better instruction is that immediately past Chapel Lane, look for the slate sign for 'East Farm Cottages' on the right side and note it is a sharp turn back off the road which can catch the driver out if not prepared. Coming from Poxwell, Craig's Farm Dairy is the marker for slowing down and looking for the East Farm Cottages sign on the lhe left which will appear very quickly after the farm shop entrance. Leaving the driveway to go east can be tricky in peak times, as the bend to the left is nearly blind; a confident and swift departure when the road appears clear is recommended. The owner may wish to know that a neighbour allowed their small dog to excrete without collecting. On the day of our departure we had a deposit directly in the path from the front door to the drivers' side of our car and undder the eaves of the property; only luck and sharp eyesight prevented an unwelcome incident. Whether this was carelessness or even deliberate I cannot say but the location was in such a strategic place that the dog must have either been off the leash and un-monitored, or else walked round the property to the car port and allowed to act - it was well off the route out of the driveway... It was not cat or fox faeces.Worth noting in case of a repeat performance. We really enjoyed our stay - you are one wall away from the Farm Dairy so you will hear and smell the cows as they are milked. I grew up with this, but city-dwellers may find this novelty interesting!

Thank you for your feedback. We will address the issues you raise over the winter period. Glad you enjoyed your stay at Magnolia Cottage. Property Owner

"Excellent cottage, very clean and had up to date equipment."

Things that may need doing for the future to make thing perfect. 1. A hop up in the kitchen to reach the shelves. 2. Picture of the staircase and entrance hall on the initial viewing. 3. New nonstick frying pan. 4. Creaking in the upstairs floors rectified. The only real disappointment was that the village pub across the road was closed. ? For refurbishment we presume. The cottage folder was precise and full of information. The wooden and tiled floor downstairs kept the cottage reasonably cool in the hot weather. Having a bug zapper in the kitchen did keep the flies down in the building. It was a cottage you was glad to get back to at night. Overall a good base to work from to reach all parts of Dorset..

Thank you for your valuable feedback. We now have hop up for the kitchen and a new frying pan. We will try to address the creaky floorboards over winter however it is an old property. Glad you had a pleasant stay at Magnolia Cottage. Property Owner

"Cottage was beautiful everything you needed like home."

The only complaint was the musty smell, which we managed to track down. It was the mop in the cupboard. Obviously it had been left wet and not left to dry as it was scrunched up in the bucket. We washed it out and left it outside to dry out and that solved the problem.

Thank you so much for solving the musty smell mystery - very much appreciated. We are really pleased that you enjoyed your stay at Magnolia Cottage and hope you will visit again. Thank you! Property Owner

"There is a number of things that need to be addressed."

1. There is a very strong smell of damp in the property, which wasn't addressed by leaving the windows open. 2. The fridge/freezer was too high for my wife to reach the top shelf. 3. The bottle tray support in the fridge door is broken & therefore insecure. 4. The bottom freezer drawer is broken. 5. The melamine tray in the kitchen is badly repaired and has a sharp corner. 6. There are no towel rails anywhere and nowhere else to get towels or anything dry. 7. There was a campervan parked outside the kitchen window which blocked light from the kitchen. 8. People from other properties walking past the windows made it feel like we were in a goldfish bowl especially as there were no net curtains.

Thank you for your valuable feedback. We do take all comments on board, we will investigate the smell of damp and the owner will be replacing the fridge/freezer at the end of the season. We are sorry that the campervan blocked out the light in the kitchen during your stay, this vehicle is only ever parked there very occasionally. We do hope that you had a lovely holiday and the enjoyed your time in Dorset. Property Owner

"Sofas were uncomfortable."

Limited cleaning materials provided; e.g. bleach for loos, pads to clean cooking utensils. Bedding and towels very good BUT, mattresses were far too soft; single bed falling out of bed if turning. All in all very uncomfortable; limited opportunity to get adequate rest. Car parking spot - immediately under bird roosting area resulting in car festooned in bird faeces. Not good

Thank you for your comments. Magnolia Cottage now has new mattresses throughout. We hope they are more comfortable. Sorry we are not allowed to provide strong cleaning fluid or bleach for Health & Safety reasons. Sorry about the bird mess. We are looking at what can be done about this. Property Owner

"It was a lovely cottage in a lovely village."

The downstairs was bigger than we expected and worked perfectly for us. There were a few things missing on arrival - dishwasher tablets and tea towels - but this was very quickly sorted. I could have done with a few pan stands and maybe some weighing scales but otherwise the kitchen was well equipped and organised. Loved the chest of games which kept our 7 year old entertained. Lovely local walks too.

Thank you for your feedback. We are glad you enjoyed your stay at Magnolia and hope you will visit again. Property Owner

"Clean, well maintained with absolutely everything we needed we really enjoyed our stay."

Ideally situated for walking with coastal path nearby.

Thank you for your lovely feedback. We are glad you enjoyed your stay at Magnolia and hope you will visit again. Property Owner

"Lovely comfortable cottage felt at home as soon as we walked through the door had everything we needed and more a truly relaxing 2 weeks."

Thank you for your feedback. We are glad you enjoyed your stay at Magnolia and hope you will visit again. Property Owner

"Fabulous cottage."

Can't fault it at all. …I felt so much at home. ..that I wish I could live there!

Thank you for your feedback. We are glad you enjoyed your stay at Magnolia and hope you will visit again. Property Owner

"The cottage has a nice dishwasher and TV but is lacking supplies like proper handsoap, more than 2 toilet rolls (only very cheap quality as well) and has no hair dryer."

The mattress in the bed has a divet and the sofa is completely worn through. The bin in the kitchen is broken (pedal not working). Given the price, I expected more.

Very sorry the cottage did not meet with your expectations. This issues you mention have been rectified over winter. The hairdryer is kept in the main bedroom chest of drawers. We have discussed the supplies issue with Dream Cottages and hopefully this should improve this season. Property Owner

"Whilst the cottage is pretty it is in a very tired state and need of refurbishment , we had to give the shower a good scrub before we could use it ."

the overall appearance was OK but closer inspection revealed poor quality of cleaning, not dirty but not clean either, considering we couldn't gain access until 5 pm for Covid cleaning it was somewhat disappointing and we went around and cleaned all surfaces ourselves

Thank you for your comments. We are undertaking a winter refurbish and a new larger shower is being fitted in February. The cottage will then look fresher for the new season. I have taken up the cleaning feedback with Dream Cottages who are responsible for this. Many thanks Property Owner

"Lovely cottage with good facilities in a great location for touring this area!"

Thank you for your feedback. We are glad you enjoyed your stay at Magnolia and hope you will visit again. Property Owner

"Excellent location and very comfortable."

Good quality furnishings in home. A few of the online reviews complained about camper van parked outside - it was no problem as it belongs to neighbours. Only small problem for us was our car got covered in bird droppings where we had to park underneath tv aerial on cottage.

Thank you for your feedback. We are glad you enjoyed your stay at Magnolia and hope you will visit again. Sorry for the bird mess. Thank you for being understanding about the neighbours camper van. This has now been moved. Property Owner

"The bedrooms were clean and very comfy."

We dropped something which went under the sofa where we found a lot of dust and fluff, a pencil, scrabble piece and babies dummy. The shower was not clean and even though we tried to clean the plug hole with a plunger, we were standing in an inch of water every time which was not pleasant. A camper van always parked at the back window which meant those curtains were always drawn as no privacy. We found the pots and pans very scratched. All this was made worse because we couldn't enter until 5pm due to extra covid cleaning...I think not. All this is unusual for a Sykes cottage. We have been to 11 cottages and usually have high praise. Not this time I'm afraid

Thank you for your feedback. Sorry the cottage did not meet your expectations. We have since had a new shower fitted and a bought new set of pans. The neighbours no longer park their camper van at the rear of the cottage. We hope these issues did not spoil your holiday too much. Property Owner

"Fantastic location , very comfortable cottage ."

Only downside was the outside area - it wasn't made clear there was only a bench at the front of the property & the camper van at the back covering the back windows was a shame too ! However we would still visit again.

Thank you for your feedback. We are glad you enjoyed your stay at Magnolia and hope you will visit again. Sorry we only have a small outside space with a bench & table. Sorry about the neighbours camper van. This has now been moved. Property Owner

"We enjoyed our holiday at magnolia cottage."

lovely cottage in very pleasant surroundings .Plenty of things to do and see in surrounding area. Just one small thing it would have been nice to have had some cleaning liquid especially for the toilet.

Thank you for your feedback. We are glad you enjoyed your stay at Magnolia and hope you will visit again. Sorry about the lack of toilet cleaner. Apparently we are not allowed to provide toilet cleaner for Health & Safety reasons. Property Owner

"It was a perfect cottage in a lovely location."

Would happily recommend this to our friends

Thank you for your feedback. We are glad you enjoyed your stay at Magnolia and hope you will visit again. Property Owner

"We had a really lovely time in the cottage we stayed at - it was beautifully presented and well equipped with what we needed for the duration of our stay."

There were just a few things (not a complaint just to be made aware of): -The kitchen hob has some tough stains on 3 out of 4 of the rings as such we were a bit apprehensive to use in case it started smoking or something. We attempted to clean them but to little avail. We were able to use 2 in the end. There also wasn't a manual for the oven that we could find so we avoided using it as it wasn't a oven we were familiar with. - We weren't sure if the extractor fan in the bathroom was working correctly or not as couldn't hear it when we turned it on with the light. - One of the magic lamps in the twin room wasn't working correctly and making a loud buzzing noise when switched on. In all honesty those things were incredibly small and did not have a major impact on our weekend break at all. We had a lovely time and would heartily recommend a stay at Magnolia cottage to anyone wanting to stay in the area.

Thank you for your feedback. We are glad you enjoyed your stay at Magnolia. Thank you for highlighting the maintenance issues. These have all been rectified now. We hope you will visit again. Property Owner

"We used the cottage as a base for completing our walk of the South West Coast Path and despite a very warm sunny week we were able to finish the path."

Thank you for your feedback. We are glad you enjoyed your stay at Magnolia and hope you will visit again. Property Owner

"A lovely cottage and a really pleasant stay with the family."

Would be even better if the electric living room heater was converted to a real log burner. We brought logs and kindling with us for the occasion, though didn't look closely at the photos beforehand!

Thank you for your feedback. We are glad you enjoyed your stay at Magnolia and hope you will visit again. Really sorry but we are not allowed to have a real log burner because of the thatched roof. Property Owner

"Location was great the cottage was so quiet and warm after being out all day and ..."

Location was great the cottage was so quiet and warm after being out all day and weather was cold and wet I have stayed in many cottages and I can say this was the best one yet I have stayed in

Thank you for your wonderful feedback. We are glad you enjoyed your stay at Magnolia and hope you will visit again. Property Owner

"Love this cottage so comfy and clean our 3rd visit won't be our last"

Thank you for your lovely feedback. We are glad you enjoyed your stay at Magnolia and hope you will visit again. Property Owner

"Nice cottage, well equipped with kitchen utensils, Our allocated parking was being used by another vehicle, the out look was terrible as there was two dumped cars which never moved and at the rear of the property another large vehicle covered two of our windows."

On returning home my husband went to check oil etc and found that a rat had eaten his engine bonnet lining. Beautiful cottage terrible location

Thank you for your feedback. Sorry if there was a problem in the courtyard. The neighbours cars at the front of the property and the camper van at the rear have since been moved. Property Owner

"Parking is a bit tricky and shame that you end up just looking out over car parking out of both the front and back."

"The whole ambience of staying in a thatched cottage and the location was perfect !"

Thank you for your feedback. We are glad you enjoyed your stay at Magnolia and hope you will visit again. Property Owner

"Very poor directions,needs more visible signage to the cottage ."

Parking for a second car needs signage on the wall stating for Magnolia cottage only as someone was parking there regularly. WIndows of cottage were filthy. Cottage very dusty .

Thank you for your feedback. We will be reviewing your comments with the owner and the relevant team hear at Dream Cottages. Apologies for any inconvenience cause by the parking and we are of course saddened to hear, certain areas of the cottage were not as clean as you had hoped for. We encourage guest to call the office during their stay to make us aware of such matters so that we can take the appropriate action to make guest's stay more comfortable with very little disruption. Property Owner

"The cottage is really gorgeous and comfy."

The decor was very tasteful and comprehensive. There was nothing missing for us and we felt very comfortable for 1 week.The price was absolutely justified.The location near to the coast was very comfortable too.

Thank you for your wonderful feedback. We are glad you enjoyed your stay at Magnolia and hope you will visit again. Property Owner

"We were blessed with sunshine every day and reminded how beautiful this part of Dorset is."

Magnolia Cottage provided a super base for our seven days sojourn. A memorable holiday in every way. Thank you!

Thank you for your fantastic feedback. We are glad you enjoyed your stay at Magnolia and hope you will visit again. Property Owner

"Lovely cottage with all comforts and imenities."

Only thing was at our designated car space by the cottage our car got covered in bird excrement so a cover between the roofs of cottages would be good. Perfect place to stay for places if interest.

Thank you for your feedback. We are glad you enjoyed your stay at Magnolia and hope you will visit again. Sorry about the bird mess. Property Owner

"We enjoyed our stay at Magnolia Cottage very much."

The inside of the cottage, was good quality and very clean and tidy. It certainly lived up to our expectations. Our one disappointment was was the lack of good outside space. We had hoped to be able to sit in a small garden rather than at a table in the car park turning area. Over all though, we would still rate the cottage good.

Thank you for your feedback. We are glad you enjoyed your stay at Magnolia and hope you will visit again. Sorry the cottage has just a small decking area in the courtyard. Property Owner

"Lovely cottage."

Cosy and very comfortable. Great location with easy access to the coastal path and pub 2 minutes walk away. Only disappointment was that we couldn't stay longer

Thank you for your wonderful feedback. We are glad you enjoyed your stay at Magnolia and hope you will visit again. Property Owner

"The cottage was situated in a handy position, The Fox, a lovely atmosphere and great food."

Also, for a cliff top walk, into Weymouth. It was lovely and warm in the cottage, so clean and tastefully decorated. Having a downstairs loo was so handy. All modern facilities. And, we were greeted by 2 adorable cows,looking over the gate at us! Highly recommended.

Thank you for your kind feedback. We are glad you enjoyed your stay at Magnolia and hope you will visit again. We love the cows too! Property Owner

"We were very happy with the cottage, it was extremely well equipped especially technology (smart TV, ipod player, good wi-fi), very comfortable and well stuated for exploring all of the Dorset coast, we did however miss having a private outdoor space probably due to the weather being so fantastic."

I would definitly use Dream Cottages again as the whole booking process was very professional. Thanks for a great week. Stayed June 2018

"Another first class stay at."

Magnolia cottage , it really is a delightful cottage, the cows peer over the fence on their way to and from milking which adds another touch especially if you have children , the cottage is well equipped for children also.it is very central for all the bays etc . And you can leave the car behind and just walk .We intend to return sometime. Stayed June 2018

"A really lovely cottage in a perfect location."

Our young children really enjoyed their stay and the cottage catered for all our needs. Thank you. Stayed May 2018

"Super Cottage."

Very clean, well-equipped. Very comfy beds. Compact and well laid out. Good location. Stayed June 2018

"Lovely cottage in a great location, all needs catered for."

Would recommend to everyone looking for a relaxing holiday/break.

"Really lovely holiday cottage perfect, my new wife made it even better we both enjoyed the long walks as we had good weather as well."

Stayed May 2017

"Beautiful cottage, felt very at home, wonderful location for exploring!"

! Thank you. Stayed September 2016

"Lovely cottage, extremely clean and very comfortable beds, great stay, thank you!"

Stayed September 2016

"Have had such a perfect stay at this beautiful cottage which catered for all our needs and more, very cosy!"

Great facilities, comfy beds and a very clean home from home feel, hope to return! Stayed August 2016

"Lovely cottage, very comfy beds and a great shower."

Perfect location to see all the sites. One of our best family holiday's ever! Stayed July 2016

"Great week and a lovely cottage, perfect in every way!"

Look forward to a return visit next year.. Stayed June 2016

"Fabulous cottage, perfect base for a memorable holiday."

Felt so at home and safe, hope to return. Stayed June 2016

"Superb cottage will book again!"

Stayed May 2016

"A lovely cottage in a nice village only 5 minutes in the car from Weymouth."

Very comfy beds, great showers and everything you need for a self catering cottage. Very child friendly with stairs gates and travel cot. Would recommend this property. Stayed July 2016

"A very clean, beautiful cottage."

Great location. Stayed May 2016

There are no reviews featuring this term Show all reviews
Show more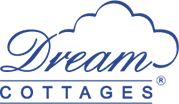 This property is part of the Dream Cottages collection.
Over 350 carefully selected and perfectly located properties, helping you create your perfect holiday.
Summary
Two bedrooms: 1 x super king-size double, 1 x twin single can be made up to super king-size double
Bathroom with bath, seperate shower, basin and WC
Ground floor cloakroom with basin and WC
Open plan living area with kitchen, dining and sitting area with electric log burner effect fire
Gas central heating, electric oven and hob, microwave, fridge/freezer, washing machine, tumble dryer, dishwasher, Smart TV, radio, iPod dock, Wifi, selection of books
Fuel and power inc. in rent
Bed linen and towels inc. in rent
Cot and high chair available
Off road allocated parking for one car
Small outdoor patio with seating in courtyard
Two well behaved dogs welcome
No smoking
No BBQ's or naked flames since it is a thatched cottage.
The property
Magnolia is a charming thatch and stone cottage nestled within East Farm at Osmington and dates back to the 17th century.
Osmington is a quintessential Dorset village with many historic thatch properties, glorious countryside and is close to the sea. The bright and clean decor gives Magnolia cottage a cosy feel.
The open plan living space with kitchen, dining and lounge areas lends itself perfectly to socialising and relaxing during your stay.
Two comfortable bedrooms will give you a good night's sleep.
Outside there is a small courtyard patio area with seating to enjoy an evening glass of wine.
Visit the nearby Craig's Farm Dairy Tea Room for breakfast and to buy fresh produce from the farm shop.
A short walk leads to the Dorset Coastal path where you can enjoy the spectacular views of the Dorset countryside and coastline.
Stroll to the beautiful coastal hamlet of Osmington Mills and the fabulous Smugglers Inn.
Walk the Old Roman Road or climb the hill to see Osmington White Horse built for King George III.
The bustling seaside town of Weymouth is just a few miles away with a wealth of bars, restaurants, shops, amusements and activities.
Famous for a three mile stretch of idyllic sandy beach which hosts a range of traditional seaside entertainment during the summer months and great for wintery strolls out of peak season.
Magnolia is a delightful cottage and a perfect holiday base to explore Dorset's wonderful coast and countryside.
About the location
OSMINGTON
Osmington village, sits on the Jurassic coastline of Dorset, just 6 miles from Weymouth with it's infamous beach and historic harbour and just 11 miles from Lulworth Cove and Durdle Door. Home to the famous Chalk hillside carving of George III on horseback, cut into the hillside to commemorate the Royal visits to Weymouth, this landmark can be seen from miles away. It is also the place that John Constable spent his honeymoon in 1816 and where he completed his painting of Weymouth Bay that now hangs in the National Gallery. The South West Coastal path runs through Osmington Mills, a tiny hamlet on the edge of Osmington. Here many walkers start their coast path walks at the Smugglers inn, where reputedly there are historic connections to smuggling. Be sure to visit to find out all the stories. A short drive will see you reach a local convenience store at Preston. Weymouth offers a larger variety of shopping, eating and entertainment choices.
Note: max 5 people.
Note: guests need to bring their own cot linen.
Note: no stag parties.
Note: there is one parking space for this property.
Note: No pets upstairs please
Note: The local pub has closed now

This property offers the following short breaks:
Winter
Off-season
Last minute