6 Guests

3 Bedrooms

2 Bathrooms

Pets Yes
Features
Off road parking
Garden / Patio
Cot available
Highchair available
Pub/shop < 1 mile
Washing machine
Dishwasher
Seaside
Broadband / WiFi
Reviews & Ratings
37 Customer Reviews
"Lovely modern, extremely well-equipped house in a pleasant and quiet part of Weymouth."

The cupboard full of clean toys and games was much appreciated by my 2, 5 and 7 year old grandchildren. The house was warm with an endless hot water supply. Walk down to the beach easily managed by the older two children. Two car parking spaces essential for us as we travelled independently. A great week in spite of erratic weather! Would definitely recommend. Note to owner: push-down plug in en-suite doesn't seal basin; couldn't work heated towel rails and there wasn't enough space in bathroom to dry 4 towel sets; grill pan which we didn't use needs a good clean; lighting in bedrooms too dim to read by. Otherwise thanks for letting us stay in your lovely house!

"This was a lovely house."

Home from home.. Ideal spot for walking to Weymouth and sea front. Would highly recommend. Lovely dog walking area 5 mins in car. It is overlooked but as we went out most days not too much of a problem

"Lovely house ,good location and good facilities."

The children loved the enclosed back garden.

"A lovely home and very well appointed we really enjoyed our stay."

Great to have off street parking.

"This is a beautiful property and just a few thing could make it perfect!"

I think a prop for the washing line would be a great idea. We couldn't find one and the washing made the line sag. throws for the settees. The outside table and chairs furniture was rusty and looking a bit sad which let the place down, the other settee and chairs were uncomfortable and grubby. Finally, please look at updating the info on places to visit. One of the leaflets was from 2018! Ty

"A beautiful house, very clean upon arrival."

Furnished and decorated to a high standard. Beautiful rooms throughout. The kitchen is well equipped with everything you will need and more! We would have given it 5 stars if it wasn't a few things. The house is situated on a very busy estate so you have to be aware of noise from neighbours in all directions. Due to being overlooked we couldn't understand why there was no privacy blind in the main bathroom. But all that aside we thoroughly enjoyed our stay and was very happy with the house itself.

"The Ferns is a well equipped, tastefully decorated property."

We would have given 4 star plus. But, we did have a couple of issues. A previous visitor had not cleaned a spillage in the oven, which we had to clean some of it before we could use it. The en-suite shower also was not draining away. Fortunately, I was able to clear a blockage in the waste pipe. The property instructions state the management company will not respond to complaints unless they are reported to them. However, we would not wish to waste a day's holiday waiting for someone to come out to fix these issues. We would also not be comfortable with someone attending while we were not there. The book also states that someone attends to the garden once a fortnight. The back garden does not appear to have received much attention. There are weeds growing in the patio and astra turf. There was also a lot of wind- blown debris on the patio, including the bleached carcass of some long deceased garden bird. All that said, these were not enough to spoil our holiday. The property is well situated and comfortable. We would not hesitate to return to The Ferns should we visit Weymouth again.

"Loved the property it was exactly what we had expected."

The house was lovely and modern and very clean. The location as great we could walk into town and it was a great bass for sightseeing with the car in the area.

"We had become slightly worried at the lack of recent feedback but it was the perfect property for two couples and two children, plus two well-behaved dogs."

As grandparents we enjoyed our stay in the spacious master bedroom with en-suite despite being up two flights of stairs. The property had been painted recently and was spotless. The bathrooms/toilets were immaculate and all the linen/towels were cotton and well-laundered. Parking for two cars - great location close to convenience shops/superstores and a short walk to Weymouth beach and Lodmoor Park, etc. Kitchen/diner was well equipped with plenty of good quality cutlery, crockery and cookware. Everything worked ! The house was cosy and the central heating effective but a couple of blankets would have been nice for colder evenings/nights (at home we always turn our heating down at night but the duvets were only lightweight). Nice to find toys, games and puzzles in the cupboard, and beach toys in the shed. Lots of interesting places to visit within a 30 minute drive e.g. Portland Bill, Abbotsbury Swannery. MonkeyWorld, Durdle Dor. The boys (aged 2 and 5) especially loved Weymouth's clean sandy beach and the donkey ride.

"The property was extremely comfortable and well maintained with one exception which I believe was due to a lack of information from previous occupants rather than a failure by you."

"Even with blinds in the upstairs bedrooms the sun light was very bright first thing in the morning waking us up at 6am every day , otherwise the house was fantastic, we really enjoyed our stay ."

The little touches like board games , fishing nets , buckets and spades were a lovely . We made good use of the garden furniture it was very relaxing .

"Lovely modern and bright house so close to both sea and shops."

Well fitted and good facilities.

"Had a great time,couldnt fault the house,if we go to weymouth again,which is great itself,would want to stay again,but would have to point out if you take a dog and you want,the sandy part of the beach,the walks more like 30 minutes,so if your fully loaded with,beach paraphernalia,your better of driving there,but did that spoil it for us,not at all."

Would highly recommend.

"A lovely place to stay Close to the seafront Everything you need would love to use again in the future"

"This was great house, ideal for six people (plus infant in cot if required), the house was very clean, and had plenty of cutlery, crockery etc and cooking equipment."

With a TV in all bed rooms and lounge. It was an ideal location for the Weymouth sea front and shopping in the town and also well situated for exploring Dorset, the house had plenty of travel brochures to help you plan days out, and loads of games if you wanted to stay in for part of the day. We would happily stay there again.

"The cottage was good and the location great the disappointment was the property was not cleaned and had not been cleaned properly for weeks."

The previous guests left sanitary ware in the bathroom bins that if cleaners did go in they did not remove. There were cobwebs down the walls and in the corners. For such a well appointed cottage this was really a big let down. We left it a lot cleaner than we found it. A real shame.

"No issues at all."

Like the fact that there are loads of crockery and cutlery, so don't have to keep washing up during the day ! Thank you.

"Clean house, good location, very well equipped."

Very happy thank you

"Weymouth is a great place to holiday with small children with lots of things to do besides the beach."

The Ferns is really family friendly house being well equipped with a cot and high chair and toys for indoors and outside. Much appreciated.

"The house overall was fine, but the hot water supply was not hot but lukewarm at best, and the boiler did not work as the instructions suggested."

You need to get a boiler that works as per the instructions, given you are charging so much.

"Front door key a bit bent - would be useful to have two keys ."

Key safe a bit difficult to open. Would be helpful to know which bin to use for rubbish. It was a lovely property and a great location for our stay .

"Lovely house in a good location."

The house was well equipped and clean.

"We had a lovely break at The Ferns and would certainly consider booking this property again but the only concern we had was that it was not cleaned to the level we were expecting considering that we could not access the building until 5pm to allow for extra cleaning."

We did find an empty crisp packet under the sofa and the rug in the living room could have been cleaner. However the majority of the house was fine.

"The house was lovely and exceptionally clean and was only 10 minutes to the promenade."

The only drawback was the garden. The photos have been taken very cleverly to make it look much larger than it really is, in fact its tiny and overlooked by everyone which is not what I actually want from a holiday home. Saying that I'm sure it will suit others as I said it was a lovely house.

"Although everything was fine ."

The stair gate needs attention if they do not want dogs to go upstairs also I definitely think the bath and en-suite shower something non slip in them as I didn't feel safe

"We really enjoyed our holiday staying at The Ferns."

The house was clean, comfortable and well equipped and is situated on a quiet road. This was our first visit to Weymouth and we found the house well placed for going to the beach and town and also the country park.

"We stayed last year place was stopless this year wasn't not clean at all but that was sorted by me cleaning and a £30 refund ."

I'm just concerned as we have already booked for next year just hope it is goin to be cleaned properly

"Very lovely house."

Very well equipped kitchen. Lovely selection of kids toys to choose from which was a great bonus. House was clean but not spotless but 5 minutes after our children and dog had been there it wasnt noticeable! Really lovely garden! Artificial grass was great!

"The house was well equipped, lovely and clean and was large enough for 6 adults, 1 baby and 1 dog."

The Ferns is approximately 10 minute walk to the centre of Weymouth and within 5 minute drive of Morrisons, Sainsbury's and Lidl's. The only thing I would suggest is that you have pump soap in the bathrooms and that guests can bring a kettle BBQ. The patio which goes round the side of the house by the shed is big enough to hold this (and is not close to the astro grass). I would also update the photograph in the description of the house as it did not show garden furniture in the picture and we were surprised to see this.

"The house was really nice, wasn't overly clean."

We asked for a cot and after searching for it we found that it was a travel cot without a mattress. This was far from ideal so we had to improvise using bedding from one of the beds. Had we known that it wasn't a proper cot we would have brought our own, very disappointed. There was a stair gate in the listings which was broken, we reported it and were told someone would come and repair it, but no one came. We couldn't use the kettle, there were bits of lime scale that came out when we tried to use it. We expected that the house would be a bit nearer to the beach and facilities. All in all very disappointed.

"Great family house perfect location."

Everything we needed and more. Very clean and good off road parking for two cars.

"Nestled in a lovely quiet location even though only a few minutes walk to the main road."

Only 15 minutes walk to the front at a leisurely pace. Excellent layout in the house. My husband and myself had the top floor with shower/ toilet facilities. I read the reviews before booking but still managed to bang my head on the apex of the roof. Having said that after I did it once, I was aware and that was that. One little point to note from my husband, when shaving, the mirror is to the side of the sink not above in front, but he managed. Beds are extremely comfortable and the sheets even smelled really fresh. We took my mother-in-law who was celebrating her 80th and she loved the house. Our two adult children and our chocolate lab came too and it never seemed overcrowded. It was spotlessly clean. Everything was catered for in the kitchen. A little confused with the recycling of rubbish as the different bins are provided but it does state in the booklet that the house falls under 'commercial waste' with no recycling at present so we put everything into black bags and tied them up and put into the large bins. Hope this was correct. Plenty of room for everyone to sit together in the lounge although the tv has limited channels but the weather was so beautiful we were out every day. Lovely safe enclosed back garden which I thought was grass from the photos but it is artificial grass. Thoroughly enjoyed this holiday and would definitely recommend it. It was great booking with Sykes as we took advantage of the £20 deposit offer with the balance spread over a few months. An excellent company with excellent communication. We would use Sykes again.

"The main hallway was a bit dirty when we arrived but we just gave a sweep the ..."

The main hallway was a bit dirty when we arrived but we just gave a sweep the house was absolutely perfect the garden was lovely for our grandson we have never been in a house with so many kitchen utensils it was great the house was in a good place not too far from weymouth and even when we had a problem with the light in the downstairs toilet it was dealt with on the same day it was such a nice house we didn't want to leave we absolutely loved it and will definitely try and book it again

"Very nice property looking to stay again."

Stayed July 2018.

"The service that Dream Cottages gave was faultless."

They were very efficient and helpful with all aspects of our holiday. The property we stayed in was well described. The property was very clean and well equipped. We would definitely use Dream Cottages again - stayed June 2018

"Fantastic house, great location!"

Stayed May 2018

"The property was above expectations."

Very clean, well equipped and surprisingly spacious. We had one query re the washing machine which turned out to be a lack of understanding on our part but even though it was a Sunday the maintenance people came out within a few hours - stayed July 2017

There are no reviews featuring this term Show all reviews
Show more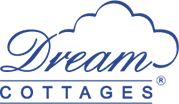 This property is part of the Dream Cottages collection.
Over 350 carefully selected and perfectly located properties, helping you create your perfect holiday.
Summary
Over three floors
Three bedrooms: 1 x king-size double, 1 x twin single, second floor king-size double with en-suite shower, basin and WC
Bathroom with bath, shower over, basin and WC
Ground floor cloakroom with basin and WC
Kitchen with dining area
Sitting room.
Gas central heating, electric oven, gas hob, microwave, fridge/freezer, washer/dryer, dishwasher, Smart TV, Blu-ray, WiFi
Fuel and power inc. in rent
Bed linen and towels inc. in rent
Travel cot and high chair available
Stairgate
Off road parking for two cars
Great assortment of games, DVDs, books, Wii
Artificial grass to front and back gardens
Garden dining furniture and garden chairs
Welcomes two well-behaved dogs, charge of £21 per pet per week
Sorry, no smoking
Pub and shop 5 min
Beach 10 min.
The property
The Ferns is a modern semi-detached property finished to an extremely high standard and located in a residential street in Weymouth.
The property is very well equipped to make your stay home from home. The ground floor has a social kitchen with dining table and a sitting room where you can relax together.
To the first floor is a spacious king bedroom, and a twin bedroom with family bathroom. The second-floor master bedroom boasts a super king-size double bed and en-suite bathroom.
The property allows two well-behaved dogs where they can play in the large rear garden, so the whole family can come and enjoy a seaside holiday. The house is just a 10-minute walk from the Greenhill area and the main beach in Weymouth, where you will find a long golden sanded beach and shallow waters for perfect beach days.
Stroll along the esplanade to the town where in the evening as the sun sets behind the harbour.
Just around a five-minute walk away are many activities including; Lodmoor Country Park, a large expanse of greenery incorporating a cycle route, Play Park, and picnic spots, Pirate Mini-Golf and Weymouth Sea Life Park.
You will find Weymouth has everything need for a coastal holiday, a long sandy beach, traditional beach attractions such as donkey rides and Punch and Judy, an pretty working harbour, and plenty of dining options. If you would like to explore more of the Dorset Jurassic coastline, to the East a short car drive away is the iconic Durdle Door and beautiful Lulworth Cove, listed as UNESCO world heritage sites they are well worth a visit.
Venture to the West and visit the market town of Bridport via the delightful villages of Burton Bradstock and Abbotsbury.
Stay at Ferns and enjoy a family seaside holiday with everything you need right on your doorstep and only a short drive away from Dorset's most iconic sights.
About the location
WEYMOUTH
Dorchester 7 miles; Bridport 17 miles.
The popular resort of Weymouth makes an outstanding year-round holiday destination, with a wide variety of attractions on offer, appealing to all tastes and ages. The glorious golden sandy beaches have excellent facilities for all kinds of watersports, whilst from the picturesque, bustling harbour you can take regular fishing trips. A short drive takes you to Portland Harbour, and the rugged "Isle" of Portland, linked to Weymouth by the dramatic Chesil Beach. Visit Dorchester, Thomas Hardy's "Casterbridge", only 7 miles away, or take a journey along the scenic coastal road and call in at Abbotsbury Swannery and Subtropical Gardens. Alternatively, just head down to West Bay - the views of the stunning Dorset Heritage Coastline are not to be missed!
View more holiday cottages in Weymouth
Note: max 6 people.
Note: guests need to provide their own cot linen.
Note: stairs to second floor.

The Owner respectfully explains that electric cars cannot be charged from the domestic supply of this property. There are authorised fast charging facilities available in the local area
This property offers the following short breaks:
Winter
Off-season
Last minute
Christmas