6 Guests

3 Bedrooms

2 Bathrooms

Pets No
Features
Off road parking
Ground floor bedroom
Garden / Patio
Cot available
Highchair available
Pub/shop < 1 mile
Washing machine
Dishwasher
Seaside
Broadband / WiFi
Reviews & Ratings
45 Customer Reviews
"Having stayed at dozens of holiday properties I can comfortably say this one is by far the best."

A very airy and open property with its conservatory and, outside, patio and first floor decking area to relax and take in the views. The interior is also top notch catering for every requirement most of which has been covered by other reviews. The parking is a fantastic bonus having struggled to park when stopping in other properties in Weymouth (and incurring fines for not quite having my large 4x4 quite within the lines). The thing that really sells it for me is its placement, easy to drive to, friendly neighbours to talk to, opposite a type of village green where friendly dog walkers convene and converse happy to include an outside holiday maker. From there you can walk towards Nothe Fort or take a shortcut through to Brewers Quay and the harbour. Heading in the opposite direction you can take the footpath down to Sandsfoot beach, usually quiet and uncrowded, a favourite amongst the locals. A property where, unusually, you can get to know the locals and learn a little about the community and what's happening.

"The house is quite spacious."

Lovely view from the decking but very open to people walking past on the road outside. The beds were comfortable. However, a 13.5 tog quilt in summer was too hot. The downstairs bedroom is a garage conversion. Lovely views of the flowers in the garden but Wi-Fi didn't work in there. The kitchen is equipped with all you need. Drains in the main bedroom were quite smelly at times. Would be nice to have something in there to put down them to freshen them up. Great that there's parking at the house. A short walk downhill to Brewers Quay. And Newton's cove close by. Had a lovely stay. Would love to return in the future.

"Just returned from a week at Redcliff View Lodge and wow!"

! Property was amazing, in a beautiful location just a short stroll from town. Everything was spotlessly clean and the house is so roomy! Definitely one we will be returning to!

"Lovely property which was convenient for getting into Weymouth each day."

Really handy having parking too. The cottage was comfortable and had everything we needed. We had 5 adults staying in the property and this met all our needs.

"We were delighted with all aspects of the property including the outside space - lovely views from the 1st floor terrace - and the location i."

E. Very close to the Bincleaves. Nice quiet area too. The kitchen was very well equipped and very clean as was the rest of the house. Absolutely no complaints. We were very sad to leave.

"Super property."

Quiet location only 10 mins walk from town. Really enjoyed our stay would definitely use again. Garden could do with a bit of a tidy up but other than that no complaints.

"In general we really enjoyed the stay."

We had a few issues : The cot was very stained and soiled on the sides, we had to cover the stains with sheets before using it. There is an issue with the drainage from the upstairs shower, sometime the tray fills up and you have to pump the drain with your foot to release the water. There is also a smell from time to time. The cooker and utensils were not very clean and had to be cleaned before use. As I say we still enjoyed our stay, the location is great and I would stay there again. The issues above can be put right, you may not have been aware of them before.

"Fabulous property, the online photos did not do it justice."

Very well equipped, superb location, one to visit again.

"The property on arrival was lovely very spacious and exactly what we booked however some things are old and need upgrading."

Settees in front room need Deep clean , some items of cook wear need replacing and cooker needs some shelves for cooking otherwise a beautiful location and great house.

"We had a really enjoyable stay at the lodge!"

Location was lovely, few minutes walk to the harbour, parking at the house and nearby very easy. We loved the kitchen dining area, was great to all sit together. Our only negative was sofas could do with replacing, and downstairs shower very small compared to the en-suite shower upstairs. Thankyou, our stay was lovely!

"The cottage was well equipped and spacious."

Don't think cleaners have a lot of time to do a thorough job, but not too much of a problem. Read a few negative reviews about the cottage before we arrived, but think they were groundless! We would certainly book this cottage again. It offered us everything we needed in a great location. If I had anything to complain about it would have to be the lack of a soap dish in the downstairs shower.

"Arrived to find keypad very hard to read to obtain door key."

On entering finding the property dirty and not very cleaned at all. Went to Dream Cottages Shop to complain and was told we had to buy the cleaning products and that it was our job to make sure it was clean. We requested in advance to have the twin beds downstairs turned into a double, which didn't happen. We had to do this ourselves. The wardrobe was unusable in the same bedroom, as it was full of laundry bags. The twin bedroom upstairs had rubbish left under it. After using the shower once we found the bath mat/towel was dirty due to the floor not being cleaned. The dishwasher and cooker were both filthy, so the cooker become unusable, and when we did try to use the hoover the bag inside was full and smelt awful, so didn't really help much either. All the surfaces were left feeling sticky and some places you could write your name in the dust. The bin for the waste outside had someone else's waste put in it during the week. So as far as the property is concerned it did not make our stay a very good one. Not to sure we will be using this company ever again.

"Went to shower first morning water would not drain and started overflowing onto floor after hunting found s plunger"

"Good house in a brilliant location, just felt the house was getting a little shabby and needed a spruce up inside and out."

Never seen so many cobwebs .The downstairs shower room could benefit from a shelf that is straight, it is unusable at the moment.

"We all loved the house and garden and its location is excellent - so near lovely walks and beaches."

The main bedroom was lovely - sea view and the large balcony, accessed from the garden or the bedroom, was a bonus! I would, however, recommend a new cooker. On arrival, I placed frozen pizzas in the gas oven, which I managed to ignite, but when I tried to move the food the shelving and pizzas fell to the oven floor! Four rings worked well on the hob, but the large ring and the grill would not ignite - several attempts and I am used to a gas cooker! Had lots of takeaways - all very nice and not far to go!

"Lovely quiet location large spacious house and large outside space everything ..."

Lovely quiet location large spacious house and large outside space everything you needed was there but the mattress on the king size bed was very very soft and lumpy we ended up sleeping in the single beds

"Our third visit to the Redcliff View Lodge."

It is in a lovely residential location with views of the sea from the roof terrace. The main bedroom is spacious and bed comfortable. Lovely big shower in the en suite. A pleasant walk into Weymouth along the coast. There is an under counter fridge and then another large fridge freezer which is really helpful. WiFi worked well. The kitchen diner is large, light and airy with a TV and sound system with radio / CD. Only drawbacks are steep steps going up from dining area into garden could be a big problem for people with limited mobility, lounge is a bit snug and downstairs bedroom a bit dark because small windows. We really enjoyed our stay.

"We stayed at Redcliff Lodge for a few weeks Feb/March and had a very comfortable stay."

The cottage is fabulously located and has amazing views from many windows and the balcony. The beds were very comfortable, excellent showers and had everything we need for our extended stay. Dream cottages couldn't have been more helpful or accommodating.

"A second visit - for a family wedding- arranged at short notice."

Great position with easy access down to the harbour and town. Kitchen well equippped. The house see,Ed to have been freshened up since last time.

"The cottage was in a fabulous location & fully equipped But the cleanliness ..."

The cottage was in a fabulous location & fully equipped But the cleanliness was poor in some areas Face masked found down side of settee, Jewel ery found on the drawer & under beds dirt & dust, also behind chairs ect… It's a real shame as it was a lovely cottage

"The seating in the living room was very uncomfortable."

Poor back support and difficult to get up from . Downstairs shower very small.

"Lovely house in an ideal location."

Close enough to Weymouth harbour to park the car and not use it for a week. Great walking along to Newton's Cove, the fort or even sandsfoot castle. All facilities in the house are great, no bbq but that doesn't bother us! Booked a few times now with Dream Cottages and it's always worked well, very accommodating, and helpful staff. Many thanks for another great stay

"Had a great holiday in Weymouth, house is lovely and in a very good location."

"The location and size of this property is perfect for my family."

"House is quirky, a short walk to the harbour and close to the coastal path."

We would definitely stay again.

"The house is really nice and well designed for a relatively small one."

However the cleanliness should be improved. On appearance evrything seems fine but look closer and everything is super dusty or some of the corners have not been touched for way too long. The vent in upstairs bathroom is covered in thick dust; the roll up privacy blinds in the upstairs bathroom is covered in mold specks, the shower head in upstairs bathroom has mold around the dispensing holes... Doesnt feel hygienically clean. Downstairs, the drawers contents could do with deep clean. So could the kettle and some of the ustensils. We had issues with the heating with temperature gradually dropping to 15 degrees inside, despite following the instructions for the heating provided in the welcome pack. Eventually we worked out that the water temperature on the boiler was set far too low (30 degrees) and therefore no matter how long the heating would be on, it didnt really raise the temperature. After we changed that setting, the temperature gradually increased but the first two nights got really chilly. It felt as if someone had purposefully set the water temperature low on the boiler in order to ensure a low bill for heating... But we had a nice stay and enjoyed the location in particular very much. We didnt get to use teh outdoors bits of the house but I think they would be lovely in the summer.

Thank you for taking the time to publish feedback. We are currently working with the owner and the housekeeping team to ensure this type of issue is not a recurrent one. If you would like to discuss this in further detail, please contact our customer relations department on 01244 345 700 (option 1, option 3). We are open 7 days a week, from 9am-7pm. Property Owner

"Outside and inside Louvre wardrobe cupboard doors in both upstairs bedrooms were very dirty."

The upstairs bathroom toilet seat was badly chipped and the bathroom blind mouldy. Rug in lounge coming to pieces and light bulbs and shades need cleaning. However generally the house was very clean but showing signs of wear. It was very well equipped and in an excellent location.

"Just love this place booked for next year already so we don't miss out ."

"Very comfortable cottage, really well equipped and in an excellent location."

We had a very enjoyable stay. While the cottage was clean, we agreed with others that it could do with a 'deep' clean now and then - e.g. dirty shower screen at bottom and lots of dust on the pipes (in clear view) in the bathroom. A real negative for us was the lack of recycling facilities - this is completely unacceptable in this day and age. There was no information provided about this and nowhere to leave anything. We saved up our recycling and were told by the staff at the nearby ASDA(!) that recycling was collected from households in the area, but that the nearest place to take recycling was the Sainsburys near Upwey!!

"We have used this cottage for the last 3 years and still love it, however it needs a deep clean every now and then."

"The holiday cottage was in a lovely position and had plenty of room."

The only problems were cleanliness issues as there were many areas which had not been cleaned or dusted and also the information book provided was very out of date.

"We loved it."

From the moment we walked in we were so thrilled with the house. Location is excellent & a very pleasant area. Being a family of 3 generations there was plenty of room for us all to have our own space. I have recommended it to others already. Thank you so much. Stayed July 2018.

"We had a wonderful week staying in this beautiful cottage."

Aided I might add by the beautiful weather! Hoping to book again for next year! Stayed July 2018

"Fantastic property with plenty of space for the six of us."

It's just a pity it was raining as we would have loved to use the outside space too. It had everything we needed to make our stay comfortable and enjoyable. We had a problem with the downstairs toilet door not opening properly but literally within 10 minutes of calling to report this someone was with us to fix it! Incredible service. Good location, easy to walk down to the pubs, restaurants and town. Highly recommened. Stayed April 2018

"The property was ideally located and had a wonderful view from the roof terrace."

It was clean and comfortable and had everything we needed to enjoy our stay. The beach was within walking distance, even with all the buckets and spades etc required to entertain two children! We would definitely stay at this property again or one in this area next time we visit Weymouth - stayed August 2017

"A lovely property in a great location, 10 minutes walk to the centre of Weymouth or slightly longer taking the more picturesque coastal path."

Well appointed, comfortable accommodation, would stay again - stayed November 2016

"Good well equipt home in great location."

Everything you would ever need for a wonderful stay in beautiful Dorset - stayed July 2016

"The house was beautiful and in the ideal spot."

We had a lovely holiday there. Stayed April 2016

"Another great stay at the lodge highly recommend."

Stayed March 2016

"It was a really lovely house to stay in home from home love it xx Stayed September 2015"

"This house was fantastic, much better than we expected."

The position of this property was ideal for walking into Weymouth harbour. The roof top terrace gave great views out to sea and we spent a lot of time on it. All the rooms were nicely furnished & equipped. We would highly recommend this property to others. Regards Kevin & family Stayed July 2015

"Well appointed."

Lovely holiday in beautiful area - stayed April 2015

"Lovely, comfortable cottage in good location."

Clean, airy and exactly what we wanted. Thank you also for booking perfect weather for us! Stayed April 2015.

"The house was lovely and very comfortable and Weymouth is a very nice holiday destination"

"Redcliff View Lodge is a fantastic, extremely well equipped property in a great location."

Would definitely recommend this property to anyone. We had three generations of our family on holiday and it suited all of us perfectly.

There are no reviews featuring this term Show all reviews
Show more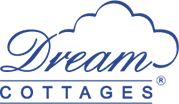 This property is part of the Dream Cottages collection.
Over 350 carefully selected and perfectly located properties, helping you create your perfect holiday.
Summary
Three bedrooms: 1 x twin (can be made as a super king-size) on ground floor
1 x king-size with en-suite shower, basin and WC
1 x twin on first floor
Shower room with basin and WC on ground floor
Kitchen with conservatory/dining area
Utility room
Sitting room.
Gas central heating
Range cooker, microwave, fridge/freezer, washing machine, dishwasher, Tv, DVD, CD, WiFi
Fuel and power inc. in rent
Bed linen and towels inc. in rent
Cot and highchair available on request
Off road parking for one car at front of the property
Patio garden with furniture
Sorry, no pets and no smoking
Shop, pub and harbour 10 mins walk.
The property
Subtly hidden away close to the locally well know beauty spot in Weymouth called Bincleaves this detached character property is situated.
A sociable kitchen opens onto a bright dining area / conservatory with an attractive roof terrace.
The property benefits from a downstairs bedroom and shower room, so may be ideal for guests who are less able.
A walk across Bincleaves Green along the cliff tops to the Nothe Gardens, then around to the harbour makes for an unforgettable experience.
The first floor balcony of the lodge have views that span across from Weymouth Bay and over Weymouth itself where you can see the famous 'White Horse' and 'Hardy's Monument' in the far distance. The main sandy beach in Weymouth town centre is within a short walking distance, however the less well known but in some ways more attractive beach at Sandsfoot, with its Robinson Crusoe appeal is perhaps the nearest one being roughly an eight minutes' walk away.
A short cut through down the footpath directly opposite the property brings you to within a two-minute walk of Hope Square.
Here you can enjoy a variety of restaurants, tea rooms and pubs.
Heading through the square you will reach the pretty Old Harbour.
A very well presented lodge that offers you a peaceful stay, but within easy distance of all the fun that Weymouth has to offer.
About the location
WEYMOUTH
Dorchester 7 miles
Bridport 17 miles
The popular resort of Weymouth makes an outstanding year-round holiday destination, with a wide variety of attractions on offer, appealing to all tastes and ages. The glorious golden sandy beaches have excellent facilities for all kinds of watersports, whilst from the picturesque, bustling harbour you can take regular fishing trips. A short drive takes you to Portland Harbour, and the rugged "Isle" of Portland, linked to Weymouth by the dramatic Chesil Beach. Visit Dorchester, Thomas Hardy's "Casterbridge", only 7 miles away, or take a journey along the scenic coastal road and call in at Abbotsbury Swannery and Subtropical Gardens. Alternatively, just head down to West Bay - the views of the stunning Dorset Heritage Coastline are not to be missed!
View more holiday cottages in Weymouth
This property offers the following short breaks:
Winter
Off-season
Last minute
Christmas