Here at Sykes, we read about the struggle that is facing the country's bird-life. Some of the figures involved made pretty grim reading: for example, the RSPB has noted that the number of House Sparrows in the UK has dropped by an estimated 71% since the late 1970's, and this is by no means the worst. To be honest we were pretty shocked and thought we'd see if there was anything we could do to help out Britain's birds. However when we came to it we weren't too sure where to start, after all we're more used to finding homes for people than birds!
So we called in for a bit of help from our friends at the North Wales Wildlife Trust. We picked their brains to find out what ordinary people could do to make a difference and lend our feathered friends a hand. And as it turns out, just by making a couple of tiny changes you can transform your garden into a bird's paradise, providing them with shelter, food and water – the things that make all the difference when the going gets tough! We've put all of these hints and tips together and created a handy guide that you can use when doing your bit for Britain's birds, so take a look below and see what you can do to help out.

If you want to show your readers how to give a bird a home copy and paste the below code into your website:
Give a Bird a Home
Due to a loss of habitat and shortage of food, birds have struggled in recent years, with several species seeing a decline in numbers. Thankfully, there are a few things we can do to help. Working together, Sykes Cottages and the North Wales Wildlife Trust have gathered information on two common types of nest box you can use to give a bird a home, as well as some hints and tips on transforming your garden into a haven for our feathered friends.
Open Fronted Nest Boxes
Ideal for Robins and Pied Wagtails
Specific Tips
Place low down, no more than 2 metres off the ground.
They need to be hidden under some cover; ivy or other climbing plants are ideal for this.
Small Holed Nest Box
Ideal for Blue Tits and the House Sparrow
Hole Sizes
Different birds use different sized holes
Blue Tit – 25mm
Great Tit – 28mm
House Sparrow – 32mm
Starling – 45mm
Specific Tips
Place 2 metres or more off the ground.
Attach to a wall, tree or fence. Make sure it's out of reach of cats.
Make a Bird-Friendly Garden
Feeder
Place feeders in the garden so birds have plenty to eat. Remember to put them in sight of your windows so you can keep an eye on the visitors.
Birdbath
Birds use birdbaths to drink and clean themselves, just be sure to keep it topped up with fresh water.
Planting
Create a safe and sustainable habitat for birdlife in your garden by growing a wide variety of plants, including fruit trees, evergreens, climbers and spiny shrubs.
For More Information
Your local Wildlife Trust can offer further information on how to help birds in your garden.  Alternatively, visit the RSPB website.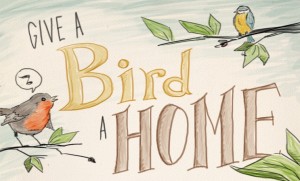 Are you on Twitter? If so click below to share this infographic and show your followers what they can do to make a difference!
Jamie is a big fan of long weekend walks with the dog, especially when there is the chance to refuel with lunch in a country pub. Living in Lancaster for three years gave him the perfect opportunity to spend a lot of time in the Lake District.