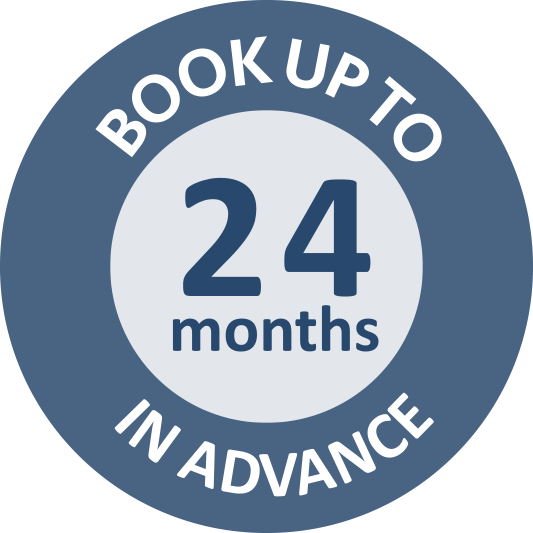 Book up to 24 months in advance
Did you know, not only can you book your 2018 holiday, you can also book for 2019 right now too?
Choose from our most popular properties and locations before anybody else but don't hang around, they are booking up quickly.
Book now

Choose your cottage with confidence
We feature verified customer reviews for our cottages together with the feedback left on TripAdvisor.
It was easy to book, good communications, lovely house, I will definitely use Sykes again. Mrs Mccaw, January 2017
Quality holiday cottages, value for money prices
At Sykes, we offer our customers a huge range of over 9,000 holiday cottages to rent across the UK and Ireland. Each one of our listed holiday cottages has been personally-inspected by a Sykes property expert and is priced fairly and affordably. Our diverse selection of cottage holidays in the UK and Ireland means there is something for everyone, from pet-friendly cottages and large holiday homes to cottages with hot tubs, you'll find it with Sykes. We use our 25 years' experience to match our customers with their dream holiday cottage, so what are you waiting for? Find out what we can offer you...
Featured
cottages
Looking for inspiration for your next UK holiday? With our featured cottages, we've done the hard work for you. In fact, we're convinced that one of our handpicked cottages will be ideal for your next cottage break.
Luxury
properties
Our five tick cottages make the perfect choice for a luxury UK holiday. From swimming pools, to hot tubs or even a private chef, our luxury cottages will make your cottage holiday extra special.
Pet-friendly
properties
Pets need holidays too! Our vast selection of pet-friendly properties means that you'll have no problem finding a cottage that welcomes you and your dog. One of our pet-friendly cottages is sure to be perfect for your next UK break.
Sykes Rating


Sleeps2
Bedrooms1
PetsYes

A delightful romantic barn conversion with unusual round bed. First class furnishings and fittings throughout. Walks from the door. Wirksworth 1.5 miles. (Ref. 2574)

£378 off - Fri 5th Jan to 12th Jan 2018

Sleeps4
Bedrooms2
PetsYes

Welcoming single-storey pet-friendly barn conversion in St Weonards. King-size bed. Views over lake. Close to walking, easy access Brecon Beacons, Hay-ion-Wye, Hereford and more. Monmouth 8 miles. (Ref. 933878)

Last booked within the last 2 days

Sleeps6
Bedrooms3
PetsYes

A wonderful, character rich three bedroom cottage in Ashill village, near Watton. Woodburning stove, pet-friendly. Spacious accommodation in an excellent location for exploring Norfolk. Watton 4 miles. (Ref. 935009)

Sykes Rating


Sleeps6
Bedrooms3
PetsYes

A quality, detached end-terrace cottage on the edge of the former fishing town of Creetown. Woodburning stove. Ideal for fishing, walking, cycling and stargazing in Dark Sky Park. Newton Stewart 7 miles. (Ref. 28063)
Coastal
properties
Are you dreaming of a holiday cottage by the sea? Many of our charming coastal cottages are located just a stone's throw from the beautiful beaches and stunning coastlines of the UK and Ireland.
Sykes Rating


Sleeps4
Bedrooms2
PetsYes

Beautifully presented traditional terraced cottage superbly located on the harbour in Garlieston in south west Scotland. Cosy open fire. Yards to the shore. Wigtown 7 miles. (Ref. 26248)

Delightful second floor apartment on the promenade in Sandgate. A real romantic retreat with superb panoramic sea views and warm, cosy accommodation. WiFi. Woodburner. Restaurants, pubs, shops and beach all on the doorstep. Dover 7 miles. (Ref. 932743)

Superb Grade II* listed 17th century house on the Quay Walls in Berwick-upon-Tweed. Fabulous views, woodburner, gorgeous interior. Pubs, restaurants and art shops two minutes' walk. (Ref. 934152)

Sykes Rating


Sleeps12
Bedrooms4
PetsYes

Superb period home in village of Bempton. Spacious property with open fire and conservatory. Delightful rear garden. Close to Bempton Nature Reserve. Bridlington 3 miles. (Ref. 2655)
Why book with Sykes Cottages?
Great value: We think everyone deserves a break, so we work hard to ensure all of our cottage holidays are competitively priced. With a variety of discounted short breaks and special offers available, including last minute and off-season reductions, you can find a great deal on your next cottage holiday.
Here to help: You can book your next cottage holiday online or by getting in touch with one of our helpful holiday advisors. Our dedicated team of reservationists are on hand seven days a week to help plan your next cottage break and answer any queries you may have. Stay up to date with our amazing offers and promotions by signing up to our newsletter.
Book with confidence: Over our 25 year history, we've really got to know our customers. Our website features a wealth of information about the destinations we cover, as well as helpful descriptions and photographs of all our cottages. We publish genuine reviews from previous customers too, so you know just what to expect from your holiday cottage before you arrive.
Plenty of choice: With more self-catering holiday cottages added to our website each day, the toughest part of planning a cottage holiday is deciding where to stay! From three-night short breaks to weekly or fortnightly trips, we offer flexible breaks to suit any criteria, and with over 9,000 self-catering cottages to choose from, you're bound to find the perfect holiday home for you.
For the finest cottage holidays in the best locations, you can count on Sykes Cottages. From classic cottages in the country, luxury holiday homes near the coast and everything in between, our exclusive selection of handpicked holiday cottages provide the perfect base for any type of holiday.
We're proud of every one of our self-catering cottages, and are confident that we can find the ideal holiday home for you!